Today I would like to reveal one of the most interesting formulas of our daily routine: THE CO2 FOOTPRINT.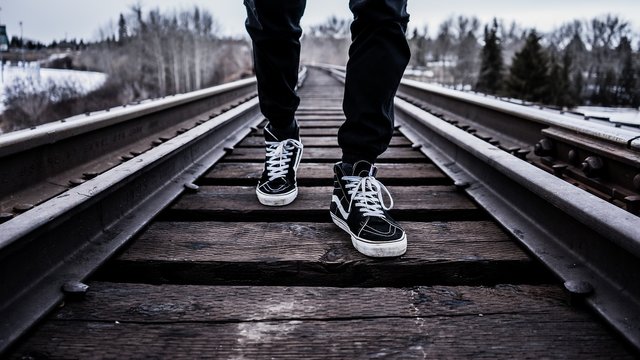 What is the CO2 footprint and why is it important?
First of all: this is NOT going to be a chemistry lesson, no worries :-) 
The CO2 (carbon dioxide) footprint is actually like any other footprint: a secured evidence. The CO2 print is the mark you leave in the environment with every action that releases CO2. So it is defined by the complete set of greenhouse gas emissions that are caused by a person (individual), an event (e.g. driving a car), organization (e.g. a company) or product (e.g. a cheeseburger).
Why would an excess of CO2 emissions be that alarming? Because it is the main reason for global warming and climate changes the Eearth is suffering nowadays. 
How are these emissions released in our daily routine?
Imagine that you go to the supermarket in order to buy some apples. No matter which supermarket you choose, you will surely find a huge variety of different types of apples there. Some of them may be local products and others import goods. Now the CO2 footprint of each apple is calculated depending on the greenhouse gas emissions which are needed to bring you that apple home. As a matter of course, an apple imported from China will have a bigger "history of emission" (footprint) than an apple which was grown in the garden of a local farm close to your hood. Think of the long way the apple would have to take from China to your place. Well if you live in China think about an apple which is grown in Austria. 
What could that mean to us? Maybe the local product is more expensive being both organic and not from a large-scale production - thus not permitting really competitive prices to the producer. But from a sustainable and "eco" point of view, the local product might be worth it spending a bit more. So that leads us to the following rule of thumb: 
The longer the value added chain of a product the bigger its CO2 footprint. 
Which mark do you leave by just buying an apple?
Imagine that the apple this little lady is eating right now was grown in the garden of a local farm close to your hood. Imagine that you took your car and drove to that bio-farm a few kilometres away to buy some eco-friendly apples for your kids. Surely your car releases carbon while driving. But unfortunately that´s not the only emissions to consider when well calculating the complete footprint of that action. Think of the energy which is needed to extract the oil from underground, the polution which is generated by transportation vehicles like a tankship and finally a truck to deliver the petrol to your gas station. To be honest you would also have to consider the emissions released during the production process of your car itself. Well you see... a long list of steps to consider just to get that little eco-apple.
However, if you considered taking a bike to drive to that local farm, the CO2 footprint would get considerably smaller! 
Obviously trying to reduce the footprint won´t be always compatible with our daily routines. Sometimes we just don´t have the time to decide for the sustainable way. But again this is not a chemistry lesson neither a real scenario, just the intention to create awareness. So WHEN you do have the time to think a little in that supermarket, you won´t do anything wrong buying a local product :-) 
How to calculate your own footprint? 
We were talking about products and value added chains, but how can we calculate our own total release of CO2? 
Thinking about the former example of the apple you may guess that it´s quite complex to define the whole footprint of an individual. Event if you don´t move and just read a book at home, you would have to consider the emissions which were generated when producing / printing that book. Every single item in our personal environment has its own fingerprint, and by using these items we are defining our own print - the total sum of emissions needed to create and maintain what we call home. 
To calculate the CO2 footprint you are leaving in your everyday life, you will have to consider a long list of consumer goods and actions: electricity, water (the energy needed to generate, transport, heat it), transportation (car, flights, public transportation like metro, taxi, bus, train,...), food & beverage, clothes (energy needed to produce it, shipping to your place), paper based products (books, newspapers, magazines), media devices (TV, radio, laptop, tablet, phone), furniture and other manufactured goods, free time actions (hotels, restaurants, clubs, bars, cinema,...), banking and finance, education, insurance, cultural and sports activities. 
To make it easy you can use e.g. this
CARBON FOOTPRINT CALCULATOR:
http://www.carbonfootprint.com/calculator.aspx 

I bet you´ll be suprised about the results. And maybe it will even inspire you to review some of these amazing numbers... There are a lot of ways to reduce our daily CO2 emissions - and as always in life: 
EVERY JOURNEY STARTS WITH THE VERY FIRST STEP. 
Although there are still people who deny the existance of the climate change in the World, the consequences of global warming are omnipresent. In my opinion sustainability and the protection of our planet is something which concerns all of us. Everything starts with awareness, so I think we should at least know the mark we leave on our way. Now you have even a tool how to calculate it :-)
More life lessons, surfing fun and a looooot of modern poetry in my blog: @surfermarly. 

Cheers & live your dream,
Marly -

Picture source feet: pixabay.com