Ticket Ninja - Decentralized Blockchain Tickets (Because Nobody Likes Ticketmaster)
Time To Cut Out The Price Gouging Middleman When Buying Tickets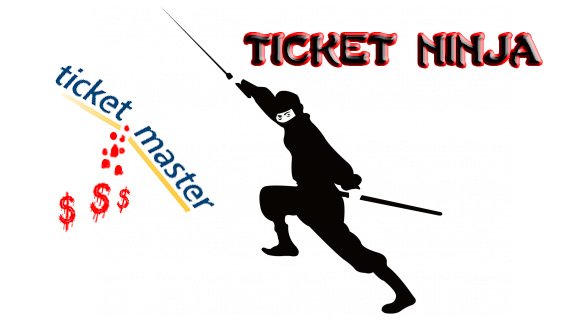 To be clear, this is a concept that I would like to work on with a developer and some creative minds. I think this could really change the way we buy and sell tickets
Most of us in the United States are far too familiar with Ticketmaster. They sell tickets for everything from sporting events to concerts
I believe they are a monopoly and here's why Monopoly - The exclusive possession or control of the supply or trade in a commodity or service. If you can find a rival to ticketmaster that has any large market share in the USA, let me know, because I don't think one exists Not only have they been forced to pay out money for their corrupt fees that include charging for buyers to print out tickets at home ("convenience fee"), but also made it next to impossible for many people to redeem the free tickets they received as the result of a giant lawsuit due to it's corrupt fees. See story here. Ticketmaster needs some competition What would blockchain technology do for the ticket business?

Easily issue ticket codes that could be verifiable by the blockchain
Record ticket sales
Easily allow for transfer of tickets to other people
Allow resellers to directly sell to ticket purchasers without fees

Ticket Mockup

Some other important features I believe would change the ticket buying experience

Allow artists to set prices in the blockchain for the maximum that their tickets can be resold for. No more companies buying out all the tickets and reselling for five times the price.
No more "scalpers" needed outside a venue. Simply buy through the app if you need a ticket
customers can buy tickets during an event as the sellers can decrease the price (if the concert is half over, people could buy the tickets at a discount and still see their favorite artist, while a seller could recoup some losses)
Follow artists and see when they come to the area

I think these features could be easily implemented into an app and I would love to work with someone on this. Fees will still need to be paid for those scanning tickets and there will always be people that may try to take a picture of a ticket (screenshot) and try to sell it. You would need a way to see who actually "owns" the ticket and have secure keys to transfer tickets to people This is very much in the brainstorming phase, but I'd love to know what features people would like in an app. Anything from loyalty rewards to contests and everything in between
Time to give the power back to the people with Ticket Ninja!


If there are any developers that would like to try their hand at a project like this I'd be happy to work alongside as much as possible (I'm not a developer yet). I think with enough community involvement we can make an app to help out smaller artists and slowly scale up to much larger artists if successful
If you enjoyed this, please feel free to subscribe HERE. I cover a wide range of topics, so you never know what will appear in your feed from me.