TIC-80 Games is a post series where I review TIC-80 games I play. You can read more about the fantasy computer in this post. and see my latest reviews on the tag #tic80games!
TIC-Sweeper is a Mine Sweeper game made by Bentic.
It's made for the 7th Gamecoduer Jam!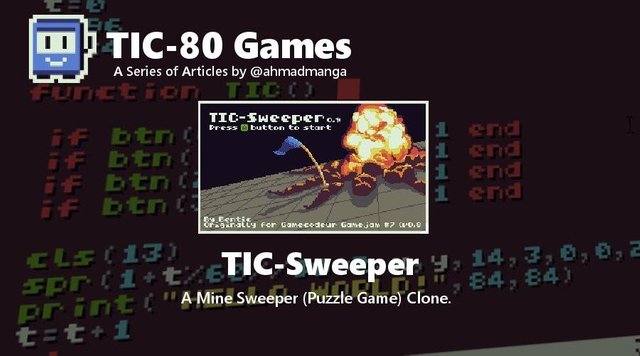 I remember back in the day as a child when we first got Windows in early 2000s. It came with Mine Sweeper game and I played it a bit never understanding how it worked and always lost.
TIC-Sweeper is a beautiful Mine Sweeper clone for the TIC-80 fantasy console. Obviously it's a puzzle game that tests your deduction skills (and luck.)

Where's the mine?
The game is pretty basic, you just have to reveal all the areas that don't have mines in them. So you have to deduce where the mines are located and mark them with flags. Clicking on an area shows if there's a mine adjacent to it in one of the four direction.
What I like about this game is the presentation! TIC-Sweeper comes with customizable difficulty, the backgrounds look fantastic and the game comes with explaination of the rules! Definitely better than the Minesweeper I played as a child!
If you're into puzzle games
or if you played Mine Sweeper and want some nostalgia
Try this one out!
Links
---
First image uses the game's cover image. The other image is a screenshot taken by me.