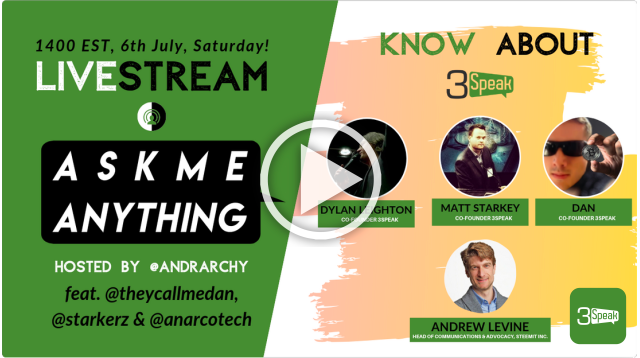 ---
Livestream recording: In this ask me anything @andrarchy, @theycallmedan, @anarcotech and @wehmoen talked about 3Speak. What it is right now, what it should be in the future, about the problems many content creators face today and why free speech is so important.
Timestamps:
40:40 - Start
44:40 - Real start
45:00 - andrarchy about Steem
47:00 - 3speak creators
51:00 - 3speak ONLY for the deplatformed?
"Youtube does not make any money."
56:15 - Is 3speak underdevelopped?
59:00 - Livestream as a challenge
1:02:00 - "Free money" for comments
1:03:40 - Why "3"?
1:05:15 - Why do you need the Steem blockchain?
"Proof of Brain algorithm"
1:17:10 - Building a new economy
"Skin in the game"
1:24:10 - Citizen journalists
1:28:00 - Big tech companies missuse their powers
"Mainstream Media twists"
1:32:10 - Enabling the transfer of Digital Ownership
"Smart Media Tokens"
"Building bridges between left and right media"
1:37:50 - The fear of being deplatform and the consequences
1:39:00 - Unifying mechanism of a Token
1:44:00 - Native App?
1:44:30 - 2nd spring for Steem?
1:48:50 - Youtubes iron grip on the market
1:51:30 - High interest by big Youtubers
1:52:30 - Content creators come first
1:54:20 - End
@threespeak is a Steem based video & livestreaming platform that encourages free speech. It is powered by @Oracle-D and @theycallmedan. For more info, please visit https://3speak.online/intl/about_us
---

If you appreciate the work we do for the blockchain and its members, please vote for our witness @oracle-d by going to https://steemitwallet.com/~witnesses or directly through SteemConnect
Your vote is highly valuable for us and thank you for being a part of this Journey! Also, please do not hesitate to connect with us for any kind of collaborations that can help the STEEM Community grow.
---
▶️ 3Speak