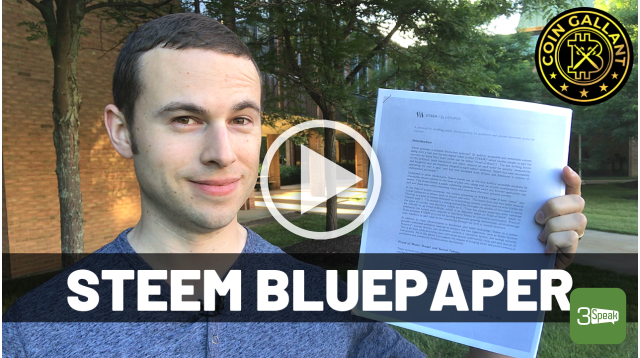 ---
The Steem Bluepaper Read Aloud (with commentary)
Feel free to change video setting to 1.5x playback as there is a lot to read....
The Steem bluepaper is a bit shorter than the whitepaper. It starts off by describing what Steem is and what it does, then goes into other features of the blockchain and the token.
The Steem bluepaper goes into detail regarding the reward pool, the voting system, proof of brain, token distribution, and transaction speeds.
I always get excited when I read and understand Steem a bit better. Hope that you gain value from hearing this information either for the first time or as a reminder of how amazing Steem really is.
Feel free to drop a vote, comment, and resteem below. Follow @coingallant for more content like this. Cheers.
---
▶️ 3Speak