Tomorrow we are celebrating our little one's third birthday with family and today I took her out for a Daddy/ Daughter day so her mother could have some time to cook some pies, muffins and prep a little for visitors as with limited space but about 15 people coming, we need to be organized.
Tomorrow is my turn to get in the kitchen and make the cake.
I only know how to make one decent cake so, Pavlova it is. Again.
Not that she can eat it anyway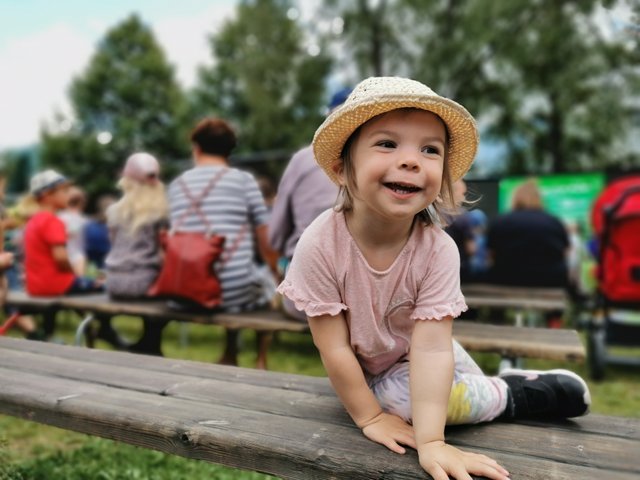 These were taken today while we were out in the park listening to another free concert which was again filled with people due to the warm weather. She silent quietly listening to the kids band for almost an hour, clapping after each song, but was most excited about getting into the park that was so full of kids it was almost unusable. She had fun though.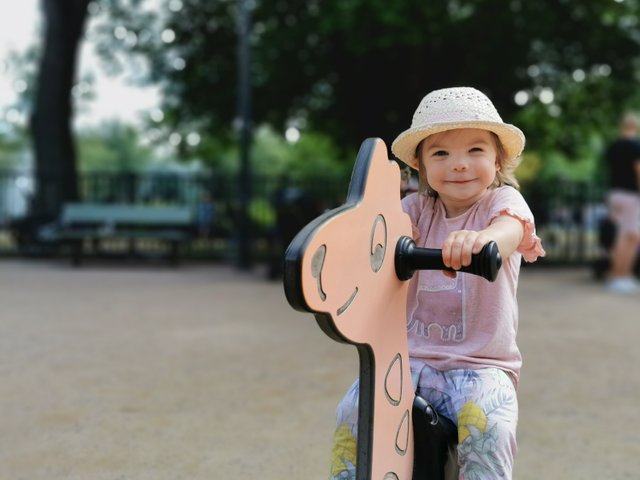 Too much apparently as now she is ill and what was a runny nose has become a cough and she has been up the last few hours and it looks like it is going to be a long night ahead for me. I don't think staying up all night will get me out of making he cake though, that she still won't get to taste.
But I hope at least she will feel well enough to actually enjoy herself and open her presents. Uncle @galenkp has sent a box all the way over from Australia and she suspects it will be a snake wrestling koala or perhaps a killer platypus.
I am not a big fan of birthday parties for the most part which is likely due to them not really being much of a thing in my family when I was a kid. My wife thinks that I am like the Grinch of celebrations however, I just prefer to keep things more spontaneous rather than have the set plans for things, including present buying.
For example, my wife didn't get me a Valentine's this year because she knew that she wasn't going to get anything from me as I never have before - I got her tickets to Ed Sheeran.
...Keep em guessing.
 
For my daughter it is the same. I like to surprise her with little things and since I have been travelling the last few months, I bring her memories from the trips, generally not overly touristy things, just something she can get excited over. We have been pretty lucky as she not only cares for her toys, she likes to use them and rotates the ones she plays with herself. She also doesn't care what their "intended use" is as she makes up all sorts of games no matter.
We don't buy much for her unless she needs but we also are trying not to deny things from her - except television. Television is the devil - well, screens in general.
Kids are meant to be kids, they are loud at times, they wriggle and fidget, they ask stupid questions and get under your feet at inopportune times. Sit them in front of a screen playing Peppa Pig or Paw Patrol and they are zombies. What else can have such power over children but the devil? It is unnatural. I actually wrote a post about this some time ago about unnatural children.
Again though, we are lucky that we have had a child that we can talk and reason with since she was a baby and that seems strange to many. We will never know for sure but I at least feel that @smallsteps is clever partly because we spent time actually with her, being present, talking, reading, laughing, explaining and not hiding her from anything. She could just be smart though - who can really say.
what I do know is that while it has been a massive amount of work under pressure from her health and what work that requires too, I am glad that my wife and I have spent the time and have a child we actually like now, not one we hope will grow up to be a great kid. I hear so many people complain about their children and their behavior, as if they had no say in it at all.
But, just like most of the actions we perform in this world, parenting is run off habit also and most people just do what they think is the right thing to do without investing much time into what the needs of the child may be. It seems that our habits believe that what children need is to give their parents free time to scroll Facebook and Instagram.
I wonder how many kids are going to recognize later that a screen raised them and instead of parents, they had unnatural parents who sat scrolling a phone beside them believing that it counts as quality time. Well, I might be wrong and all of these kids on screens are going to grow up to be the most awesome individuals the world has ever seen. Dunno.
For now, I will try and get some sleep if I can, while I can so I can get up bright and early and make some Pavlovas.
Taraz
[ a Steem original ]