My buddy @wesphilbin started a great #thoughtfuldailypost, #tdp tag. If you haven't seen it yet, I highly encourage you to go check out his blog. He has some very good insight and is awesome at curating people's positive thoughts.
I'm not sure how many positive thoughts I have, but I do have a story - non-fiction even - about not dying and surviving to see another day. For reasons that will become clear in the story, I have no pictures of the events within, so this is primarily a text-only post. There's one picture at the end, like a sweet desert at the end of a meal.
White Water Rafting: A True Story
My family and I have a tradition of vacation in the Smoky Mountains in North Carolina in the summer. Beautiful place. Beautiful mountains. Awesome fresh air. Just incredible. There are some certain activities that we like to engage in, one of which was/is white water rafting.
Normally we would all go as a large group, with anywhere between 6-8 of us in a huge, massive inflatable dingy. Now, I imagine some point in the distant future, several hundred or a couple thousand years from now, someone is going to excavate my house and find one of these pictures of 8 of us careening down a river in a huge inflatable and wonder why we were trying to act like a whale. Regardless, it's what we like doing.
This one year no one but myself and my daughter wanted to go. I figured everyone else could stay behind and be bored - we were going to have fun. So, off we went.
The river we traditionally rafted down is the Nantahala River. It's about a 3.5 hour trip downriver with a number of class 1 and 2 rapids, including a class 2.5 right at the top and a 3.5 at the bottom. This is what we had ahead of us.
Now, something about me: I strongly dislike tight clothing, whatever it is: belts, shoes, etc etc. I more often will look like I'm wearing something baggy than fitting, because it's just more comfortable and, frankly, I don't have anything to prove to anyone.
Now, something about my daughter: She's a coward.
Remember both these points, please.
We get to the top of the river, into our two-person 'ducky', and proceed down river. I'm in the back to steer, she's in the front to give us momentum and take pictures with a nice water proof camera. Just as we're about to enter the first rapid she panics, turns around, and tosses the camera at me while exclaiming "take this." I have a split second to decide to either take the camera or tackle the rapid. I feel that I want the camera for posterity sake so attempt to grab it.
That was the wrong thing to do.
In the moment that it takes my hand to wrap around the camera we hit the rapid all sorts of wrong because I wasn't steering correctly. We bounce and we bounce hard, hard enough to send me flying from the inflatable.
I hit the water.
My oar hits the water.
My shoes hit the water. Without my feet in them. (remember, tight clothing - I wore shoes that apparently I should not have).
The camera hits the water, never to be seen again.
Somehow I ended up in front of the ducky, still in the rapid, which is just not a good place to be. Thankfully I'm not incredibly dense and I remember a couple of hard and fast rules:
Do not... do not... attempt to stand up in a rapid. Your foot could get caught in a rock, you'll get knocked over, and drown.
Get your feet facing down river, float on your back, and get out of the rapid.
Once out of the rapid get back into the ducky.
So this is precisely what I did. Lucky for me we were at the very first rapid where there were plenty of other people to see my predicament and hurry over to lend a helping hand. One of the nearby groups grabbed my shoes from the river for me and handed them back. My shoes. What did I not get back? The camera. What else did I not get back? My oar. Oh, and what else? Some pride. It's still there, I'm sure, in the bottom of the river, all these years later. I may go back to try to find it and reclaim it some day.
Oops.
I take my daughter's oar (because I need to steer) and proceed to navigate us successfully down the river.
We get past the next rapid - without my daughter's help, of course, because she has no oar - and my leg begins to hurt. A lot. When I landed I landed on a rock and I'm now beginning to think I broke my shin. I'm glad the water is cold. I kept it submerged as much as I could.
We continue very uneventfully down the river. Like a pro I maneuver us through all the rapids and begin to feel a little good about myself again. We finally begin to approach the final rapid - the big one - and have a decision to make. Do we take the rapid, or do we go to the side and take the less-thrilling-but-still-honourable-walk-around-path.
I ask the girl if she feels good about it. She replies that she's just a sight-seer and doesn't really care, but what do I think about it?
I think I've taken this rapid a dozen times. I know this rapid. This rapid and I are friends. I feel good. I decide to take it.
And it was a wonderful thing, too. We approached, I steered masterfully, guiding the nose of the ducky to just the right spot. I have no camera to distract me now. I've got this.
I really did.
Until I didn't.
The Nantahala told me in no uncertain terms that we were not, in fact, friends, and that I needed to be taught a further lesson in humility.
We both hit the water. On the biggest rapid on the river.
When I finally got my head back above water I remember that my first thought was where she was. I saw her face plant into the river. Literally. Look at the picture that the dude who takes pictures at the rapid sold us.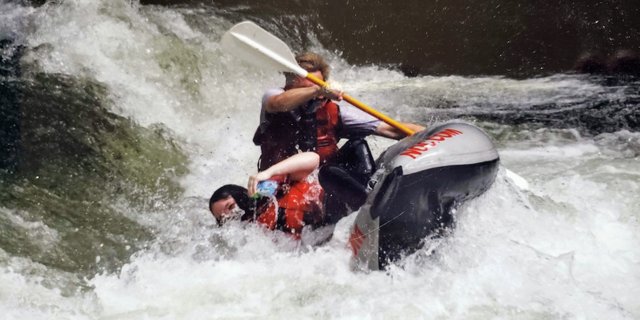 Look closely at the picture. What do you see me sitting on? Nothing, that's what. Absolutely nothing.
So, once I realise that my daughter is fine and alive, and about 15 yards down river, I realise my shoes are again also in the drink; in fact, I see them floating away, and there's no way I'm getting them back this time. But I did manage to keep hold of the oar!
I somehow clamber back into the ducky on my own, paddle to the girl, haul her in, and paddle us over to the take out where there were at least half a dozen people ready to charge into the river to rescue us.
So there we were. I had them one oar and the dingy back - I'm done with these - and tell them that the second oar is somewhere in the river, probably with the camera. I have no shoes and, dammit, I want a hot, burn the inside of your mouth coffee. I tiptoe across the gravel lot toward the changing rooms (no shoes, remember?) and enjoy a few moments of peace indoors. I get dried and go outside to meet my daughter... and the sky opens up and dumps torrents after torrents after torrents of rain on us.
I buy the picture and begin to drive us back to our rental. I just want a hot drink. I have no shoes. I need to settle for drive through coffee.
My leg, it turns out, is bruised but not broken. And we laugh, And we laugh. And we laugh. And to this day that picture still hangs on my wall, not of a massive failure, but of a great story that my daughter and I share and still tell to people to this day. Whatever doesn't kill us made us stronger, brought us together, and gave us a kick-ass story to tell.
And that, my friends, is my #thoughtfuldailypost of the day.
(c) All images and photographs, unless otherwise specified, are created and owned by me.
(c) Victor Wiebe




(design by remyrequinart: https://steempeak.com/@remyrequenart)