Thoughtful Daily Post - 'New' Signs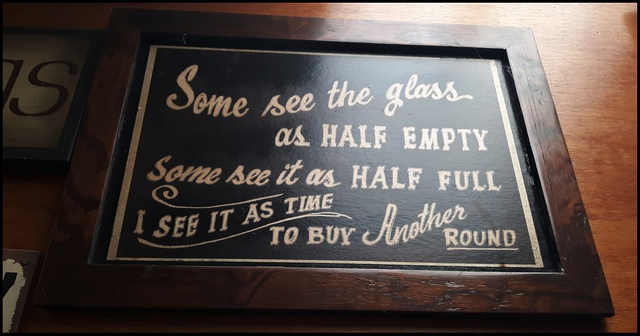 It tickles my fur when I discover something that has been there all along. Today's moment was thanks to a trip to buy bread.
     Having a corner store less than a mile from my house is a blessed convenience. Not only is it a quick walk (typically free of toilets), but the shop is owned by a great husband and wife team. These two have one hell of a sense of humor, welcome kids to come in after school to buy cheap snacks, donate goods & time to community functions, and know more about what's happening in the neighborhood than ANY of the PTO women ever could. They even give me candy on Halloween when they're handing some out to the munchkins. (Yes, I wear a costume. 😜)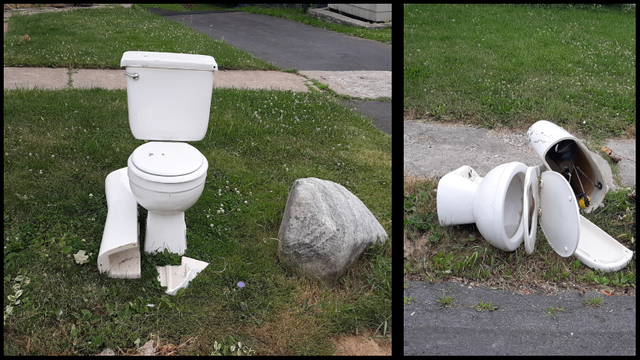 Oh, look! The roadside toilet blossoms are in full bloom!

     The inside of the shop has the usual mill of items. Chips, toilet paper, cigarettes, beer, et al. Each wall and nook has silly signs and kitsch on display. They're fun and all but I imagine dusting is a job that isn't fought for.
     This morning I happened to arrive when one of the beer vendors was making a delivery. The store is tiny so when he rolled through the aisle with his full cart, there wasn't any room to stand aside. I ended up scooching atop the ice-cream chest so that he could pass. Sure, I could have moved back towards the entrance but I'm a squirrel so up I went. (Five points to me for not breaking anything with my butt!!)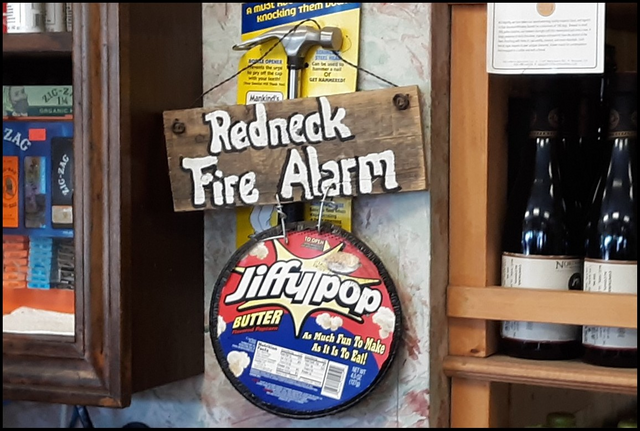 Does the Jiffy Pop get replaced to keep it up to code?

     Now, I'm a fairly short sort. Never have I been able to see what is on the wall above the beer coolers. When I stand in the aisle all I see is the underside of the cutouts for the cases and the wall trim. If I look from the storefront, the racks full of groceries are in my way. Boosted by my perch, I was finally able to read some 'new' signs. Forgetting to get down, I asked the owner if I could bring in a rooster. He laughed at me but I noticed that he didn't answer. 😉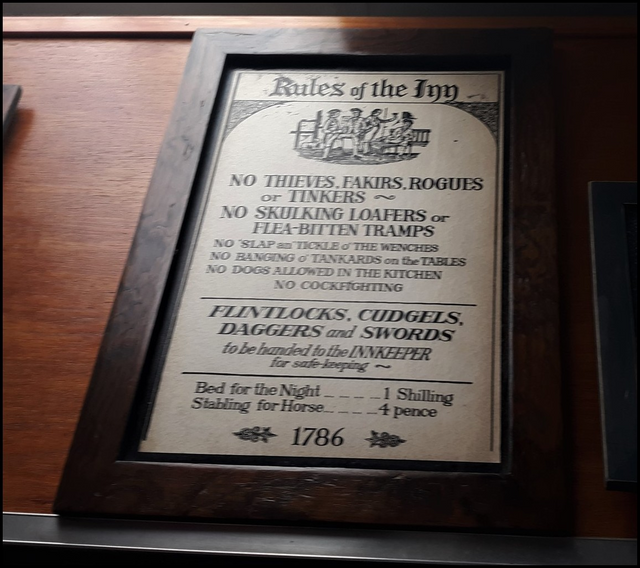 What's the rule for prancing loafers?

     Bread in hand, I meandered up front to pay. The Complaint Department 'button' by the register wasn't new to me but I still like it. Anytime I've heard someone tease about having a grievance, the two owners just smile and point. I figure one of these days I'll be lucky enough for someone to actually do it when I'm there. My neighborhood is pretty crowded so the odds are in my favor.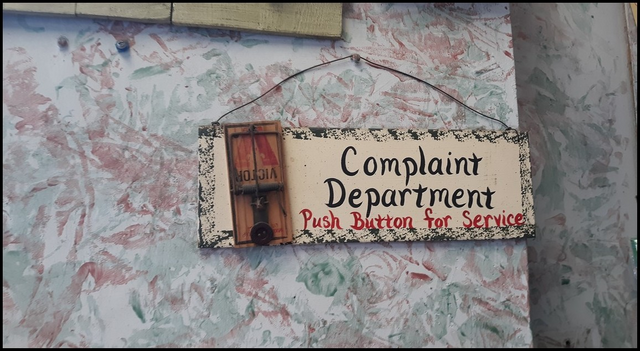 This beats those Leave a Comment boxes.

     The next time you're somewhere you've been to countless times before, take a look around. Maybe climb a tree or some fixtures if you have a chance. (If it helps, tell anyone who yells to 'Blame Brisby'.) You may find something great that you never knew was there.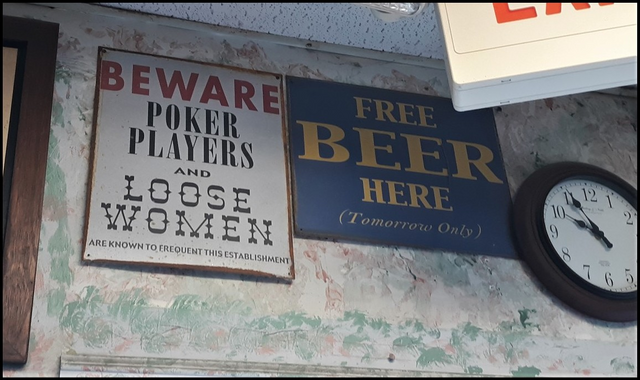 The first sign seems more like an advertisement than a warning.
     One of these days I'm going to return to my corner store with a ladder. I want to see if there are any more signs that I've been missing out on. Maybe I will tomorrow. Wouldn't mind getting one of those free beers. 😁

@Wesphilbin
has invited everyone to join in to create their own
#thoughtfuldailypost
(or
#tdp
). You can find more information on how to participate
here
. Not sure if you can make one daily? No problem. You can make one whenever you feel inspired. It's more of a positive exercise to express what's on your mind than a challenge. 😎