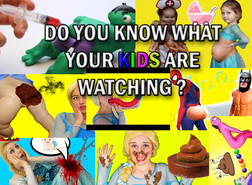 If you don't know what
#elsagate
is yet, allow me to very briefly explain.
Some very popular YouTube channels that are aimed at children have been discovered to have some seriously fucked up shit on them. The videos emerge from a number of different channels but seem entirely connected because they all revolve around Spiderman and Elsa from Frozen. Some are cartoons, some are live action videos with legitimate actors, but they seem to repeat the same themes to the point that it seems like an intentional attempt at implanting some sort of idea, belief or even fetish into the minds of our youth.
The videos apparently begin in a completely innocent manner, but towards the end there is something completely inappropriate for kids that is displayed before the video comes to an end and autoplay takes over. Some of these videos have upwards of 200 million views, which is testimony to the amount of kids that have been watching this shit. I have personally seen my own nieces and nephews watching videos with Spiderman and Elsa in them and I now have to accept that those videos very likely displayed some adult sick and twisted themes the moment I looked away.
One other important factor to note is that these videos have not only been available on the Kids version of YouTube, but also promoted on the very first page repeatedly.
My thoughts


Well obviously I think this is fucked up. But- what I think is most worrying about this, is that it has been going on for so long that it seems improbably to believe it isn't being supported by very powerful people. The level of production going into these videos already suggests that they are being created by those who have a lot of resources at their disposal. I know how long it can take to produce one cartoon, and they are putting out lengthy ones on a daily basis. Furthermore, have you ever heard of Disney being relaxed on copyright infringement? Why would these channels have been on YouTube for so long, likely having earned millions of dollars because of the high view counts, yet Disney, Marvel and DC Comics have had absolutely nothing to say about the blatant copyright infringement that is being perpetrated by these channels?
No. I don't think any of these cunts are going to accidentally overlook one of their characters being used to make millions on YouTube. It seems far more likely that they were aware of it, but for whatever reason, chose not to open legal proceedings.
Who the fuck has the clout to stop Disney from putting their lawyers to use on a case that they would win very easily and receive a massive payout because of it? This shit comes way from the top the way I see it. This has been allowed to happen for a reason.
I haven't touched on any of the themes in these videos, or the very surreal mind-control aspects of them. I encourage you to go find this part out for yourself, and then ask yourself.. What fucking sickness are they trying to indoctrinate our children with? .. and... Why??
If you have any thoughts on this, do make use of the comments section.