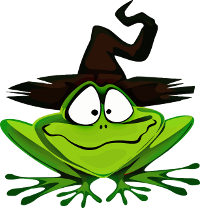 It's me again...
The Magic Frog
In case you noticed that the story didn't proceed yesterday... someone switched off the Magic Story Machine and I didn't notice because I was... out on a short adventure. If you didn't notice... just forget what you just read.
The Pot full of Gold:
$ 8.29
(Cast your Upvote Spell on this post to raise the pot!)
Once upon a time, there was a wizard...
who had to run some errands to plan a surprise party for his little frog friend.
(by @localnorth)
what caught the attention of the high council of suspicious and insatiable storks in the neighborhood
(by @hennifant)
They all planned to stop the party because of what the oracle revealed to them about the main surprise at the party.
(by @imbigdee)
But they all had to be very careful... The wizard was known to respond very badly to people who meddled in his affairs!
(by @imwatsi)
Because the storks were wise, they let the confused oracle talk and were happy about the invitation to the party the pigeon delivered at that moment.
(by @hennifant)
But a certain thing about this invitation made the storks still skeptical. The invitation was ...
(by @mkt)
To be continued!
---