Happy Bubbles contest! WEEK 2 + Winner announcement week 1 ( Open for all steemers) WIN 5 Steem or 5 SBD!
Welcome to the FIRST Happy bubbles Contest by the Dolphin Cocoon.
Week 2 and winner announcement for week 1! 
December is the month for love, friendship and sharing special moments! Christmas is soon to come and hopefully, it will be a white one! Lights will be put up and stockings will be decorating the fireplace. 
A perfect moment for the Dolphin Cocoon to launch our first contest! 
Because this is the month for sharing this contest is open for all steemers!

Happy bubbles Contest, 
4 weeks of fun sharing moments among the steemit community. Every week a new chance to enter and win! Let's make the last 4 weeks of 2017 amazing so that we can end the year with a smile. 
WINNER WEEK 1

We were very happy to see all the entries this week! All the stories really touched us but there can only be one winner this week! 
Congratulations @mazzle
You are the winner of the first week!
10 steem is coming your way to your wallet by @poeticsnake within 2 hours from now! 
This is the winning post: https://steemit.com/happybubbles/@mazzle/happy-bubbles-my-best-friend-a-story-of-loyalty-adventures-and-hard-lessons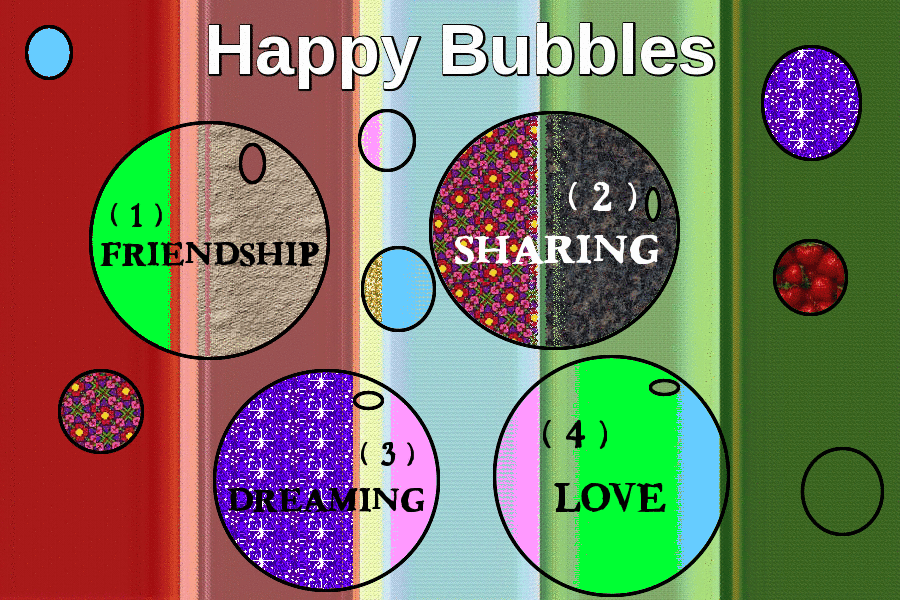 Welcome to week 2 of the Happy Bubbles contest! This week we will focus on the bubble filled with sharing.


What you need to do to win 5SBD or 5 steem!
 
I believe that when things are a mess, we need others to know what we are thinking, feeling, or doing. We must share our feelings with people who will not reprimand us for our thoughts. We need to share these feelings with someone who will encourage us to move forward. David DeNotaris  
@buckydurddle donated 1 sbd last week and we will enter that into the prizes of this week! 
We will give away two prizes this week!
5SBD for the winner and  5 steem for the runner up!

There is also a mystery prize to win this week! 
Write a post about Sharing!
What does sharing mean to you?
Be creative, steal our hearts with your story! 
Rules:
*Write a post with the title "Happy Bubbles" followed by your own words! 
*Only post original content.
*If you use pictures who are not yours make sure you source them. You will be disqualified if you ignore this! 
*Use these 2 tags, (1) happybubbles and (2) Thedolphincocoon.
*Post the link to your post in the comments of this post to make sure we see it. 
*Only ONE entry per account per week.
*Users have between now and the time of the post payout to enter this contest. 
How the winners are decided.
The submissions will be passed along to the judges, and they will decide together who wrote the best post!
Funds for the prizes: 
Because there is no fund into the Dolphin Cocoon yet, I will personally pay out the prizes from my @poeticsnake account! 
Next week prize might differ from this week if we get some funds in!
We choose the 50%/50% pay-out for this post so we might be able to set a higher prize next week!

Good luck!