💸 The Budget Challenge: My Cashflow Management
Hi my fellow Steemian!
In my previous posts, I have been consistently promoting Financial Awareness specifically with the series "The Seven Cures of a Lean Purse" taken from the book of Gearge S. Clason entitled The Richest Man in Babylon. In relation to this, I find this #thebudgetchallenge a great way to share to you what I am promoting together with @smaeunabs and @jcvertucio.
In response to @smaeunabs' challenge, I will be presenting to you my entry.
Let me start with,
"It's not about how much you earn, it's about how much you keep."
After graduation, I told myself that if ever I would have my own income through a job, what I'm gonna do with my money is that I would use it to help my parents, help my brothers with their education, to travel, to buy things that I wanted, and set a portion of it to save. I was so sure back then.
However, everything changed when I started reading books about finance. I have dreamed of providing my family well financially because I know we're not that financially advanced. I even finished high school and college with the help of full scholarships and some helps. So, I had to begin educating myself how would I achieve that vision.
I have known numerous authors who specialized their books in the area of financial literacy, one of them was Robert Kiyosaki. I bet you're already familiar with him. Have a glimpse of his "Rich Dad Poor Dad". It was a good book, I know. That was an eye-opener book but might give us misconception about some things if we won't continue to read the following books of that series. So, I encourage you to read the whole series.
As a consequence, I started tracking and observing my finances. It was hard though, especially I was so into traveling and hanging out with friends. It was also double hard since my job involves a lot of traveling and my salary cannot keep up with my expenses.
With all those reasons, I know I have to decide.
"Nothing changes without the germination of an idea. Nothing changes without a commitment to change, without a commitment to a cause." -Anonymous
I resigned and searched for greener pasture so that I could actualize my goals. I have come to appreciate insurance and health care. Since I cannot include it yet to my budget, I searched for a company that provides it freely to its employees with the privilege to make my parents as dependents at a lower costs.
So, how do I manage my cash flow?
I would like to note that a budget plan is aligned to your financial goals that you have set. Basically, a budget plan is relative to the ones who's creating it. It varies among each individuals.
So, here's how I manage my cash flow: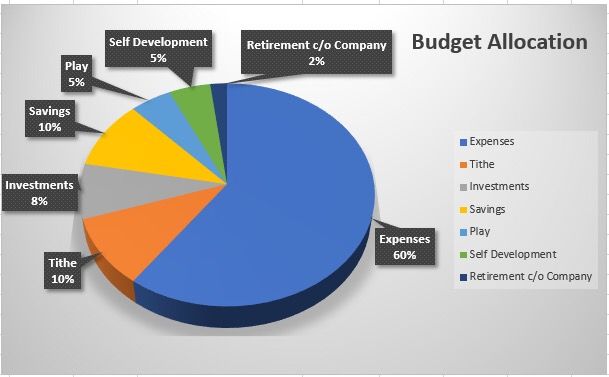 My Ideal Budget Allocations
Why did I emphasize "ideal"? Ideal because this is how I wanted my money to be budgeted. However, since I just started last year, there were many events that challenged me financially. I had to work out with my mindset and impulsive self.
I had to win the battle within me. Thankfully, little by little I could say I have improved in managing my money. Well, I have a separate notebook for my budgeting that's why I created the following tables to help you visualize how I am managing my cashflow.


Money In
The above photo shows you my kinds of incomes. As what I have mentioned in my introductory post, I am also a private Math Tutor. It is very important for us to determine the money going into our pockets because that is where we should start.



Budget Tracker
The purpose of this budget tracker is for me to track how am I doing with my cash flow management. It allows me to see and observe my progress in allocating my money for a said intent. If ever I spot such a poorly managed payday because of unexpected expenses which I do not have a choice, I often counsel myself. I remind myself why am I doing this and tell myself that it is fine, I can still improve next time. Yeah, I do that seriously. You can try it, too! It helps.
I also have target responsibilities which I look forward achieving in the future. It includes the big events in the family and other responsibilities of myself as an elder sister and a daughter. I list them down so that I could prepare for it and also to prevent debts when time comes. I often remind my parents and brothers that if ever they need something that is excluded from my monthly budget for them, they have to inform me a week or two ahead so that I could include it in my budget and prepare for it.



Responsibilities that need preparation
Yep, that is how I manage my cash flow. I excluded my small business here since its profits is not yet that much. Hopefully, in the future.. It will be no longer negligible.
So, what are those Budget Allocations?
Let me elaborate each one of them.
Before I break down my income to each of the budget allocation, I take the money for my parents' healthcare and my savings for the foreseen responsibilities ahead.
Tithes - Tithe means, "a tenth". I allocated 10% for my tithe. All of these blessings are from Him. Last year I started with 5% tithe to develop the habit, and now this year, I am making it 10%. It is not a must though, but I consider this allocation a must.
Expenses - This is where most of my money goes. It includes my lodging, daily allowance to work and the portion that I give to my parents every payday.
Savings - This where I am pooling my emergency fund. I do not invest this money because I have set this money to be my safety net for some unexpected expenses. It is said that at the age of 20-30 years old, our emergency fund would be 6x to one year worth of our salary.
Investment - This is my allocation for the longterm investments which I want to invest. I have set this money to have an investment horizon of 10years. That means, whenever I invest this, I do not set to use it or what until 10 years. With the investment horizon that I have set, I invested this money to high risk investments.
Self Developmet - Yes, I allocate money for this. This funds goes to saving up for the next book I want to read, the workshop that I want to attend and to the various seminars or talks that I want to listen to in order for me to grow, develop and improve.
Play - Haha one of the best allocation! This is where I get the money for rewarding myself. Eat that dessert you've been craving! Or that milk tea that you have really liked to drink. This is also the fund that I joint with my boyfriend's, for our next date or travel.
Retirement - I only set a portion of 2%. This is because the company to which I'm working now offers this in addition to their retirement programs for the employees.
That's all, and thank you for reading my entry!
Together let us venture the Road to Financial Freedom! 💪