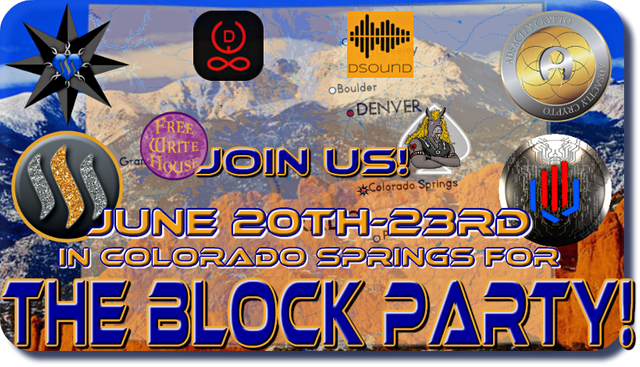 Contest Update
So far, we have had three spectacular entrants into the contest and are excited to see if anyone else has their creative caps on. Big thank yous go to
@carriallen
,
@edxserverus
, and
@doze
who have all tried their hands. This will be the last post before community voting will begin and The Block Party official logo for this year will be chosen. On the 21st, a post with all the entries will be put up and people will have a week to decide the winner. Have you submitted yours yet?
Contest Rules:
One design WITHOUT and one design WITH the following 3 requirements
The date - June 20th - 23rd
The place - Colorado Springs, CO
The venue - Hotel Elegante
A post is not necessary, but do drop either your logo design or post with the design in the comments below
Venue!
The Hotel Elegante in Colorado Springs is what we have set our sights on and are going over contract details with. This will be the official venue where we do our performances and various people/communities will be giving their presentations. Isn't it gorgeous? We will be blocking off a good chunk of rooms for people that choose to stay there with us (though not mandatory - just makes it easier) and we also will be having catering provided. Beer and wine for those that want to get wet - have to get your own hard stuff though, sorry. All kinds of goodies are available for us to have fun and enjoy ourselves with.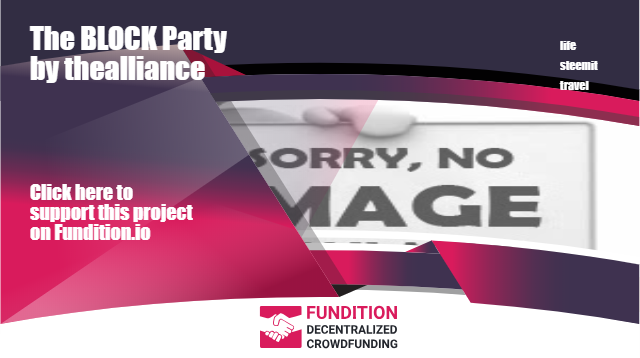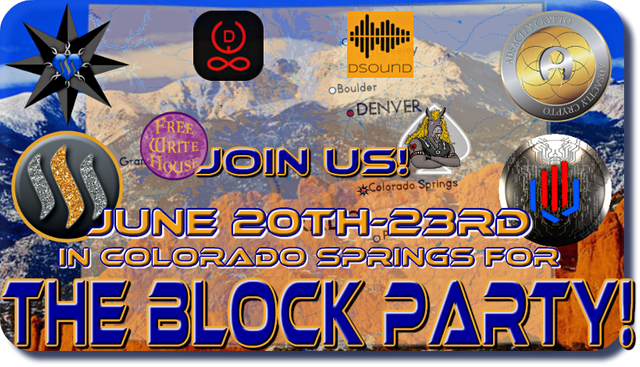 Sponsors & Guests
So Thankful
Event Ideas & Performers
A LIVE comedic acting performance by Carrie, Chris & Witty (The Lord of the D) featuring scripts from their show - The Play House! This will happen and it'll be an absolute blast!
@zipporah - has agreed to come to Colorado and share her beautiful voice with us! Maybe we can even get her on stage for some of The Play House characters!
@katrina-ariel - A smashing performance at #steemfest has landed her in the eyes of many and she has won #openmic since then. Her voice is captivating and we are looking forward to seeing her live again!
@paintingangels - Another of the chain's wonderful voices, has agreed to come and give us a special show! We are definitely looking forward to meeting her and hearing her play and sing!
Field Day? - Remember when you were in grade school and we had 3-legged races, ran the egg, did obstacle courses and had scavenger hunts? Ya baby, we're gonna bring out our inner children and have some serious fun!
What About You???

"A rising tide lifts all boats!
If one of us lifts up, we can all lift up!
We simply help each other. Like family."
~ @bluefinstudios ~
"Far from a circle, we are a unit."
~ @grow-pro ~


Want to join us? Please read this first.
Want to support the fam too?
Join #thealliance curation trail!
Delegate to our caring bot - @alliedforces!
10SP - 20SP - 50SP - 100SP - 250SP - 500SP - 1000SP - 5000SP