Teamwork Makes the Dream Work!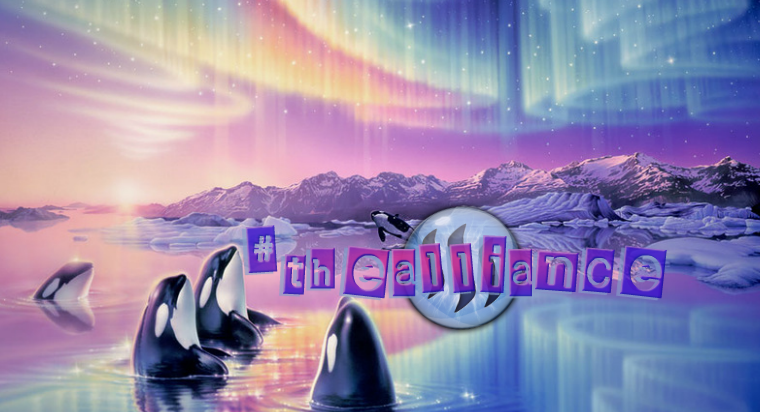 To begin with, I would like to thank all of the current members for being supportive of what we are aiming to accomplish here on Steemit. The sole purpose behind
#thealliance
, is to have a team of people that 'watch your back' and look out for your posts above all others. This is the definition of a team. Teams work together to move forward. All of our members have proven to be quality content creators and supportive of each other. If you see a new name below, be sure to follow them and get to know them! Now, it isn't mandatory that we always upvote and resteem each other's blog submissions, but, it is highly prized...and definitely keep those comments coming! That's the most important part of this equation. That tells your teammates, "yes, I have read your post and here's what I think." This week, we have a new member to add. Enter
@chiefmappster
. Welcome buddy! He is a very positive and enthusiastic Steemite that has been integral in helping to build several communities already here on Steemit and has big plans. Taken on initially as a judge for our
#karaokecontest
, he has since seen our potential and is eager to use his experience to help any way he can. We look forward to your support and posts!
Of all #thealliance members, this is the one you should pay the most attention to. His sole purpose is to be trained to engage and support #thealliance activity. Now, some of you may or may not have noticed, but our little pet is growing, bigger by the day. He used to automatically upvote and resteem all member's posts. However, since he is becoming more valuable, he is being more selective with his voting and curating. ONLY posts with #thealliance tag from a member will be resteemed and tweeted. He will also be doing his best to maintain his voting power up around 100% every day and so, will only be upvoting the best content he sees. If it's a 'killer' post, you'll know 🐬
@enginewitty - top Rap Challenge contestant, crytpo fanatic, curator
@michaeldavid - brilliant inspirational blogger and thinktank, #karaokecontest contributor
@miriamslozberg - the 'mom blogger' with awesome dinners
@thequeendizzle - still fairly new to steemit, a ray of sunshine
@mcoinz79 - adventurous single father and cryptocurrency enthusiast
@flexifriday - musician and food lover
@nolnocluap - all about money and great sense of humor
@awarenessraiser - solid spiritual vlogger
@jrtbx - into crypto, an environmentalist, and actor
@christheaudioguy - cryptocurrency miner and fitness fanatic
@stephiesawyer - big into essential oils and all around sweetheart
@jaynie - truly passionate person and blogger, judge of the #karaokecontest
@sam19 - bitcoin lover and technical entrepreneur
@thedamus - into precious 'heavy' metals and coins, bitcoin advocate
@phelimint - imaginative precious metals and coin collector
@jrandolph - excellent photographer and gold/silver lover
@anialexander - best selling author and great poet
@donatello - musician and proud father, owner of The Donatello Club
@hardikv - musician and producer, judge of the #karaokecontest
@tattoodjay - innovative transplant photographer
@sagittarianqueen - proud young grandmother
@chiefmappster - gambler, dreamer, creator of the Beatle Beat Battle League Competition
and be sure to follow our pet @killerwhale!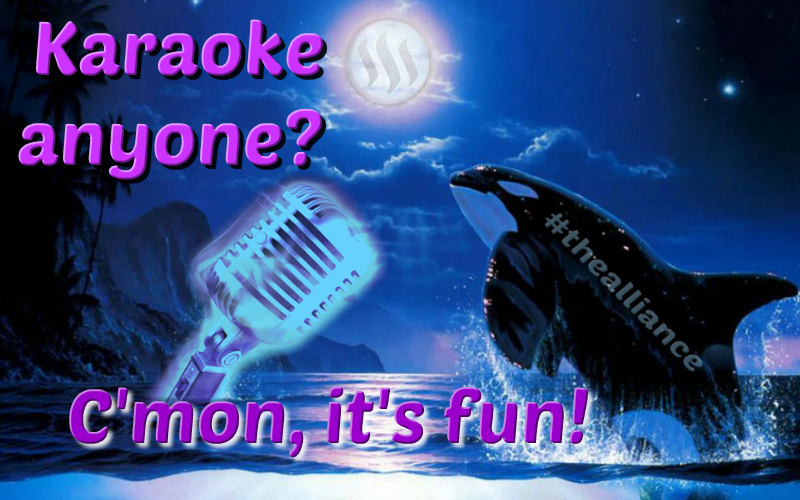 The Karaoke Contest
Anyone that would like to see the entries so far or enter yourself, be sure to click your pretty little mouse or tap your frantic finger here to see the rules and submission thread!
1st Place - 10 STEEM
2nd Place - 7 SBD
3rd Place - 3 SBD
Other places to 'meet' with #thealliance
Discord Channel #thealliance
Facebook Group #thealliance
#thealliance Twitter Feed
Remember...
just keep swimming...just keep swimming...