Gimme dat booty
Part 2, What?
In case you missed it, the first one came out on Monday called
'I STEEM of Dreemy...or some such shit.'
and I didn't expect to be following it up so soon.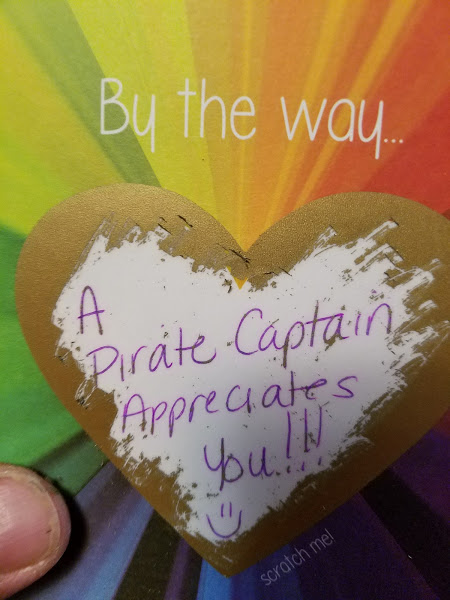 Am I complaining? Why hell no. I'm ecstatic! For those that are not aware, I have this thing about games. I'm uber competitive, don't know why, just a thing in my brain says
YOU HAVE TO WIN
. Ask
@carriallen
, I'm the three weeks running
Grand Master Game Smasher
on her Mission Control Monday show.
Back to Part 1
On
@dreemsteem
's PTI on
@shadowspub
's PYPT Thursday evening shows, was a treasure hunt. And I do
love
that booty. For the 'season's finale', she was handing out all kinds of goodies like hot sauce (that was amazingly tasty) from her trip to Puerto Rico and STEEM and even some t-shirts. Behind hats, that's my favorite article of clothing. They don't last nearly as long as a ball cap or skully, even thought they are worn less, so when I come across a good one, I try to snatch it up. I even have a few in my dresser that have holes worn in them. I like them so much, I can't bear to part with them (yet). And today...well...
I Totally Ripped Open The Package
So I don't have that picture to share with you. It didn't occur to me until after I had opened it, in my impatient stewing while I waited to pick up my oldest princess, to take a snapshot of it. Although, I did lay the T's up on my steering wheel and take a picture to share with you badasses - pirates or not.
Right?
Aren't these just the coolest shits ever? Most people have a hard time picking out clothes for me, and I have some horrid tales about that, but you have done a marvelous job Cap'n! I seriously don't know which one I want to wear first. They both kick major ass so, thank you, you are an absolute peach of a pirate!

@liberty-minded made this badass gif