Have you heard of the Disguise a Turkey family project? It's pretty popular among elementary schools in the Eastern U.S. Teachers send a photocopied turkey drawing home with each student and they have to work with their family to disguise the turkey (make it look like something or someone else) so it doesn't get eaten on Thanksgiving Day. It's a project to encourage bonding and creativity.
I have a 5 year-old. She's in kindergarten and this was both of our first times doing this. She wanted to make the turkey look like Wonder Woman (DC Super Hero Girls version). So I drew it, and she worked on coloring each piece that we cut out and glued on.
This was a great project for her. She loves making art, and my mother (an artist) and I have been teaching her some techniques. This gave us a chance to work on shading together. We also discussed the way light hits pieces and appears in different shades of color.
Here is the final results: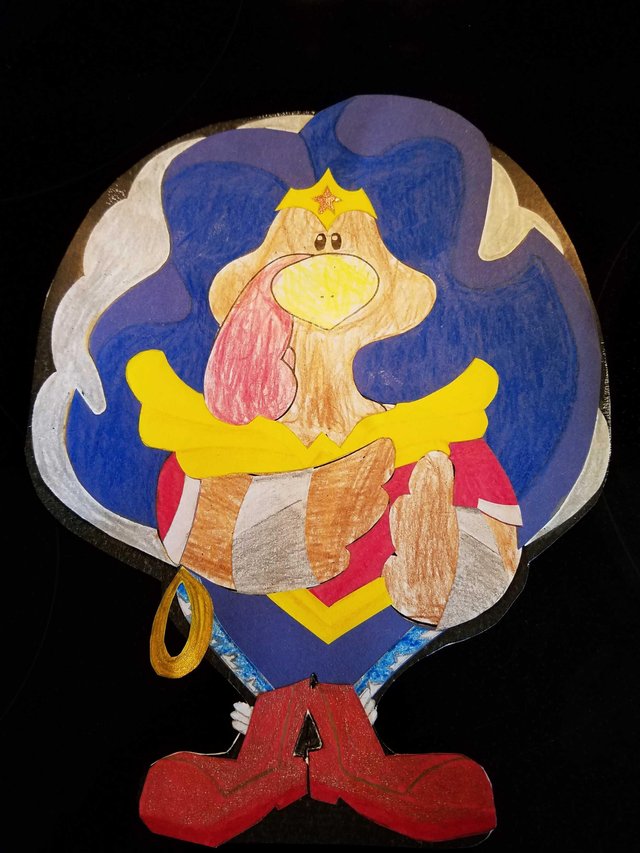 Want to try this project with your child? Here is a link to instructions and a free download:
https://www.teacherspayteachers.com/Product/Disguise-a-Turkey-Project-FREEBIE-972674
Good luck and have fun!