Salmon Pad Cha: แซลม่อนผัดฉ่า
Hello my Steemit friends,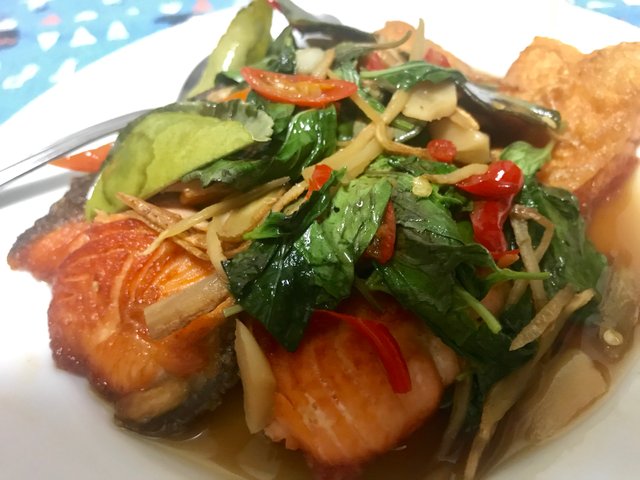 A few days ago, a super typhoon hit Japan. There was very strong wind, severe rain, and flooding in some areas. So, I was scared and didn't go anywhere, just kept safe at home. But before the storm I went shopping and bought some food. I'd like to show you what I ate. It's called "Salmon Pad Cha," a slightly spicy dish.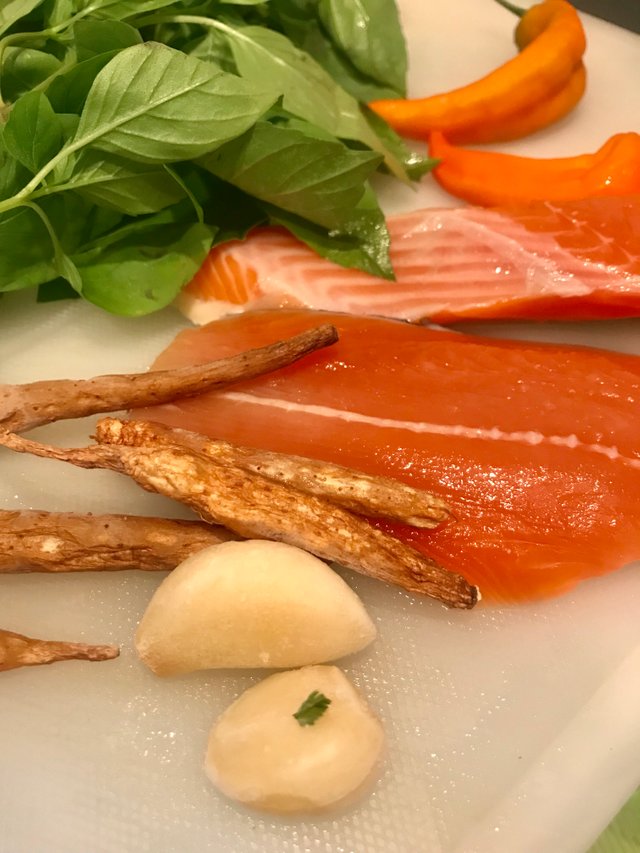 The ingredients are chili peppers, garlic, finger roots, lime leaves, sweet basil leaves, sugar, fish sauce, oyster sauce, and salmon.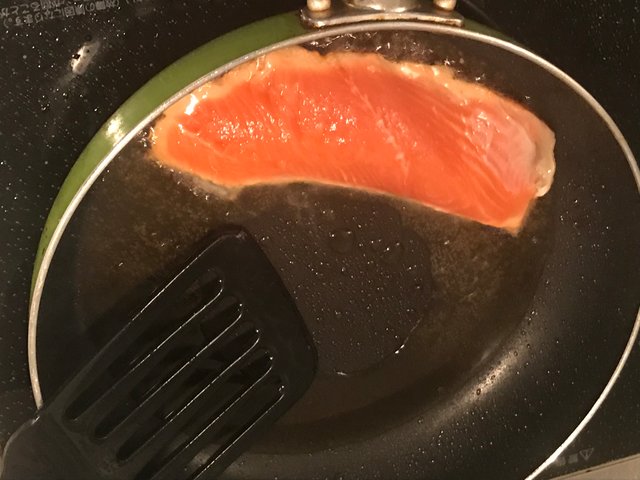 Fry the salmon in a hot pan until done and set on the plate.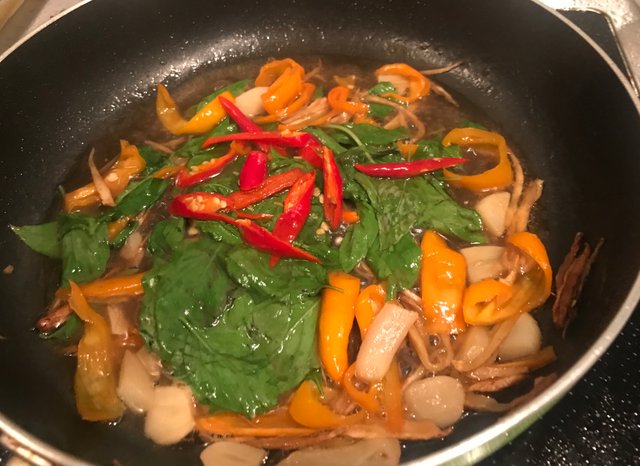 Put sliced chillies and garlic into the hot pan and then pour in the oyster sauce, fish sauce, and water mixed together. Add sliced finger roots, lime leaves, and sweet basil leaves, and fry all until done. Put it on the salmon and serve with rice.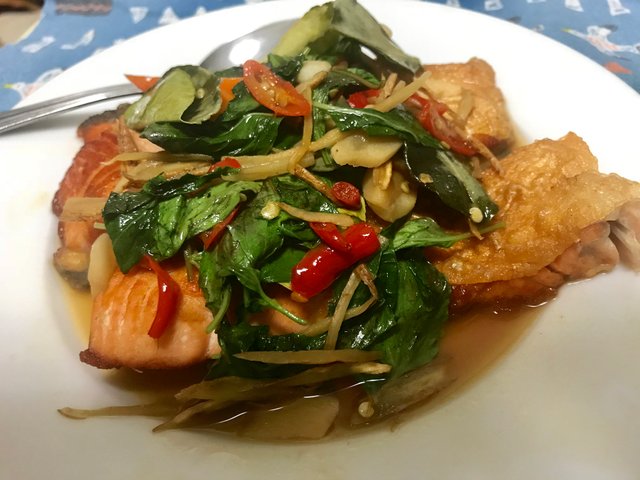 Thank you for stopping by my post. If you enjoyed reading it, please upvote & follow me for more posts and photo
TH
สวัสดีคะ เพื่อนๆทุกคน
เมื่อสอง สามวันก่อน พายุไต้ฝุ่นเข้าจู่โจมประเทศญี่ปุ่นคะ ลมแรง ฝนตกหนัก ไม่กล้าออกไปไหนเลยคะ ก่อนหน้าพายุจะเข้า ได้แวะซื้ออาหารเตรียมไว้บ้างแล้วคะ วันนี้อยากเอามานำเสนอคะ เป็นเมนูเเซลมอนผัดฉ่า สไตล์มีอะไรก็ใส่ๆไปคะ 😬
เตรียมวัตถุดิบเครื่องปรุงที่มีอยู่คะ มีกระเทียม พริก กระชาย ใบมะกรูด ใบโหรพา น้ำมันหอย น้ำปลา น้ำตาล น้ำ ปลาแซลมอนคะ
ทอดปลาแซลมอนให้เหลืองกรอบและพักไว้ก่อนคะ
จากนั้นก็ผัดเครื่องปรุงทุกอย่างเข้าด้วยกัน เริ่มจากตั้งกระทะเจียวกระเทียมกับพริก และค่อยๆเติมน้ำมันหอย น้ำเปล่าและน้ำปลาคะ ใส่กระชาย ใบมะกูด และใบโหรพา ผัดให้เข้ากันจากนั้นนำราดบนปลาแซลมอนที่ทอดเอาไว้แล้ว พร้อมเสริฟคะ แค่นี้ก็อร่อยได้ในวันที่ร้านค้า ร้านอาหารปิดหมดคะ
ขอบคุณที่แวะเข้ามาอ่านโพสต์คะ ถ้าชอบก็ช่วยกดโหวต และติดตามกันด้วยในโพสต์อื่นๆ กับชีวิตในดินแดนปลาดิบ ประเทศญี่ปุ่นคะ 🙏