Tesla is absolutely dominating the US market. The following report from cleantechnica shows just how much.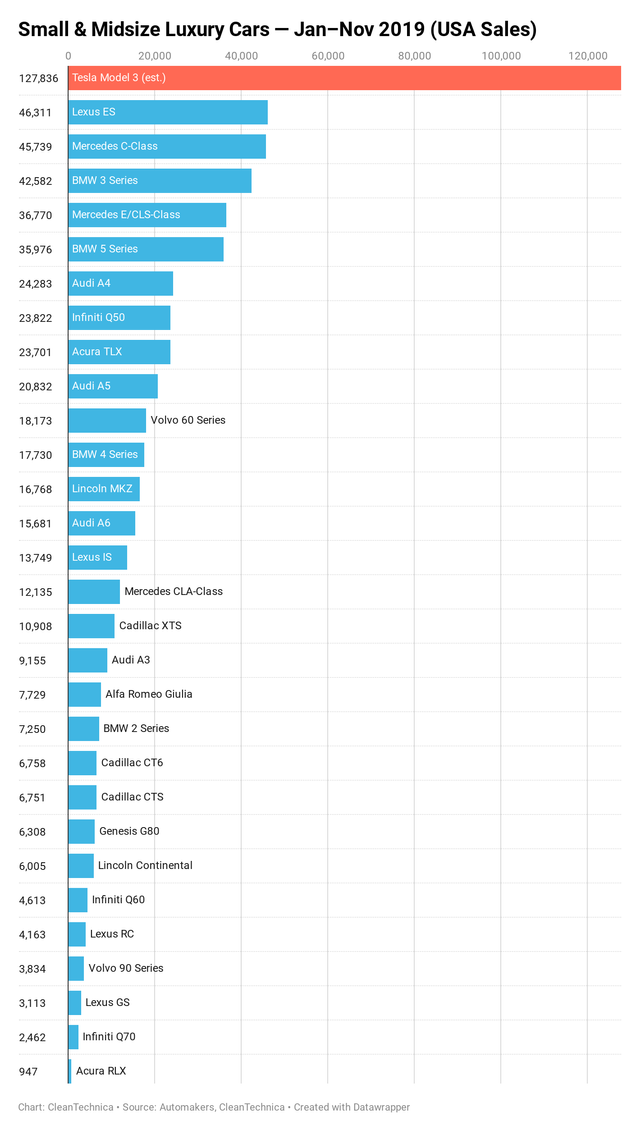 If you drive on US street you will will see many Tesla among all the various car brands these days.
As a model 3 owner as well as C-class owner the reason for Teslas dominate is very obvious:
The model 3 is very cheap.
There is a notion out that EVs are expensive, but this is just not true when it comes to the model 3. The car is competitively priced and has a very cheap entry price compared to other cars of its class.
If you look at the list above that the Model 3 dominates you will have to go to the Volvo before you may find something that is comparatively cheap.
One key reason that is so is also because all other cars start at a base price but actually are 20% more expensive if decently equipped. A low end C-Class will run me 55k, while one with a nice engine will cost 65k or 90k.
All the fancy features are already included in the model 3. All that is extra is one feature: Full Self Driving. Thats all. This is simple and straight forward. I don't feel scammed in the buying expereince.
The model 3 drives very well
My wife drives a c450 which is an AMG version of the C-Class that would cost about $65k. It has a faster engine and some race car features (like special suspension and breaks). It's a very nice car.
The thing is the cheapest version Model 3 that I have feels better on the road.
It handles better and it accelerates much smoother and also breaks better. In general it just drives better.
My car was 35$ after incentives, now would be about 40k.
This is a very important fact: You can drive a Toyota or a German car. The difference is about a 2x in price. The basic thing it comes down to what you pay for is that higher quality drive that the Germans provide.
Well not anymore. When I was driving en e63 in Germany a car that cost about 140k EURO I was missing some of the driving experience of my dinky little 35$ m3. And I am not exaggerating here.
Would I switch my m3 for an e63 on the Autobahn? No I would not. But when I sit in that Mercedes, it feels like the technology under my ass is old and about to be replaced like Nokia was replaced by Apple.
Model 3 has technology no other car has
There are many features you quickly get accustomed to when driving Tesla that nobody can compete with:
Sentry mode (my car is constantly in surveillance mode)
Autopilot (nothing comparable on the market)
Constant updates
A useful UI and nice screen
No key, just walk to your car get in and go
A modern and clean interior look
manage your car from the phone (such as controlling its temperature before driving it)
All of the above cannot be found in other cars.
There are also some downsides
The above imho is the reason why the Model 3 is crushing in some markets. However to be fair the Model 3 also has some disadvantages and there are some clear money savers and lack of feature vs luxury brands.
My Mercedes spoiled wife absolutely hates the seats and does not like to drive in the car for a long time. I have to agree with her, the seats are low quality and generally bad.
The car is small. While it competes with a c-class it is more of the size of an a-class. The Front interior room however is much larger (what matters more)
manual trunks
lack if handles
general lack of quality (I have had my car in the shop a few for a few things that had to be fixed after I took over the car)
After owning the car for 3 months the seats look beat already
charging is not quite as convenient as getting gas
You can't have it all
As an owner it is clear to me why Tesla dominates so much: The core functionality is much improved over the competition, it provides new functionality, features and technology no other brand can provide and the downsides are things that can easily be fixed. Improving a car seat is much easier than competing against Teslas autopilot and software.
All this at competitive pricing.
As a result more and more people in the market are simply making the smart choice and switching over.
Existing car makes need to innovate very very fast or they will be obsolete. The good news for the other car makes is that Tesla can only build about one factory a year and it will take a bit of time. Time the rest of the market can use to build competitive products.
But Tesla still has work today. My wife preferes the dance version of her c-class over the Tesla. When both cars are at home she will always choose the Mercedes. I am the other way around.
So while Tesla is strong there is still much more work to be done and other car makers do have a shot at fixing their problems. Yet I would very likely drive a Mercedes if not for Tesla.
I look forward to how this plays out. My Money however is on Tesla. I have not invested into any car makers, but of my stock portfolio over 50% is Tesla.