Telos Media Roundup — October 12, 2018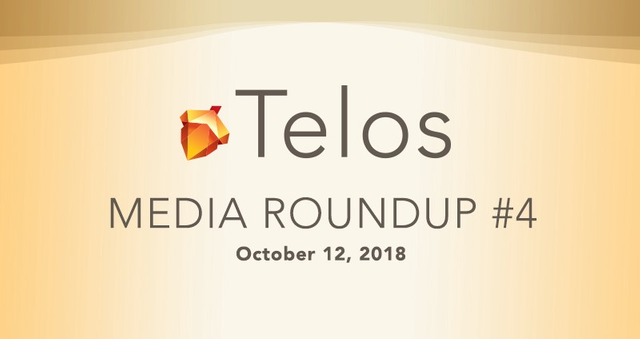 Telos Media Roundup — October 12, 2018
Telos Network — Weekly Report — October 11, 2018
From last-minute Telos Improvement Proposals to reaching over forty-five block producers on the testnet, it has been an eventful week for the Telos Blockchain Network. Stay up-to-date on the latest news in the Weekly Report.
https://medium.com/@teloslogical/telos-network-weekly-report-october-4-2018-ce0b2bb64e0d
DEXEOS Press Release
The Telos Contributors Group is excited to announce that DEXEOS — the first exchange launched on the EOS network — will be listing a TLOS/EOS trading pair.
Read the full press release here: https://medium.com/@teloslogical/press-release-telos-token-to-list-on-dexeos-7c874d77b33c
Telos Live! Hangout #6 October 10, 2018 Livestream
Marketing contributor CJ Anders and Goodblock team members Beth Farnham and Ava Masucci are valuable members of Telos Blockchain Network launch group. Listen to this week's Telos Live! hangout to hear about their past blockchain experience and current projects.
Dappcast Episode 13: Telos — dappcast
After observing stagnant hinder progress in the blockchain community, Douglas Horn "realized that all the accusations that people make about crypto are actually 100% true unless we sit down and build some of these things." Find out how Telos is starting to build the tools and applications that will innovate cryptocurrency in this interview with dappcast.