Just a small update
For some time now, i have been working on a physical steem coin. I wanted a tangible representation of an otherwise digital asset, and decided to play around a bit. An otherwise digital world can often be made more real my holding it in your hand, which is exactly what i wanted to do. I wanted to make it in order to give it away to strangers as a way of creating awareness of steemit, and to attract newcomers. Quite a few steemians have expressed interest in it as well, so the coins might just wind up in the hands of other users at one point as well. Here, you can see version one of the coin.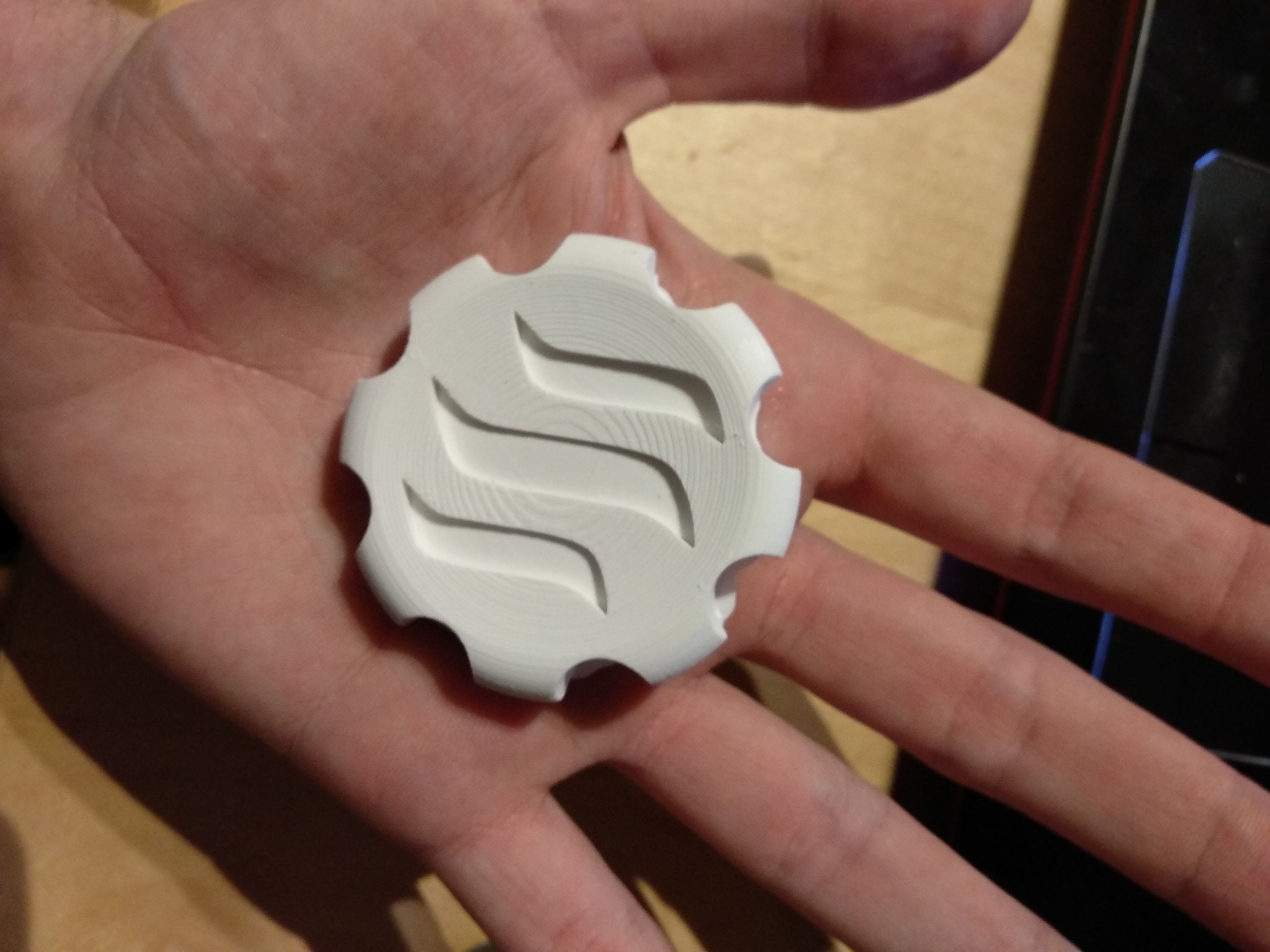 The strangeness of 3D printing
When i started writing about the project, i quickly realized that the tools i used to make it is still quite foreign for a lot of people. I am quite fortunate to have free access to 3D printers, molding equipment, CNC- and laser cutters on a daily basis, and i therefore plan to make a series of posts in order to share my knowledge on the area.
For the first couple of posts, i will use my coin project as a stepping stone, in order to discuss mainly 3d printing and molding.
In the longer run, the posts will vary between being instructional and informational, and i intend to cover everything from 3D modeling to laser cutting. I'll go over choosing the right tool for 3D modelling, gaining access to the fun tools, finding inspiration, buying or building a 3D printer, and much much more. There's a ton to go into, and i expect to learn a ton from it myself, so i am looking very much forward to getting started.
Steemit has a bunch of awesome artists, like @m31 and @wolv to name a few, and it would be wonderful to see what the community could do with access to a wider range of tools. Considering what they can do with pen and paper, just imagine what they can do with 3d printers and lasers! Actually, i am not sure how well the artistic talent carries over from 2d to 3d, but i would definitely be interested to see what the community could come up with. The newer tools allows for quite a wide range of methods to be applied, allowing the user to make everything from toys, to art to household objects. I myself have had a ton of fun playing around with it, which is why i am sharing now. I will slowly be making new posts, as i work on my own projects, and i hope it will be helpful to some of you . If you have anything you want to see, please don't hesitate to say so.
That is all for now, i hope you're all staying warm and happy out there.
Until next time!
Emil