What's So Innovative About Apple Card?
In this year's , there wasn't any new shiny, hi-tech gadget launches as in the past. Perhaps, Apple is moving away from its earlier focus on smart phones and tech gadgets.
Apple mostly introduced several subscription services like Apple News Plus ( magazine subscription service), Apple TV Channels (ads-free on demand TV channels), Apple TV+ (for exclusive movies and original Apple TV shows), and Apple Arcade (games' subscription service). None of these I find any innovation that we expect from a brand like Apple.
So what about its Credit Card service called Apple Card?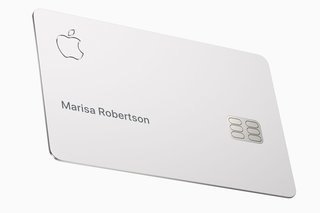 Apple is branding it as something very innovative, disruptive and a game changer. Its CEO Tim Cook term it as "the most significant change in the credit card experience in 50 years." .
But Apple's credit card is mostly an extension of its Apple Pay service. Its digital version will be made available within minutes of applying for it.
Apple has partnered with Goldman Sachs and Master Card to bring out this Titanium Card..
Its physical card will be needed for shopping at locations where Apple Pay isn't accepted.
This card won't carry any data like credit card number, CVV no., expiry date and no signature. This is done to enhance its security and privacy.
This card carries no annual fee, no late fee, no over-limit fee and no international fee. Cash back on shopping will be rewarded on daily basis as Daily Cash.
But these are no innovations but merely a competitive and improved offering.
Several cards give near similar offerings with zero annual fee or zero renewal fee and up to 3% reward points or cash back.
In fact, to own and continue operating with your Apple Card, one will have to own an Apple iPhone all the time as the card wallet software is only available in Apple phones. So keeping with the time, a credit card customer will continuously need to invest in the latest version of Apple phones or just carry an old iPhone for the sake of operating a credit card and another phone for other tasks.
Although it seems there is no late fee applicable but I guess, it will be compensated through increased interest rates. According to their website:
Late or missed payments will result in additional interest accumulating toward your balance.
It's being presented as so simple and easy to get a credit card in minutes from your iPhone but not everyone is eligible for a credit card. The card, it's limit and applicable interest rates vary according to the creditworthiness of the customer ...just as with other credit card companies. Apple states:
Apple Card will be available to qualified customers in the US this summer.
Variable APRs range from 13.24 percent to 24.24 percent based on creditworthiness. Rates as of March 2019.
So yes, there are some very interesting features to this announcement but I see it as just a competitive offering and not a revolutionary innovation. Soon it's competitors will counter it with better offerings. But I agree that it's raising the bar for them Let's see!
Ref.:
Apple's Press Release
Ref.:
Apple's Press Release