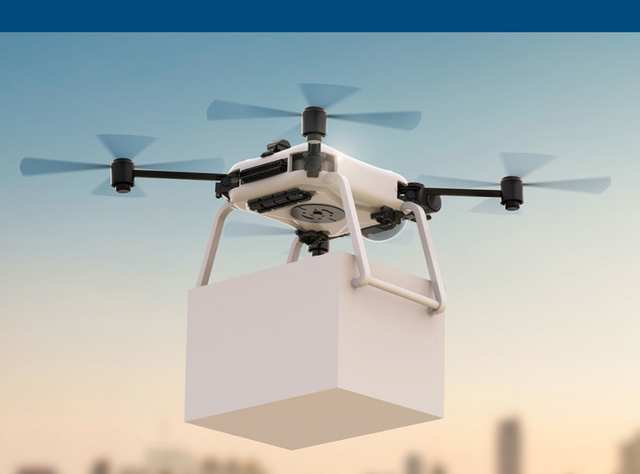 It could be a genuine challenge to stay up to date with the latest technology these days. There are maybe just too many new names and abbreviations. It's VR here… AR there, AI, IoT, Wearable this, Self-Driving that. Even if you work in the technological area, you might yet have a hard time keeping up.
One trending technology you certainly heard about was Drones. In recent years, they started to get accessible to the average client, and suddenly, drones here, drones there, drones are everywhere.
What is a Drone?
In simple terms, Drones are flying robots, more formally known as unmanned aerial/aeronautical vehicles (UAVs). It has no human pilot locally available and rather is either controlled by a man on the ground or self-governing through a computer software.
This aircraft is now being widely used, for many different applications: surveillance, search & rescue, aerial photograph, military, and others. But the one that was one that came to my attention this week was the drone delivery. I read an article at the BBC News, where it claims that the drones delivering our shopping could become a reality across Britain.
In this age, where everything needs to be done immediately, could replace the traditional system with UAVs be the answer to the quick delivery demands of customers? A lot of delivering companies believe it is, and some of them are already testing the technology's potential to get this started. Drones do have the potential to provide the lightweight items the same day, and it gives a taste how might look like the future ahead of us. But, could your business benefit from the drone industry?
The retail giant, Amazon, is going towards using Drones to deliver packages on the same day of purchase. The company has recently won regulatory approval to trial the prototype robot design that will benefit not just the customers but also the small businesses. David Grimes, the managing director of My Parcel Delivery, has applauded Amazon for thinking outside the box. He believes that it indeed can be beneficial for SMEs, especially delivering goods on the same day, but there can be limitations to the scheme's effectiveness and rollout.
Potential issues with Drone delivery
Drone delivery also raises lots of questions and concerns related to safety, distance limitations, and legislation. Following are the most significant problems that firms may suffer from drone delivery:
The delivery drones would not be capable of delivering the items that are heavier than some kilos, so in this case, this machine cannot replace the traditional human carrier services.
There is a limitation of distance as well, drones have the potential to deliver the items on the same day, but they cannot pick something in one country and carry it to another.
They have taken out the insurance. SMEs should be well aware of the insurance implications, like legal claims for breach of privacy and liability for accidents or damage to property, etc. Although many SMEs may not be considering drone delivery shortly, still they should be aware of the opportunities and risks it brings. It is now the opportunity for brokers to help their SME customers understand the impact it may have if the drones are used in their supply chain at any possible point.
The biggest hurdle is airspace and legislation. The law is trying to keep up with the recent technology, and there is a race between legislation and technology to come up with a viable solution that can allow the drones to be used effectively.
Using Drones to deliver goods
Here I list few examples of few companies using drones to promote their business. Presumably, all the examples here are not happening on the daily basis anytime soon but could be amazing ideas to promote your business.
Yo! Sushi iTray – The UK-based sushi chain appeared a rice burger with a flying plate, or the "iTray," worked with RC Drone quadcopter innovation. The drone, controlled by a Wi-Fi framework and iPad programming, flies food straight to the table.
TacoCopter – San Francisco tech masters made a Drone for conveying tacos, began a site, just to be foiled by the Federal Aviation Administration (FAA).
Domino's DomiCopter – The pizza chain propelled an advertising contrivance in the UK, with a video demonstrating an eight-bladed DomiCopter conveying two large pepperoni pizzas to a home.
Oppikoppi Beer Delivery – South Africa's Oppikoppi music celebration propelled their particular larger conveyance ramble, parachuting down lagers for parched festival goers at campground District 9.