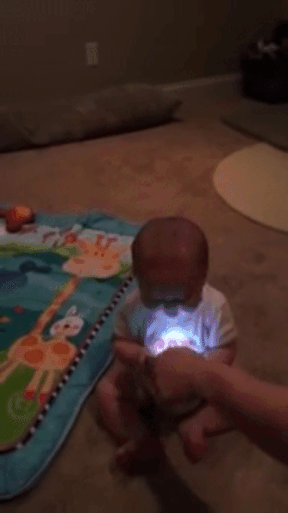 gif derived from YouTube video link here
Crying or ranting is one of the usual routine for all babies and children where some do it almost all the time. Most parents doesnt always cope with these situations well. But thanks to technology like televisions, personal computers or the ones which has more accessibility nowadays such as smart phones and tablets, parents life may be at rest easily. Whenever children start to cry or resisting badly towards what parents want them to do, the solution mostly will be handing over the mobile phones, show them YOUTUBE videos, let them play some mobile games and such.
Technology does bring convenience or is becoming the so called solution for parents but they may also slowly creating certain kinds of issues within their children:
becoming more indoors than outdoors (watching videos or playing E-games have become their hobbies)
develop their joy and happiness through technology (from videos or games)
less fit and has more tendency to become obese (they don't get much exercise)
become less socialble (they interact through social media or game characters)
difficulty to balance sleep wake cycle (long hours of blue light exposure may affect melatonin, the particular hormone)
higher tendency to develop eye defects (prolonged blue light or bright screen exposure)
less creativity and unable to think critically (less ability to focus and limited to options provided)
may has lower self-esteem and more negative moods (when they don't get enough "likes/upvotes" or "share/resteem" and also comparing themselves to popular social media users)
may have less emotion and sensitivity towards others (they just have less chance to develop it)
becoming too reliant or addicted to technology (you try to take *it" away from them and see)
exposure to sexual or violence content (even YOUTUBEKIDS has these contents)
or worse exposure to terrorism or suicidal challenges (for examples: slenderman challenge, bluewhale challenge or the recently momo challenge)
The issues stated above are just limited to my knowledge as well as what I have ever seen so far. There might have even more unseen insights. The thing is, these kind of issues are always being reported in the news or the book which most people read, the Facebook. Yet parents, they still take the existence of technology for granted.
I am not saying that technology is bad and parents should stop letting children use it. Advancement of technology actually provides abundant opportunities for learning, entertaining and socializing, just that adequate usage and monitoring is still needed. These are just some of my opinions that parents can look into:
limit daily usage of their preferred technology
support and encourage participate in exercise and socialize with physical friends
teach them to purposefully utilise the media such as only used for communication means or educational purpose at designated times
be a good model as parents
All in all, we can't stop the advancement of techology as well as the fact that it helps to improve our lifestyle as it goes. We also can't prevent our children from fully not utilising technology or else they will fall behind the world. It's just about taking a little awareness and also some thoughtful actions in dealing with these kind of matters.
follow for more👉📌

🗡 steemit: @crispinhung
⚔ instagram: @crispinhung92
🛡 facebook: crispinhung

If you are someone who like to go to different places to eat, you should really try out @tasteem and earn through sharing and if you are interested in my tasteem post, you can have a look at them here.

Just in case, if you are interested to access steemit through mobile, either Android or Apple, you can try @partiko. I had a great growth and user experience with it. You can register through this FREE INSTALL LINK. When you register you will get 3000 Partiko Points for sign up bonus and you can collect more along the way. You can exchange Partiko Points to Steem token as well! If you need help on this platform, please do not hesitate to ask me.

Do you have other social media platforms such as Instagram, YouTube and Twitter? If you are already sharing your stories or posts there, might as well link them to steemit platform with @share2steem. Linking to the steemit platforms can help your sharing get some earnings in terms of Steem currency. If you are interested, you can register through this FREE INSTALL LINK. If you need help on this platform, please do not hesitate to ask me.

Do you know, you will be rewarded Steem daily through the game @drugwars. Its free to install and free to play unless you want to invest in it.a If you are interested in this game, you can sign up through this DRUGWARS FREE REGISTRATION LINK. If you need help on this platform, please do not hesitate to ask me.
Posted using Partiko Android