Sometimes we hear news that are misleading. Seem like some people like to spread the wrong kind of news. Trying to scare people and make them nervous. It can also cause #teardrops to flow.
I know how it feels. I was told some news that was not good I did not want to believe them. But as the days and weeks went by, I became doubtful and anxious. Maybe they were right. Maybe what I have been doing is wrong. Maybe I was not good as I thought I was?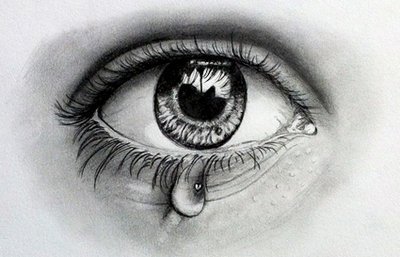 source
Sometimes not matter how hard you try not to believe, there is always that doubt at the back of your mind. I do not know why there are people who do those things. They don't know they cause you to cry at night. They don't realize what they are doing is hurting you. But you just keep quiet and bear it. They start the #teardrops to fall.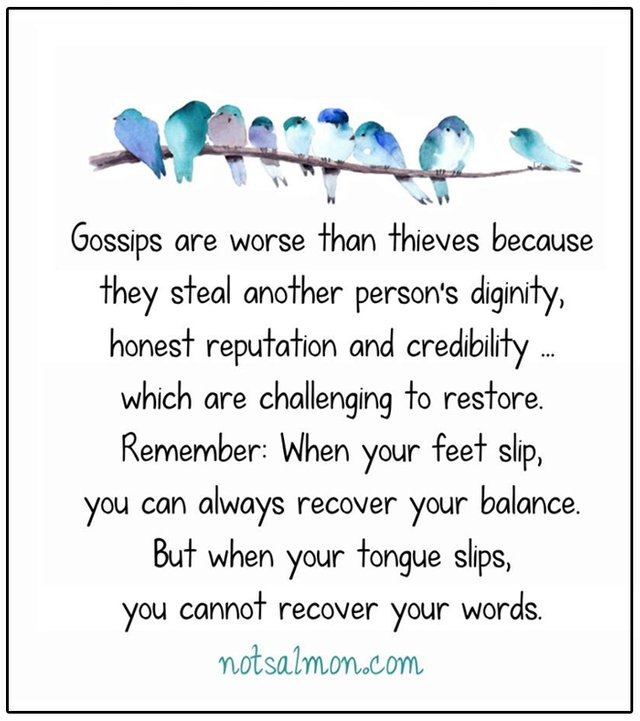 source
Life is full of ups and downs. The good and the bad. The beautiful and the ugly. The intrigues and the silence. Some people cannot be happy for others. They always want to be the top, the best, the prettiest, the most intelligent, etc., etc., etc…
Sometimes it is hard for those concerned or for those who are the victims of the malicious news. But they have to be strong. There are some ways to help especially if they are not true. For me if they are not true, why bother reacting? Just keep quiet about it and let them go on and on. Because those who know you and believe you will also ignore it.
Pray for that person or person that they will be enlightened. Prayers helps cure cancer and other deadly diseases, it can cure the disease of gossip, envy and loathing.
But I am not really that strong. I cry easily. Watching a sad film or advertisement I cry. Even when writing and get emotional I cry or my eyes start to water. I try my best to show I am strong but sometimes it is hard.
I nearly quit #steemit because of all the bad things I heard. But after talking with my mentor and friend @surpassinggoogle, he erased all the bad thoughts and laughed away the wrong rumors. He made me feel stronger and kept encouraging me. Advising me to just go on your own. Do what you think is right. Do not add fuel to the fire, let it die down a natural death.
Show you are happy, smiling and laughing. It will make your enemies angry because then they will know they can not harm you. That is why it is better to talk directly to the one concerned.
@surpassinggoogle is very good in encouraging people. He wants me to try @steemsecrets. But I am conscious. I feel nervous talking to a camera hahah. But he said I could do it and I will - someday soon. #steemsecrets is something new and very informative. @surpassinggoogle said he will help me and I believe him. I envy those who have done it already, someday I will too.
A @teardrop SMT was given to me to help ease my pain and #tears. Maybe virtual but works. Thank you @surpassinggoggle!
So Like this quote from Ricky Nelson: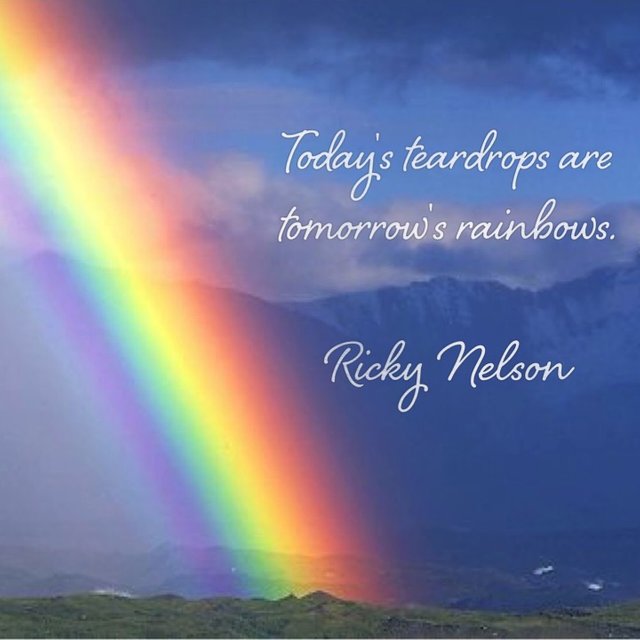 source
"Today's Teardrops are Tomorrow's Rainbows"
How true, how spot on. All our #tears becomes rainbows, happiness and blessings after the pain and sorrow. We just have to look towards the end of the rainbow where the gold is!
Our mentor @surpassinggoogle has been very supportive of our group (STEEMITDIVERSIFY) and other groups too. Please support him as a witness by voting him at https://steemit.com/~witnesses and type in "steemgigs" at the first search box.
If you want to give him witness voting decisions on your behalf, visit https://steemit.com/~witnesses again and type in "surpassinggoogle" in the second box as a proxy.
Others that are good: @beanz, @teamsteem, @good-karma, @busy.org, @esteemapp, @hr1, @arcange @bayanihan, @acidyo, @anomadsoul, @steemitph, @henry-grant @jerrybanfield, and @paradise-found, also the many others who have visited My posts. Pls. support them too. Thank you very much.
I am grateful for that and for everyone who has helped me and my friends.