Supporting Steemian In Thier Business
Being is the community of Steem, its not just about writing a post, we all have said to do engagement and making friends. It is also good to have engagement by supporting another steemian in thier small business.
Last weekend, me and @gelfire had the previledge to visit @kilathecla small booth in ITCC, Penampang. A few weeks back, i read somewhere that she is good in baking Fruit Cake mix with Local Moonshine, here we call ot "Lihing". It was a hype and buzz all over whatapps, her facebook and her chatty voice everywhere. Lol !!!
We actually wanted to get some vege from Bataras Supermarket, but the vege looks not so fresh, so we decided to pop by at @kilathecla booth, @gelfire says wanna buy her fruit cake, as for me i am not super fan in fruit cake but i can eat since @gelfire wants it, i just go with the flow. As the bible say so, honor and respect your wife wishes. Lol haha..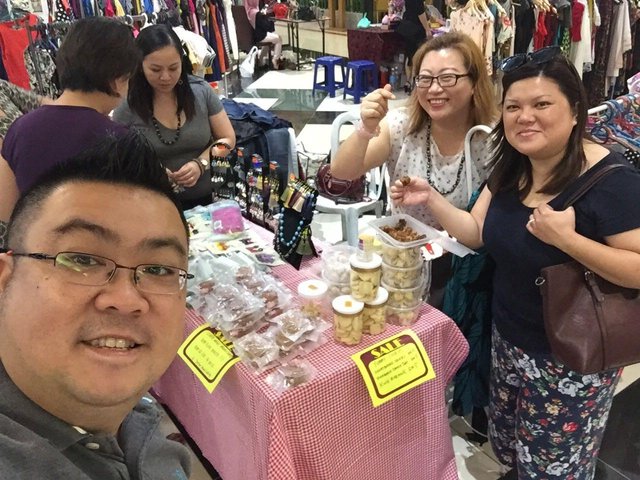 Being a Small Entrepreneur is not easy and I definitely gone through that, it was a struggle for me before, and when Steem came on board into my life, we get rewarded by writing but none in this region on how to spend their rewards (Steem and SBD)
To be honest i really forgotten to ask @kilathecla whether or not can pay via Steem or SBD for fruit cake, @gelfire was quick to take out her money to pay. Hehe...
After reach home, i read my group whatapps.., @viverridae uses steem to pay then i realise i totally forgotten.
So next time @kilathecla we will pay you in steem if you dont mind. Supporting a small business brings originality, create jobs, and it is ran by the Community of Steem that you engage with. This will bring positive effect towards the community and steem platform.
Thank you @kilathecla for the Moonshine Fruit Cake, it definitely tasty and delicious.