By now most people would know that Borneo Blockchain Summit 2018 has just recently concluded. For those first time reading about Borneo Blockchain Summit, please click here and here by post by @joannewong.
Today we had a "sort of" post-mortem meeting with our Co-Organiser (Hartatek) with loads of conversation, ideas, suggestion been thrown out. After they left, it was 4pm. I and @danieldoughty stayed back to EAT as both of us were really hungry and this is the first time we talk (both of us)on the BBS. However, the conversation was about spending time with family with baby @matthewdoughty. For myself effect me on my actual work. By doing BBS, I literally lost 2 deals on my Property Biz, cost me almost RM5K-RM6K and this is because of Steemit. Then, we mention that both of us haven't done a single post after the summit in regards to BBS. Most of the Volunteers had written about it but we still lazing around to settle few immediate issues raised by our Co-Organiser.
Thru weeks of preparation with non-stop meetings, discussions, thousand of whatapps replies, tons of letters and emails, negotiation deals, non-stop teleconference with @danieldoughty and @bitrocker2020. It all comes down to the D day , 8 Sept 2018. The First Blockchain Summit in Sabah and some even say the First in Borneo.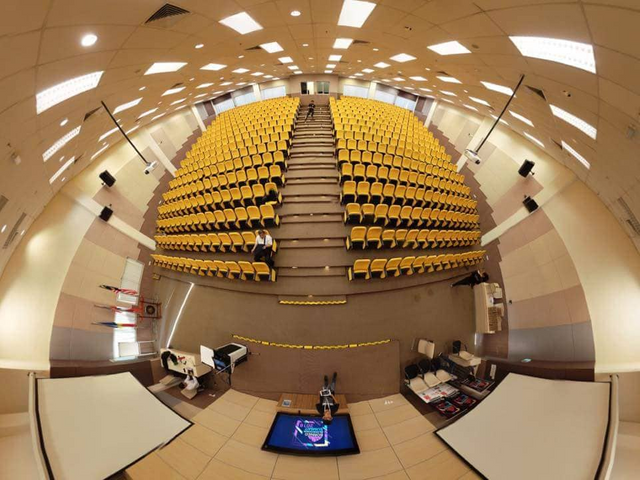 Birds Eye View inside the Auditorium
It was a rollercoaster ride, the anticipation for this kinda even builts up day by day as the pressure and dateline for each segmentation of role was very much at stake. Actually, it keeps me going, which I like, my brain functions faster and effectively if I am in this situation.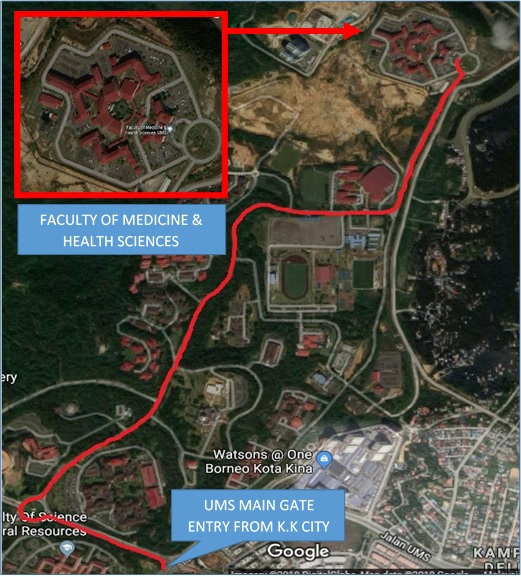 Map done by @beverlyjoe credit to him
For those who know me, my background has always been in the Tourism industry, Organizing Events such as this usually is like walking in the park. However, every event comes with different types of hurdles and challenges. It is how you react towards it and make it better and most importantly make it happen. It was natural for me to lead and spearhead the Organizing Committee together with @danieldoughty to make things happen, and also naturally to take up the role as Ground Event Manager.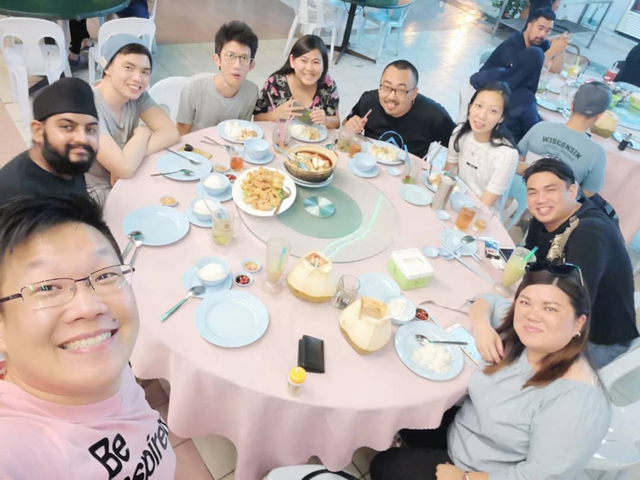 Photo by @buzz.lightyear, I knew he was hungry for Steem Fish
It was a Hot Day on 7 Sept (Friday) 2018, together with all the Volunteers, we gather at University Malaysia Sabah (UMS) to set up the banner, test the sound system, do a dry run of the program, briefing the Volunteers on their roles, all the small little details were in place. As this involved a Yang Berhormat (YB) a Minister from the Education and Innovation Department arrival, it makes it more intense and semi protocol to the event.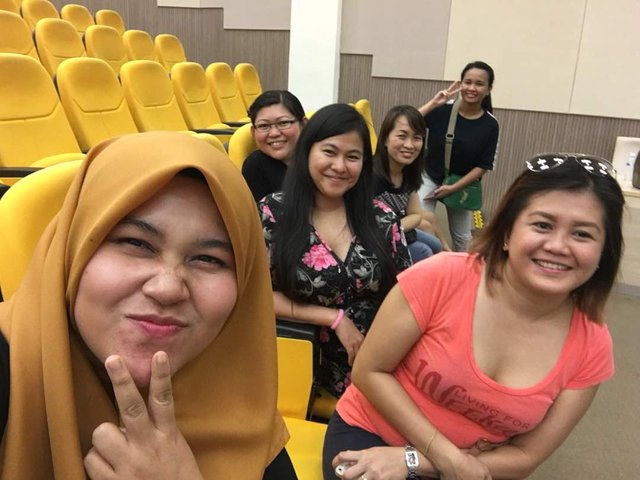 The beautiful ladies of Borneo @zamifara @viverridae @joannewong @nytrie @melindajamulis @audreyclaire
We run thru the details twice and reminded key volunteers on their role in each area. We were juggling not just the Dry Run at UMS but we also had to arrange the Cocktail Party at the "The Box" which was Sponsored by Dr Marcus Voo from Invech. We also had to rush in / out KKIA in picking up the Speakers and sending them to the Hotel/Dinner (A BIG SHOUTOUT TO @bboyady for volunteering this role), I also had to help him on a few pick up's as the timing and distance were in consideration.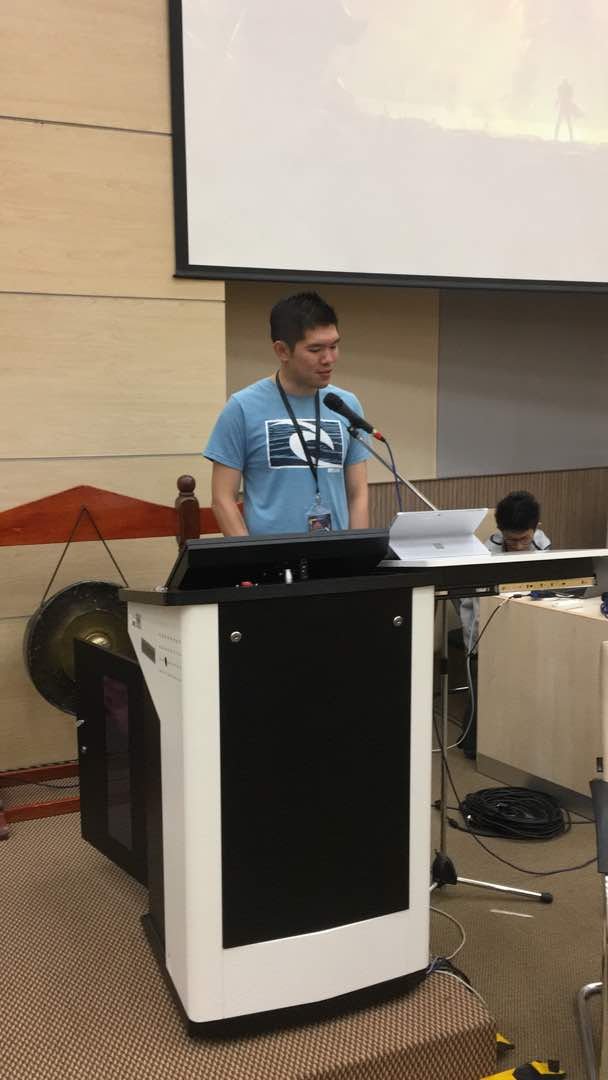 @alvinauh testing mic one two three, awesome Emceeing brother, very natural
The Cocktails Party was smoothly ongoing with almost all our guest from the Government sector, Speakers, Partners, and Sponsors arrived. It was a tiring night to PR all of them, but we kept pushing through. On the other end, sitting at the corner was @viverridae and @gelfire doing the final touch up of the Participant Namelist, a final crosscheck on the list and registered participant. They also had to send out Broadcast Whatapps to remind all the arriving participant on the programme timing, location map, QR code locality.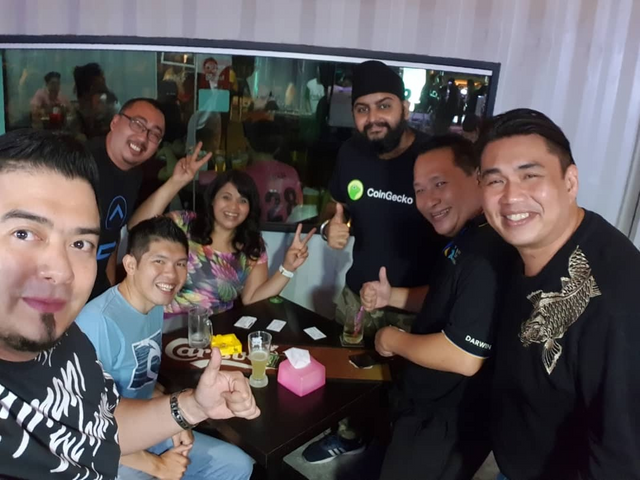 Photo by Azlin, Speaker from Hartatek Resources
@bboyady had to pick up the last Speaker from Sinegy Group at 1am morning, and my self with @aaronleang and @joannewong had to go to her sister house to pick up the 2 registration table (her sister stay on the 2nd floor, obviously it was me and @aaronleang had to carry it down, we were tired and tipsy actually after much drinking with the Sponsors, knowing that we had to go up and down twice to carry the 2 tables, I vividly remember telling @aaronleang "Bro, Lets carry Both Tables down, I am too tired to walk up and down" we both carry it down with just 1 stop on the first floor (I think the Power of Alcohol was kicking in), and it was almost 1 am during that time) For those who personally knows @aaronleang imagine his veins coming out from his skin carrying the tables 😁- Teasing you bro !! hehe..What a night to remember.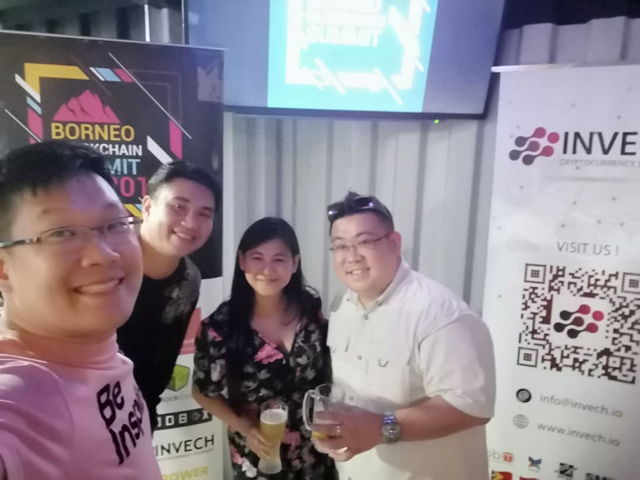 Photo by @buzz.lightyear
BTW Don't Freaking Ask Why UMS don't provide the Table!!! It boils me up.
When I got home, I called up Daniel again to check on what is missing and what needs to be reminded, we final cross check again the details and decided to call it a night (last sentence by him "Whatever Comes, Let it Be, We Ride Through It Only" - indeed we will )
Til Then That's it for now, wait for the Continuation on Part 2 of Borneo Blockchain Summit 2018.
---
Who Am I & Why I am Here ?
I am Alvin 'aka' @veenang who loves good food and enjoy engaging with people from all walks of life and meeting interesting, creative and intelligent people.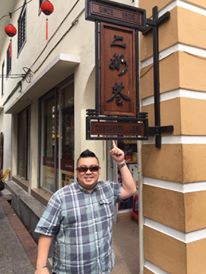 I am a SMALL Pioneer Tourism Buff in Sabah, Malaysia, Borneo. I ACCEPT STEEM for Hotel Booking in MALAYSIA and also Tours in Sabah, Malaysia, BORNEO. YES, YOU HEARD IT RIGHT!!! Do check out my post by clicking
Here for more details or chat me in Discord veenang#2913
Why Steemit ???
Unlike other social media platform, we can actually earn a reward by writing good quality contents (Blogging) and commenting on Steemit platform.
How to Join???
Steemit is Free to Sign Up, you may click HERE and it will lead you to the Sign-Up page. What are you waiting For? Sign Up Now!!!
"Steemit is NOT a Race, it's a DAMN LONG Marathon that NEVER ends" @veenang
Search me at Discord veenang#2913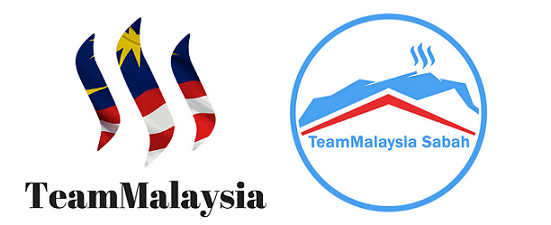 Credit to @cklai for #teammalaysia Sabah Logo


Credit to @cklai for doing this GIF Banner