When I got back into Steemit earlier this year, l started looking for other Steemians in Malaysia. I stumbled across #teammalaysia and started reading different posts. It was cool to see how active the members were. I could see they were really committed to the platform - hosting Steemit boot camps, meetups, and encouraging people to blog regularly.
I reached out to @zord189 to see if @ironmanmatt and I could join them for one of their writing workshops. He said we were definitely welcome ... and then Matt went back to the US for two months. Focused on caring for the twins by myself, I totally forgot about it. And after Matt got back, I kept missing the meetup announcements.
About a week ago, @zord189 contacted me about their last meetup of the year!
The morning of, Matt wasn't feeling well, but he encouraged me to go anyway.
Meeting other Steemians ... live!
I'm really glad I did! Everyone was super friendly ... and helpful. They were meeting on the second floor so @zord189 came down to help carry up the girls' stroller.
Over our dim sum brunch, I met @aaronleang, @joannewong, @awesomianist, @vaelriey, @bitrocker2020, @ireenchew, @littlenewthings, @alvinuh, @khimgoh, @superoo7, @fundurian & @buzz.lightyear.
It was funny to be introduced by my handle as I never think of myself that way ... even though that's definitely how I remember everyone else! 😄
@littlenewthings and @aaronleang helped entertain Squirt when she got tired of the baby chair. And Squish thought "Uncle Zord" was pretty cool.
I was officially added to teammalaysia ... with half the team escorting me back to our condo!! 😉 Even though we'd just met, they didn't hesitate to offer us a ride home. And as it turns out, a few of them actually live near us!
Looking forward to seeing all of you next year! 🎊
Photo courtesy of @bitrocker2020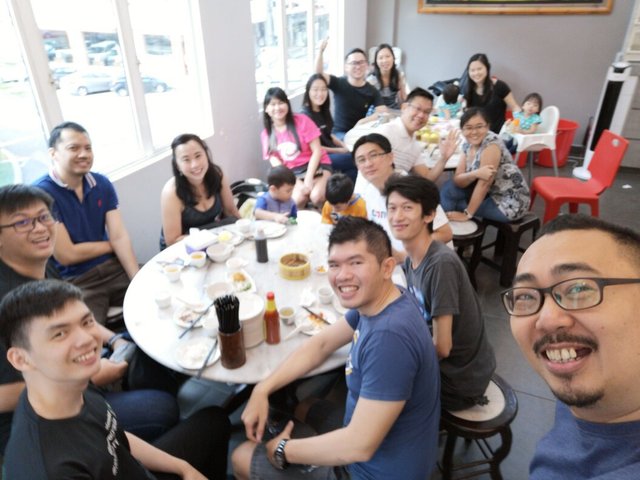 Posted using Partiko iOS