Xing Fu tang 幸福堂 @ Sri Petaling
Dear Steemians,
Here is my another bubble tea (boba) post after The Alley. Obviously, the world is hit by the brown sugar milk tea trend as you can see the dozens of different brown sugar brands are mushrooming in Taiwan and expanding to the world.
这将是我继鹿角巷第二个奶茶系列的帖子, 幸福堂。幸福堂,喝了会幸福吗?查看过他们的品牌故事,还蛮温馨的。这家店从去年就在内地扩张到60多家,夸张吧。
无可否认的,现在世界正在吹着黑糖奶茶的热潮,黑糖奶茶无处不在,无孔不穿。在马来西亚,处处都是不同品牌的黑堂鲜奶系列。每次都是经过不买,因为都是排长龙,今天就刚好没人,应该是开张优惠风潮已过!:D
Xing Fu Tang is one of the brown sugar milk tea series after The Alley in Malaysia. It has 4 outlets in Malaysia which located in Petaling Jaya, Sri Petaling, Kepong, and Subang Jaya. I saw a long queue every time I passed by this store, I was like it must be good. Finally, I got a chance to try today without queuing, perhaps the launching promotion of getting the second cup with half price has passed.
For me, rule number 1 in trying a new restaurant is to order their signature. So here you go, we ordered brown sugar boba milktea (left) and brown sugar boba milk (right). 对我来说,在一家新店吃东西最保险的就是点他们家的招牌。所以呢,我就点了厚奶茶(左)和鲜奶(右)。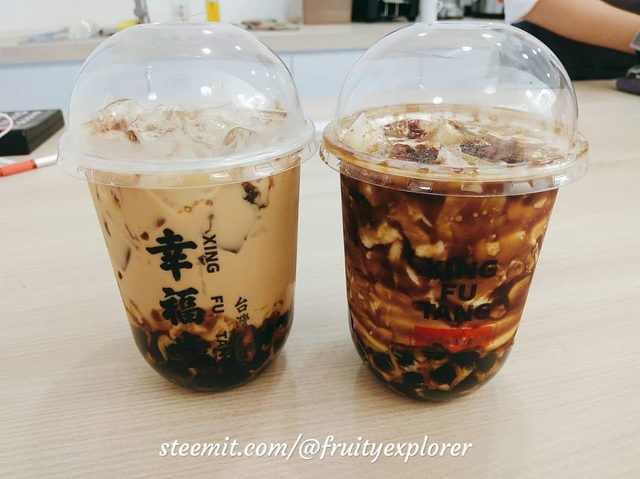 After 1 sip, I was a bit upset because I expected the "wow" taste after seeing people queued up for many times. For me, Xing Fu Tang boba milk is a bit bland and the boba (pearl) is not as soft as The Alley. Therefore, I still prefer The Alley signature milk tea because the taste is richer compared to Xing Fu Tang boba milk. (hopefully, The Alley still remains their standard)
喝了一口,有点大失所望,毕竟每次看到排长龙,心里肯定对它有期望。但是,与鹿角巷相比起来,幸福堂的味道有点偏淡,而且它的珍珠并没有那么柔软好吃。所以,我个人还是比较喜欢鹿角巷的招牌黑糖鹿丸系列。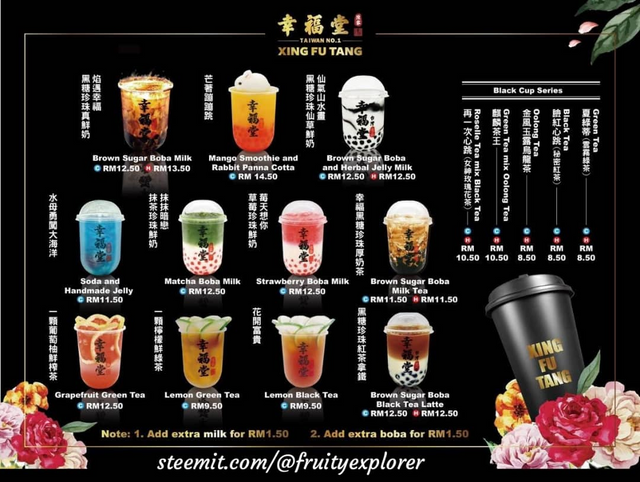 Pricing wise, it is almost the same as The Alley. 价格方面与鹿角巷相比不相上下,可以说是黑糖奶茶的基准价了。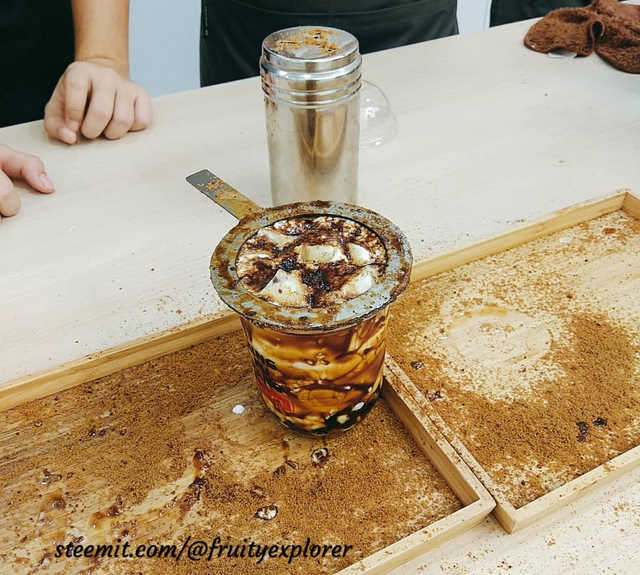 This is the difference between The Alley and Xing Fu Tang. Sugar is also sprinkled on the top of the drink, and then blow-torched to create a burnt brown sugar fragrance. To drink, we are recommended to sip the surface layer before we shake 18 times to mix it thoroughly.
他们的不同就是幸福堂会在奶茶上面撒些黑糖然后烤香它,让它发出淡淡的黑糖香。可是,我其实没闻到也没品尝到那焦黑糖。O.o 建议喝法:先喝表面的焦糖层,然后搅拌均匀或者摇18下再继续喝。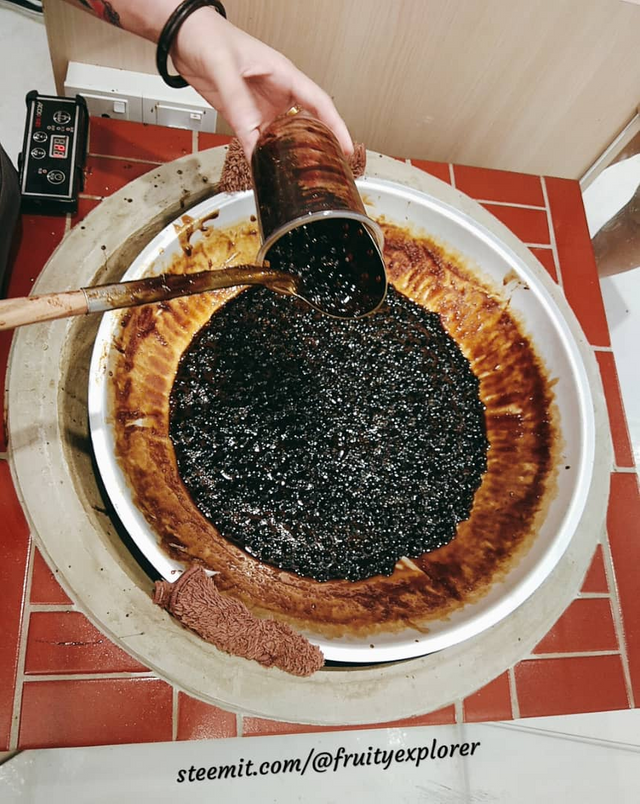 The pearls are stir-fried in a wok filled with gooey brown sugar, this is displayed to the public.
这是展示给大众看的炒焦糖。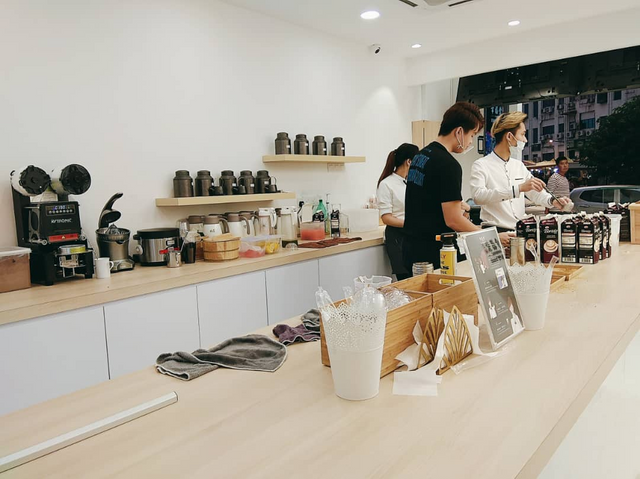 The decoration is very simple hence the classy look. 装潢设计简单,看起来很干净舒服。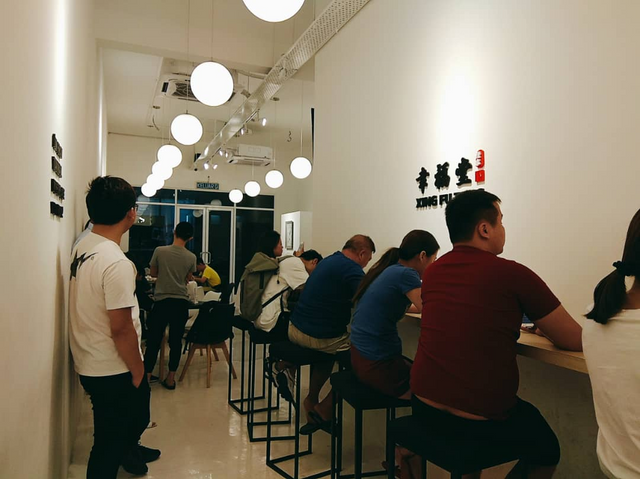 As usual, milk tea shop has a narrow and limited space for customers. Therefore, if you are lucky you could grab a seat, if not, most of the people will just take away.
与普通的奶茶店一样,店面都很小,空间很有限,很难可以找到位子。大多数人都选择外带更为方便。
May God continue to bless all of us. :)
Thanks for reading! <3 :)
希望你喜欢我的分享

你的支持是我持续写作的动力。Your continued support is my greatest drive.
follow✔@fruityexplorer, upvote ⬆resteem and COMMENT
Follow @fruityexplorer, I share about life, food and learning journey.
If you want AUTOPOST feature with your Instagram SET IT Up here