What is #MyJuniors? / #MyJuniors是什么呢?
It has been an awesome journey together with Team Malaysia since July last year. Glad to have met awesome friends whom we can call family - Team Malaysia Family... Steemit has never been the same since Team Malaysia.
大马队去年七月成立,由区区十几个成员发展至今已超过700成员了。成长神速。感恩感谢大家一起欢乐成长。
@bitrocker2020 has officially announced the launching of MyJuniors in his post. Thanks again to the team helping to make sure this project blossoms well! Thanks to @bitrocker2020 @zord189 @davidke20 @karinzdailygrind @khimgoh @littlenewthings @wendygoh @notimetospace @aaronleang @orangila
昨天 @bitrocker2020 在他的po里正式的宣布了MyJuniors的成立。感谢所有筹委的鼎力支持,我们的MyJuniors肯定可以快乐快速成长,发扬光大!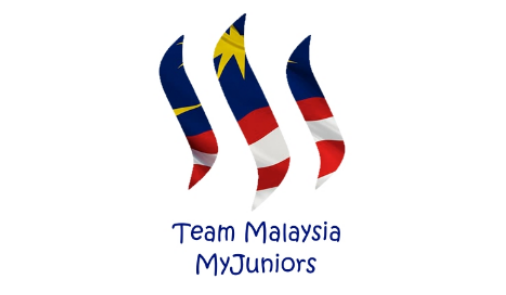 If you haven't registered your little ones to our first CNY Decorations Making Workshop, please go and register HERE now! We have 4 more seats left for this workshop!!!
我们第一次的工作坊将会在2月10日进行。如果你还没有为你的宝贝报名,请快到这网址 报名!还剩下4个席位而已哟!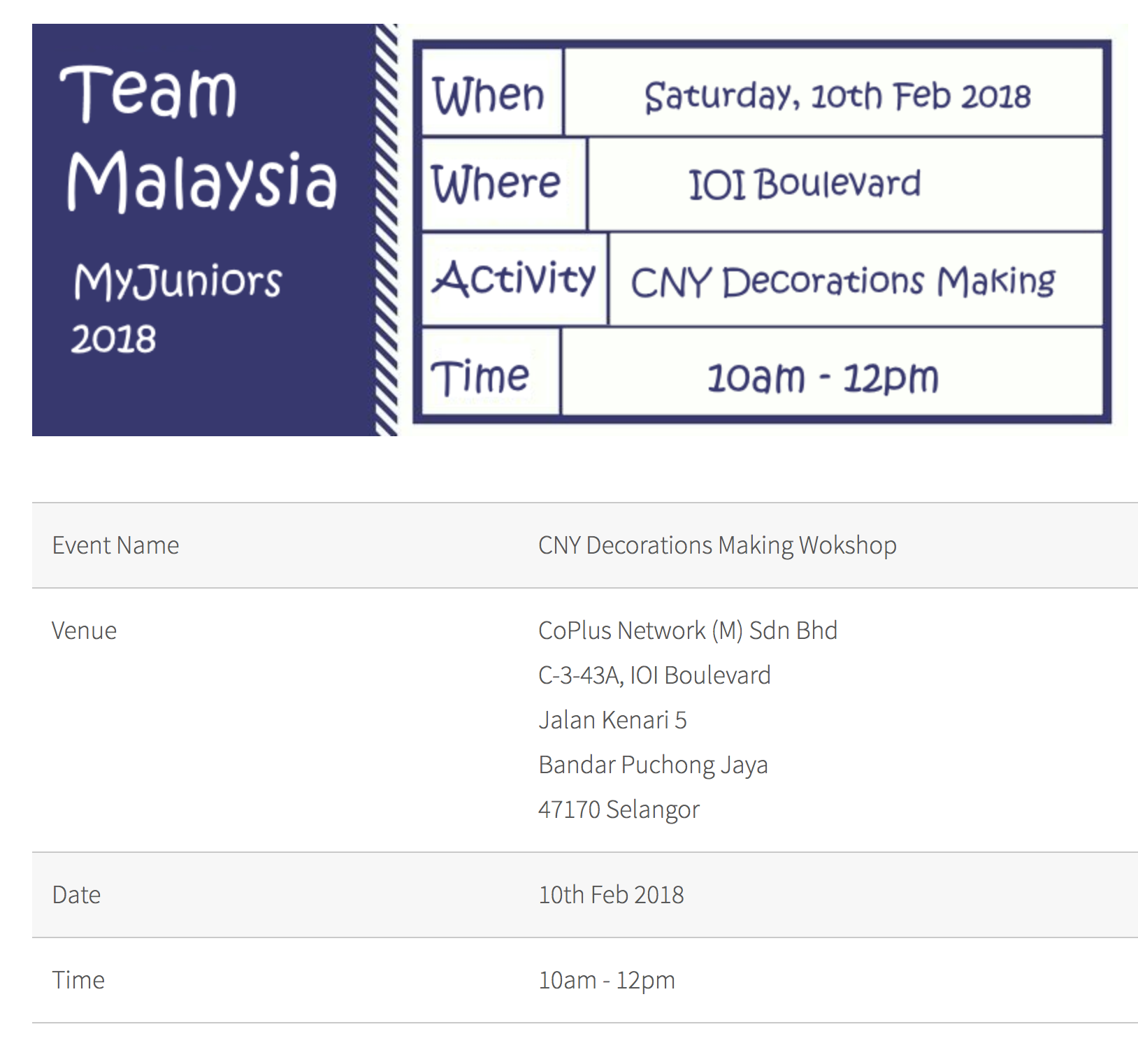 Maybe some of you may wonder what is MyJuniors? How to use this tag? Who can use this tag? So this is the main reason for this post.
可能你们会有些疑惑,到底什么是MyJuniors?该怎么运用这标签?谁可以使用这标签?今天这篇po就是主要为了和大家讲解这几个提问。
What is MyJuniors / 什么是MyJuniors
The ultimate aim is to foster a deeper bond between parent and child and enable them to understand and guide their child better. We will plan events and workshop once a month or once every two months. To meet up and have fun activities together. Teaser... We will have lots of art and crafts sessions, drawing and colouring sessions, maybe cooking and music too... So if you have any ideas which you think your little ones would totally enjoy, do get in touch with me on Discord. Let make it happen!
这个项目最终目的其实就是要培养父母与孩子之间更深层次的联系,使父母可以更好地理解和引导孩子。我们计划将会每个月一次或每两个月一次安排一些活动/工作坊让孩子们和父母可以一起参与。预告!!!我们将会有很多的手工,手作,绘画,涂鸦,上色等有趣的活动/工作坊,也可能会有以烹饪和音乐为主的工作坊哟!所以如果你有任何点子你觉得宝贝们会喜欢的,都欢迎你到discord联络我。让我们一起来实现我们的梦想吧!
How to use this tag? / 该怎么运用这标签?
Some of you did ask, what to post? Well, our little ones are very creative (I am sure). Coz all children are creative. They can draw, colour, build Lego/blocks, sing, dance... and many many more... So what I do is I take photos of the process and the final creation. For example,
可能你们会问,该po些什么呢?我们的宝贝们都非常有创意的(我绝对相信这点)。因为小朋友都是天生的创作家。小朋友都会画画,涂鸦,玩积木盖房子、起高楼,唱歌跳舞等等。那么通常我是怎么做的呢,我会把我女儿们制作的过程拍摄下来,还有把成果拍下。如以下例子,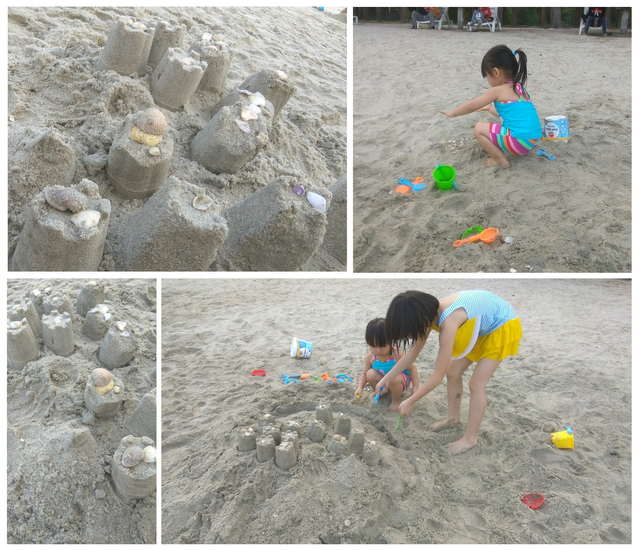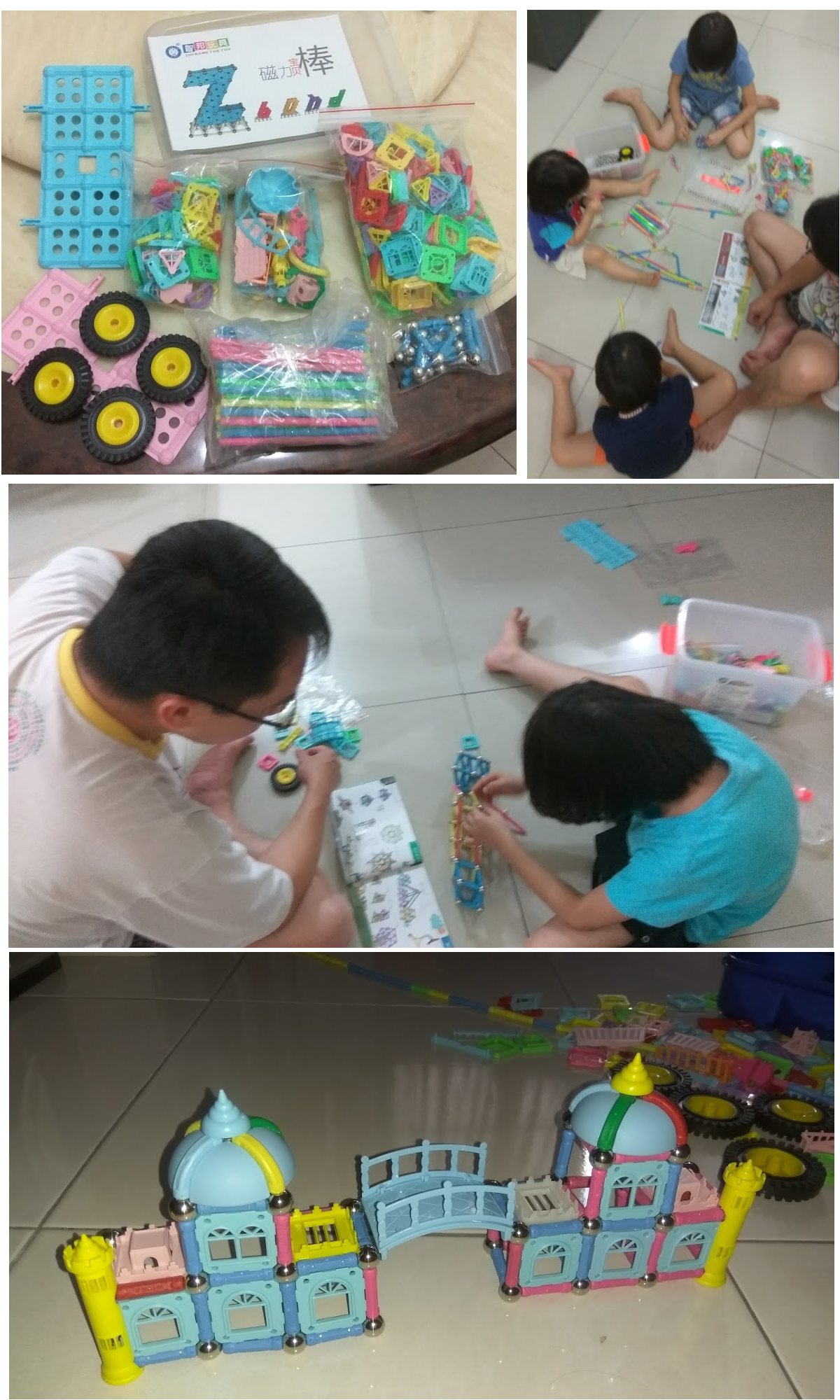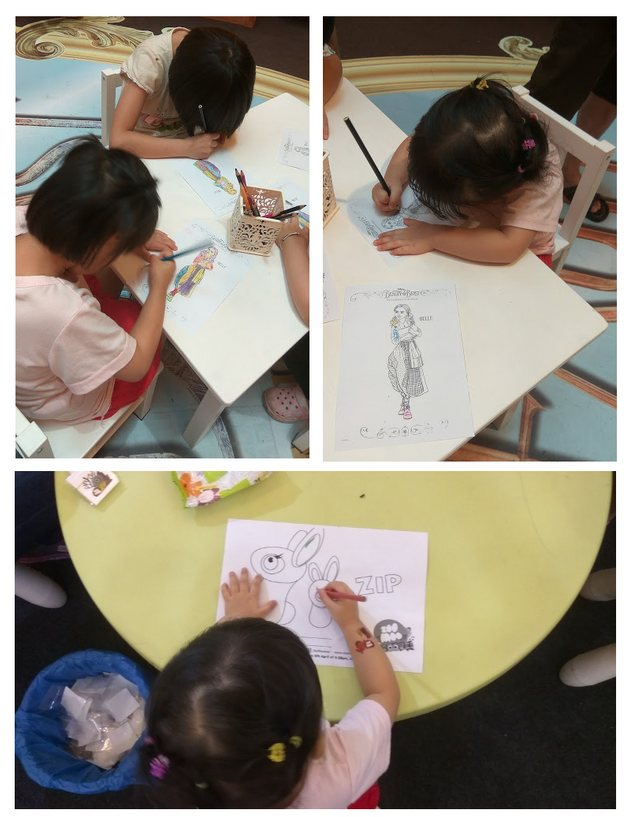 You may notice that I don't show my girls' faces. My photos of them will either be their back, their side, their hands... but not their face... This is because they are still young and I am not sure whether they really wanna be in the spotlight having their "cute" faces burnt into the blockchain forever and ever. And also for security purposes. We never know who is stalking our blog posts. So please do keep in mind, do not ever show details of your little ones like what school they go to, what's their daily schedule, etc...
你可能会发现了,我照片里都不会把女儿们的正面拍下。我通常只上载她们背面,侧面,手或脚的照片。为什么呢?因为我觉得她们还小,不确定她们是否愿意活在闪光灯下,也不确定她们是否愿意让她们"可爱"的脸孔被牢牢印在区链块上。当然最重要的还有就是安全问题啦。我们都不知道谁在关注我们的部落格。所以切记不要透露和宝贝们有关的一些资料,如他们就读的学校,他们每天的行程等等。
Some of you might ask, should I register an account for my little one? Well, this is totally up to you. Maybe for a start, you can showcase your little one creation via your own account. Please bear in mind also, we will be the one managing their account(s) if we choose to sign up for them. Coz for younger children, we don't really expect them to manage their account(s), right? Some more Steemit account is attached with our Steemit wallet! We don't want them to lose access to their account(s), right?
也有可能你会问,哪么我应该为我的宝贝注册一个Steemit户口吗?其实这决定权绝对实在你的手中。一开始,可以建议你先在自己的部落格上展示宝贝们的作品。然后如果你觉得时机成熟,你准备好了,可以兼顾多一个户口了,那么再为他们开也不迟啊。记得Steemit的户口也是我们的Steem钱包,所以我们必须要好好的把宝贝们的户口管理好。
Who can use this tag? / 谁可以使用这标签?
Anyone who is showing original creation from your little ones is welcome to use this tag. Any languages is welcome, but English will be the main language used as most of us can understand English.
只要你的po展示了你宝贝们的原创,那么我们都欢迎你使用MyJuniors的标签。不限语言,不过英语将会是这标签的主要语言,因为大部分的我们都看得懂英文。
Last but not least, wish everyone a great Steeming Journey! Let's grow together! With love and hugs! Thanks for the love and support!💕💖 💓 💗
最后,祝大家有个愉快的Steemit旅途!让我们一起成长吧!感恩感谢大家的爱还有支持!💕💖 💓 💗

Image credits to @littlenewthings, @skyleap and @kira.ohba


If you like the idea of CREATE and EARN (just like here in Steemit), then do you know that everyday while we connect with our family and friends through chatting, texting, voice and video calling, we can EARN from that too? Click on the image to start EARNING from connecting with your family and friends!

Colorful hearts border is created using paint.net and gifmaker.me.

彩色心的分界线是我用paint.net和gifmaker.me做的。