Thank you for all your comments and love and prayers! The doctor came in the morning after he sent us to the x-ray. He said he's very happy with the surgery yesterday. Everything went well and as planned. And the x-ray this morning showed her bones are in the correct place now. So he said we can go back and celebrate Chinese New Year at home.
My girl comes home with her "Chinese New Year" present.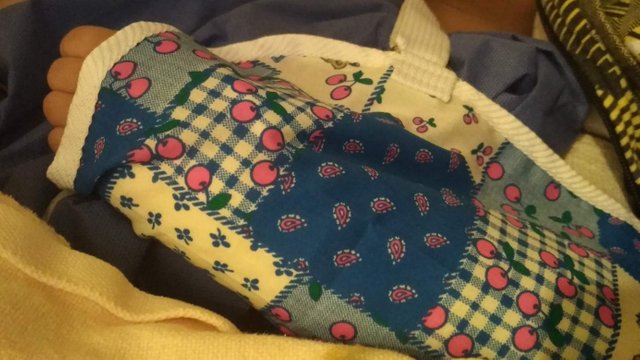 This will be a learning journey for both of us. She will have to learn to do things with her one right hand now. And I need to learn to take care of her especially bathe her and help her change without hurting her left hand. Thanks again for all your love. ❤️❤️❤️
And I would like to congratulate @Votovzla for winning the 10k sp delegation dpoll by @theycallmedan. Also an unexpected move by @bluemist, founder of @appreciator, a10k sp delegation was given to @steemitbloggers for six months. Congrats to @jaynie, @zord189 and all members of the powerhousecreatives.
As for @team-cn, we did an awesome job too! Even though we didn't won any delegation, we have more people known about us. Well done and thank you everyone and the awesome leaders of Team-CN. 💪💪💪😘😘😘
〰️❤️〰️❤️〰️❤️〰️❤️〰️❤️
感谢大家在我昨天的帖上留言。我和二女儿已经回家了。我们回家过年了。一大清早医生让护士带女儿去照X光。之后就来病房里看女儿。医生说他非常满意昨晚的手术。手术非常成功。骨已经移回正确的位置,用两个铁固定了。两个星期后回来复诊。然后就让我们出院回家过年了。
我和女儿俩得学习"单手"的生活了。她必须以单手完成很多事情。而我呢,则得学习帮她冲凉还有穿衣。必须非常小心不能把她弄疼。
最后我也想再次恭喜Votovzla赢取了10k sp代理。很棒的最后冲刺!佩服佩服!还有另一个意外的收获则是Steemit Bloggers,得到了appreciator的创办人bluemist的10k sp代理。也恭喜你们。
最后的最后,想对新手村村长村民村霸村老们说,我们也很牛!这一仗虽然输了代理,但我们赢得了友谊。👍👍👍😀😀😀
感恩感谢!🐷大家🐷年🐷事顺利!发🉐想像🐷头一样!


Get To Know Me
10 Random Things About Me
Download Partiko Android here
Download Partiko iOS here
Check out @Partiko website here
Posted using Partiko Android