When a jet aircraft flies high in the atmosphere, a cloud-like trail is often left behind that dissipates over time. Those phenomena are called contrails, short for "condensation trails." If the aircraft is flying towards the observer, the contrail can appear vertical in orientation, despite the fact that it is flying in a line that follows the contour of the Earth. Such is illustrated in the following photo; a minute or two after I snapped the shot, the jet passed directly overhead.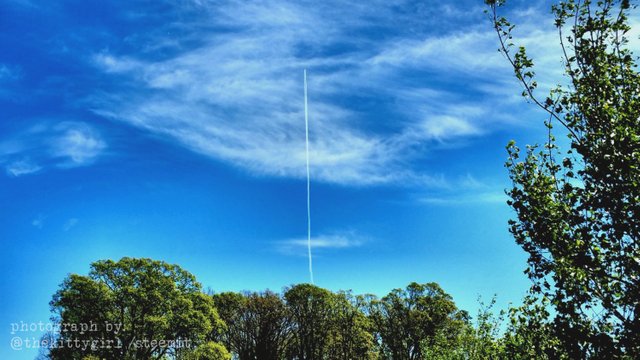 • PHOTO BY ME •
Contrails (short for "condensation trails") are line-shaped clouds produced by aircraft engine exhaust or changes in air pressure, typically at aircraft cruise altitudes several miles above the Earth's surface. Contrails are composed primarily of water, in the form of ice crystals. The combination of water vapor in aircraft engine exhaust and the low ambient temperatures that exist at high altitudes allows the formation of the trails. [1]
An increasingly common misconception being spread by conspiracy theorists is that all aircraft are spraying chemicals over the earth to control the minds of the common people or to satisfy other devious plans by evil overlords. Those folks refer to all contrails as "chemtrails" (short for "chemical trails"). If such exists and chemicals are actually being sprayed from aircraft, rest assured that it is from military aircraft and not those designed for passenger service. So, don't recoil in terror when American Airlines passes overhead, but rather when the Military-Industrial Complex (MIC) does. I find it odd that the majority of those who believe in chemtrails seem quick to vote for the very politicians who promote military spending and the other increased budgetary concerns that the MIC demands.
But, I digress...
This post is about pretty clouds and a condensation trail (contrail) left behind by a passing passenger aircraft against a lovely sky. 💙

 😊
SOURCES
   1 Wikipedia: Contrails

a big hug is due to @enginewitty for designing the following personal banner for me 🤗