My wife and I are big Grand Designs fans, so when I stumbled across Building Australia series on the ABC, I was instantly hooked and told my wife she has to watch it. The show is narrated by John Doyle, more famously known to most Australians as "Rampaging Roy Slaven" from the comedy duo, Roy and HG.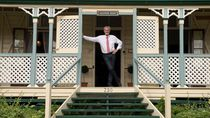 We just watched the most recent episode tonight on iView (may be geoblocked for non-Aussies) about the Queenslander. It featured Fairymead House in Bundaberg, a restored Queenslander building where my high school prom was held and in whose gardens my wife and I had our wedding photos taken. Fairymead House was relocated from a large sugar cane plantation and now lives on council owned gardens.
The episode touches on the fact that the design of Queenslanders on stumps makes them easy to relocate, and that is exactly what my family did with my great grandparents house when we developed the land on which it sits. I took a timelapse video of the day of the move. I think it is quite impressive that you can move a house like that.
The house will celebrate its 100th birthday next year. I am wondering what we should do to mark the occasion?