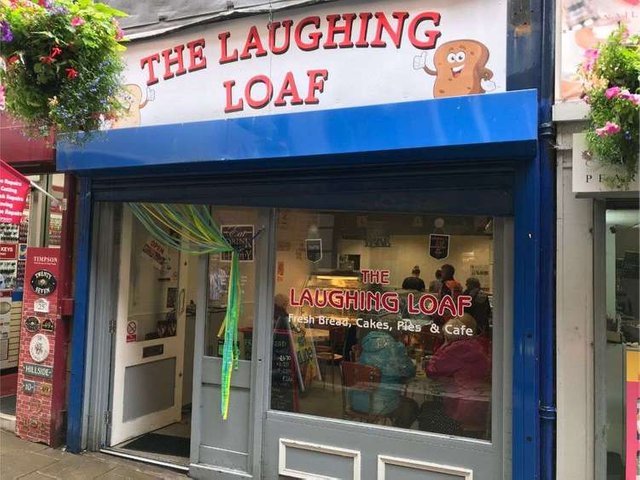 When I saw the 'Local Dishes' @tasteem contest I knew I had an appropriate restaurant.
What can be more local than Pie and Beans? It emanates 'cheap food' perfectly at least in deepest Lancashire.
@goblinknackers and I have been failing quite badly at trying to find decent eateries in the rundown working town of Rochdale, Lancashire and this an example of a 'Local Dish' from the downtrodden alleys we are condemned to traipse around in search of tasty lunchtime morsels.
The Laughing Loaf is situated within a tight alley full of pawn stores, gambling shops, broth.. er well you get the picture?
Here's another view for you if the vision is still not perfectly clear.
What can you do if you are tired of visiting Greggs, Sayers and the Shawarma Kebab House where one may be escorted into the kitchen and possibly tortured for simply giving the owners a 'funny look'.
£2.99 it says on the window for Pie and Beans. If you think that description sounds bad you would be quite correct.
One can get quite desperate in this town, and I was hoping the Pie would at least be made by Hollands, who despite having had rats tails found in their product in the past can be quite tasty. (The rat story is hearsay from many years ago).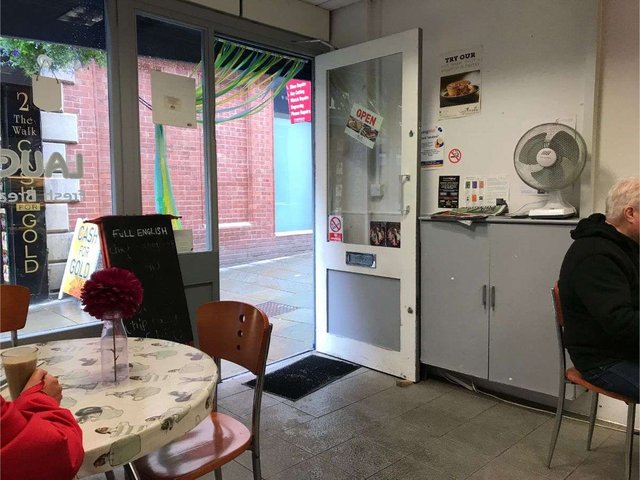 We walked through the doors of The Laughing Loaf with deep apprehension and approached the counter.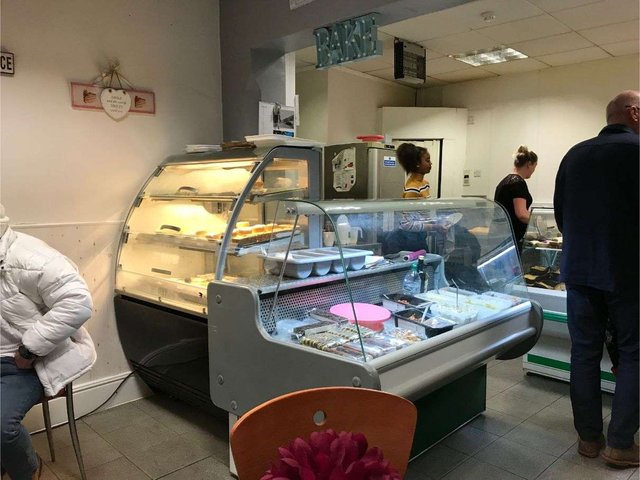 There were a couple of dirty old blokes having something that looked like a dog's dinner but I dared ask the assistant about the Pie and duly ordered.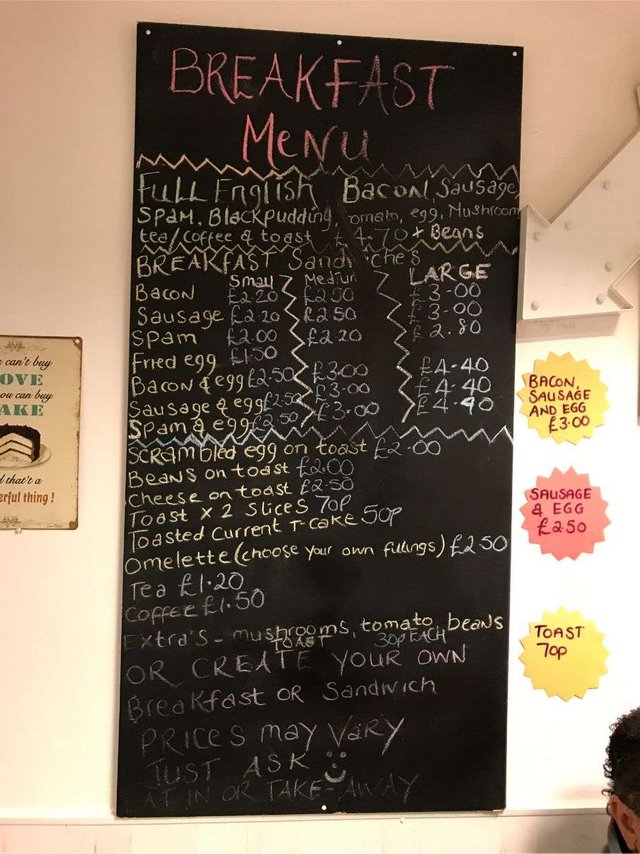 There are no menus at The Laughing Loaf, just these boards attached to the walls.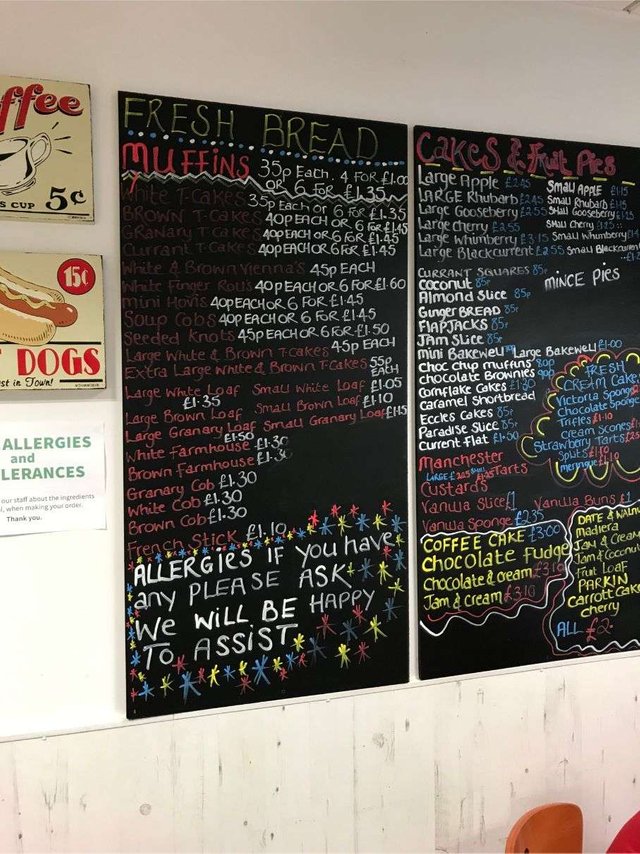 @goblinknackers ordered a Quiche with some salad which I would not consider a main course, but some kind of side.
He's trying to eat healthily and avoid sugar.
The place did have customers, and a few came and ordered while some took away while we waited.
Perhaps we would both survive this encounter after all. Hope is always a good thing to keep in your mind.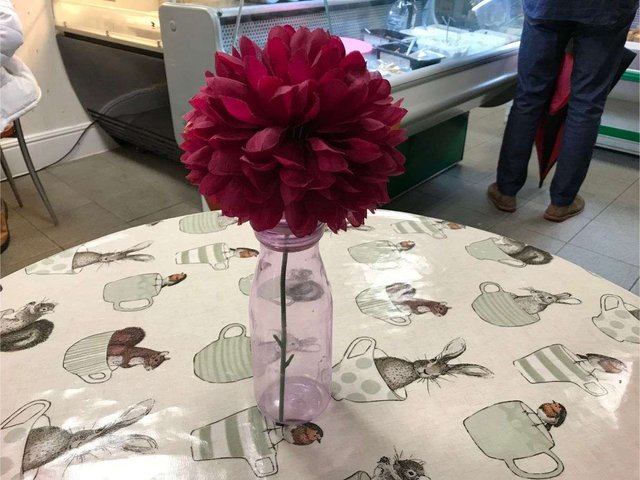 No expense was spared regarding the table décor; that's a real plastic bottle.. I personally checked.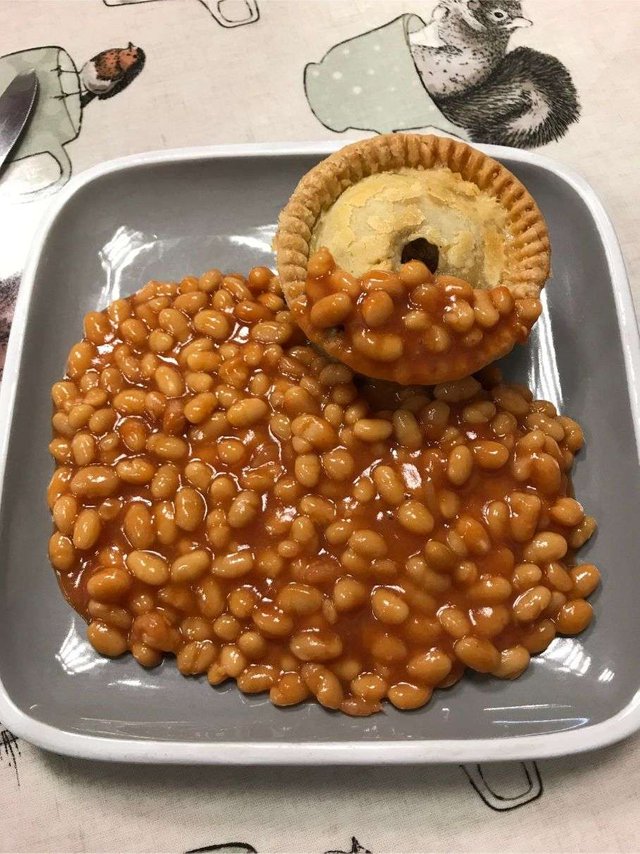 OK, so this is what arrived, now doesn't that look tasty?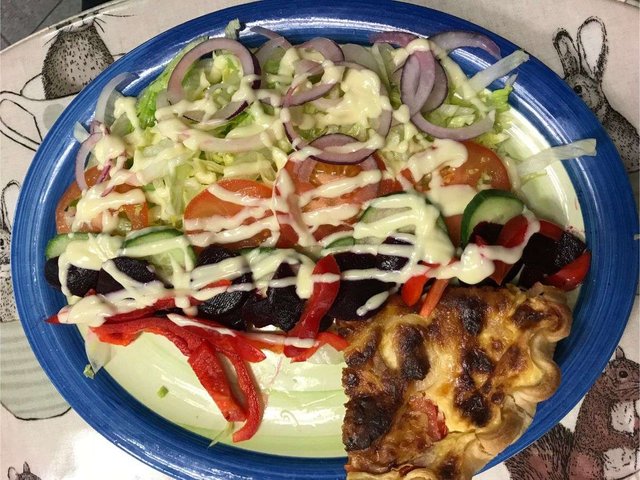 @goblinknackers food looked a little better, but he wasn't going overboard after stabbing his cucumber with the fork provided that duly bent almost double under the strain.
So cutlery is not a strong point of 'The Laughing Loaf', but maybe the food is despite the dire looking appearance?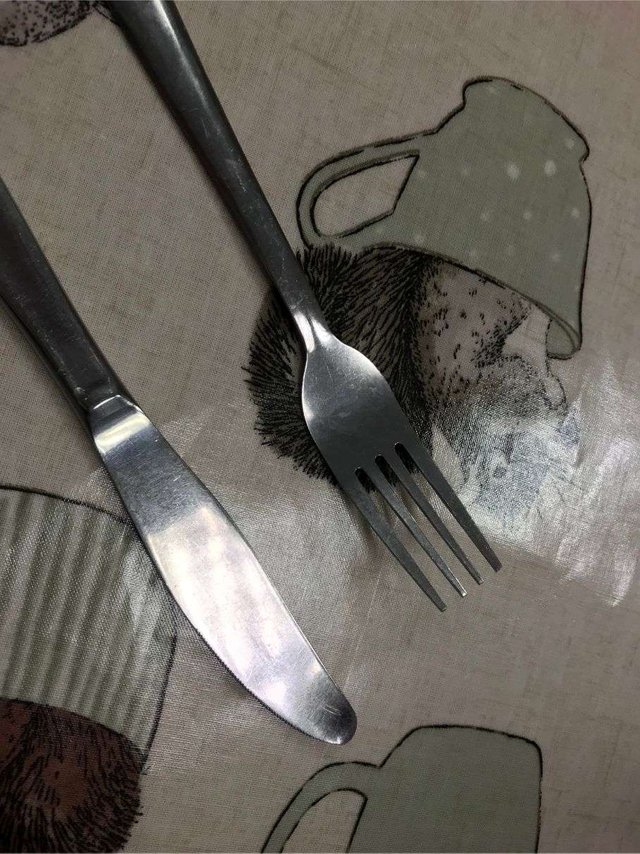 My knife was usable but had seen much past use. I wonder what that point has been poking in the past?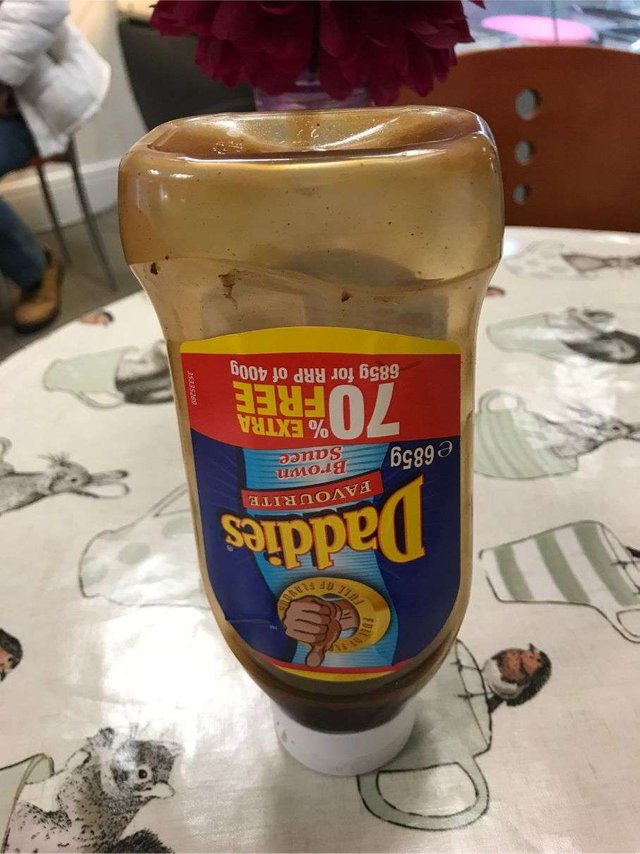 I needed oodles of Daddies sauce before attempting to consume this pile of beans. There wasn't a lot left as you can see.
The pie was not Hollands, but very generic looking and obviously not homemade.
The beans were not Heinz, but not those cheap 'Big Value' ones you get at the local supermarket for 9p a tin either.
@goblinknackers was pulling faces a little while eating his though it didn't look that bad.
He later mumbled something about there not being enough quiche on his plate.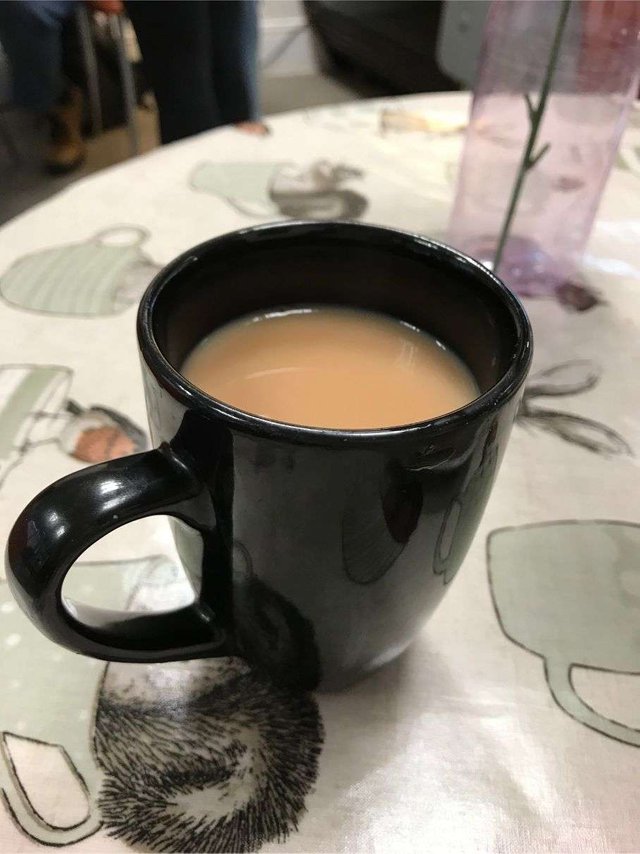 We both ordered tea, which was surprisingly decent and received in mismatched cups.
I can't say the food was unholy dire but simply plain.
So far, I haven't developed any symptoms of food poisoning as yet, but there's still time.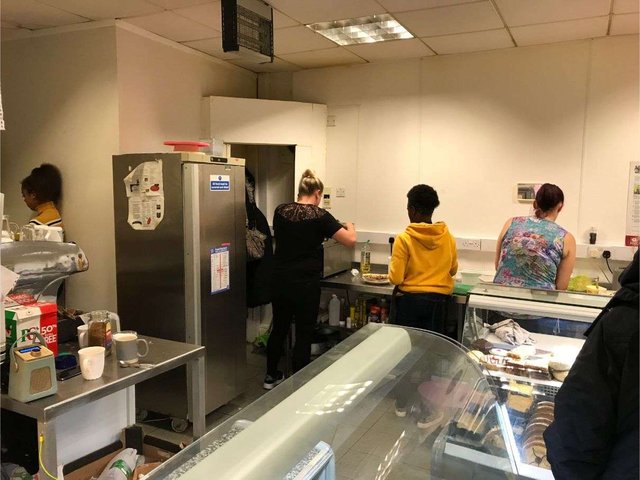 At the time of writing some 3 hours later, I'm suffering from some acid reflux. Maybe I piled too much 'Daddies' on to those beans.
Overall, The Laughing Loaf is a venue we would be unlikely to give a second chance but never say never.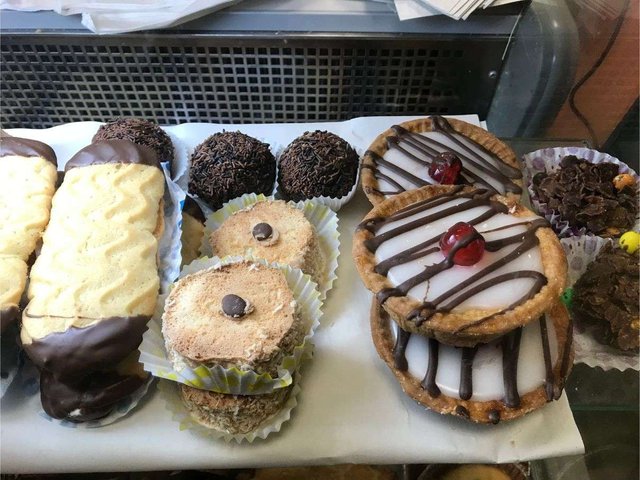 Those cakes looked mighty fine as we were paying the bill but I resisted.
This was yet another venue that 'doesn't give receipts'. While this may illegal, I didn't argue the point.
It cost us around £7 for both, and that's with the cup of tea, which neither of us finished due to lack of time.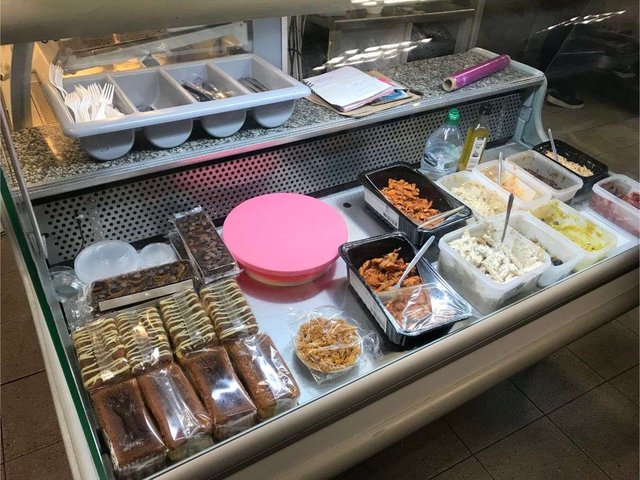 If you are running on a budget, The Laughing Loaf could fill your gap but there are better places to eat.
Finding those 'better places' in Rochdale can prove to be a challenge.
---
Restaurant Information

The Laughing Loaf



1B The Walk, Rochdale OL16 1EP, UK
---
The Laughing Loaf - A Tasteem Review
This post participated in the Tasteem contest Local Dishes