BOLU SINGKONG RAINBOW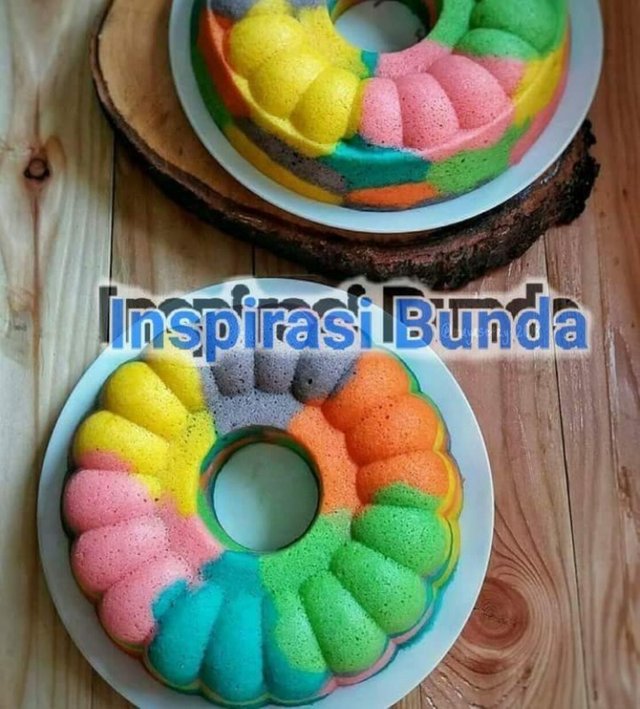 Gemess want to cut and hap! Tp sayang this download people😄 one of the bakulan sy yg paling laris, bolu singkong.
BOLU SINGKONG RAINBOW
By The Inspiration Of The Mother
Material :
1 kg of cassava, grated squeeze the water and then mash with a fork to decompose
5 eggs
200 gr granulated sugar
1 tsp SP
50 gr flour
100 ml coconut milk
100 gr margarine, melted
1 tsp vanilla
Food coloring to taste (sy: 6 color)
How to make :
Beat the eggs, sugar and SP until the whites are thick and fluffy. Enter the vanilla, beat well.
Down to low speed, enter the cassava little by little while shaken until blended. Enter the flour beat until smooth. Turn off the mixer.
Enter coconut milk, stir well with a spatula. Enter melted margarine stir behind up to the average.
Divide the dough into 4 parts (sy: 6 parts) give masing2 coloring to taste, mix well.
Pour masing2 dough color 2 tbsp alternating on a baking sheet that has been smeared margarine.
Steamed in a steamer that has been heated and steamy lot for 35 minutes until cooked. Remove and let cool remove from the pan, then potong2.
.
Note : - cassava should be squeezed so that the free water and the sponge is not bantet.
cover the lid of the steamer with a cloth/napkin so that the water does not drip on cake.
---
Restaurant Information

Restaurant Bunda



1111 Columbus Ave, San Francisco, CA 94133, USA
---
BOLU SINGKONG RAINBOW
This post participated in the Tasteem contest Bakeries and Patisseries