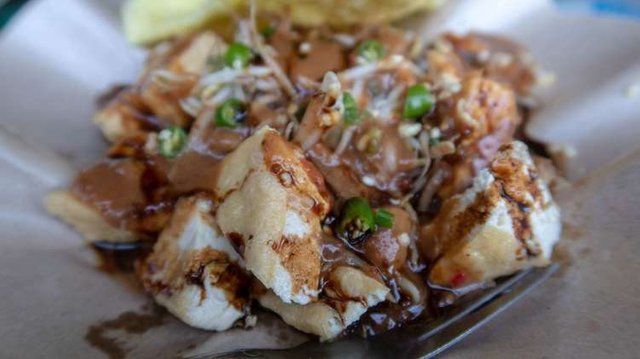 I was in the football field in a village called Sidakarya, Bali. In the past, I visited this place a lot in the past for morning walk. Now I do not go there as much, since I move from the place I stayed before. This time was the first time I went there and guess what, I saw my favorite tahu sayur (tofu mixed with boiled sprout in peanut sauce and cut chilli) seller., I quickly called him.
that's him, the tofu sprout seller.
"One plate of tahu sayur, please." I said. The seller nodded.
He prepared the plate and then took the hot tofu from the frying pan. His hands were quick when cutting the tofu into smaller pieces on the plate.

The tofu was frying on the pan.
cutting the tofu
the seller
more tofu and sprout
Next, he took some sprout and put them on the tofu. The next thing? Three spoonful of peanut sauce landed to the sprout and tofu. He added some fried shallot. I already imagine how delicious it was.

He added few spoonful of peanut sauce.
"Some chilli?" he asked. To be honest, I like chili. But I am not the kind of person who 14 chilies at once. Two was more than enough for me.
the green chili
cutting two chilies.
A scissor was what he used for cutting chili into little pieces. The chili was spread evenly on the top the peanut sauce and the tofu sprout. And last, at the end, he put sweet soy sauce on top of everything. This was it. It was ready, and I grabbed the plate, found somewhere to sit and enjoyed the tofu sprout.
_ Sweet soy sauce was pouring from its bottle._
The tofu was soft and tasted delicious when mixed with peanut sauce. The sprout was crunchy and also fresh, With the cut chili, there was hot sensation kicking me in every bite. Boy, it was delicious.
here it is the tofu and sprout.
So, that's my adventure my tahu sayur. Thanks for reading.,
---
Restaurant Information

Tahu Tipat Sayur



Jl. Mayang Sari, Sidakarya, Kec. Denpasar Sel., Kota Denpasar, Bali, Indonesia
---
Street Food: The Tahu Sayur, the tofu and sprout
This post participated in the Tasteem contest Street Food