🌴🌴 Columbia Beach Bar - review of Sunday Brunch
As promised in my last post - here is the review from Sunday Brunch at Columbia Beach Bar in Limassol, Cyprus.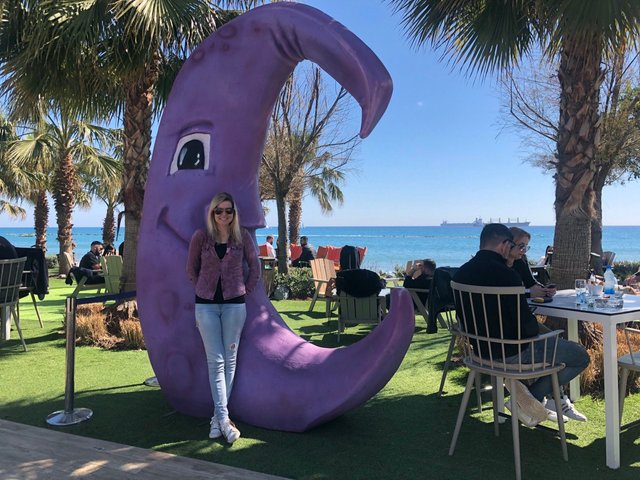 A truly beautiful venue - and we couldn't have wished for a better early spring day. The table promised was given to us for which I am very grateful. I really can't sit a whole breakfast without leaning back - and stools don't agree with an almost 70 year old. So thank you Columbia Beach for assisting us on that.
My son took the photographs for me and he has already put up a blog - you can read his blog here:
https://whaleshares.io/@deimus/beautiful-weather-and-a-great-brunch-out-with-family
Lovely waitress and this time I didn't get her name (my bad)
Once again the cappuccino was not hot so duly sent back and a new one arrived. Good customer service Columbia.
Let's start with the meals.
Lee had salmon with asparagus. He noted that there were two asparagus on the picture on the menu and he only received one. Also complained that his food was a bit cold.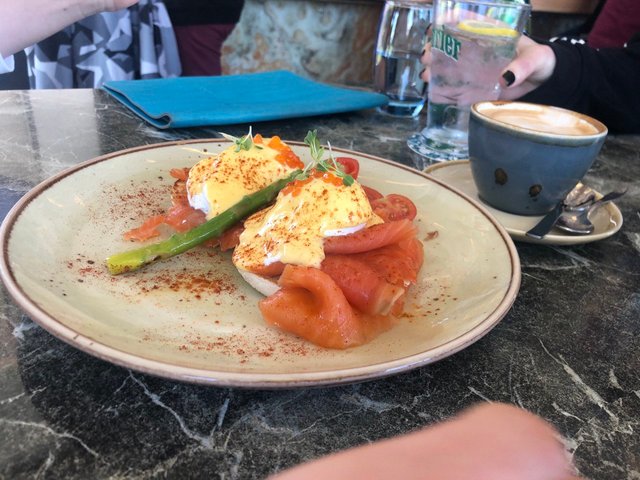 Katia also ordered a salmon dish served with French fries and did not finish her food - she said it was good but she was not very hungry.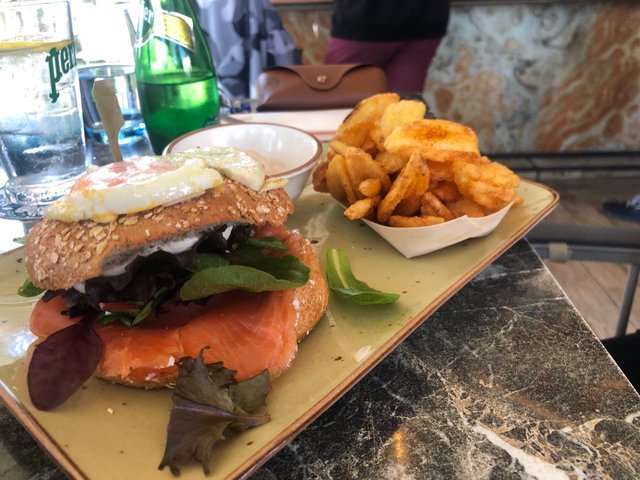 Les had poached eggs with spinach (could that be the missing asparagus from Lee's plate)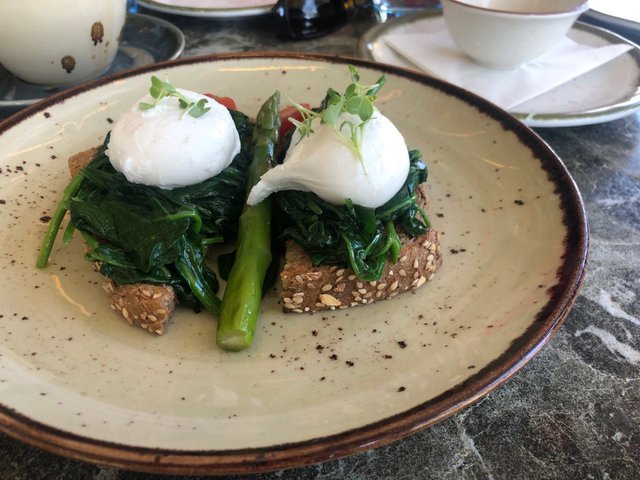 and Jack and I shared the Truffle Burger. This was outstanding - served with wedges and the Angus Beef burger was cooked to perfection - juicy and tasty.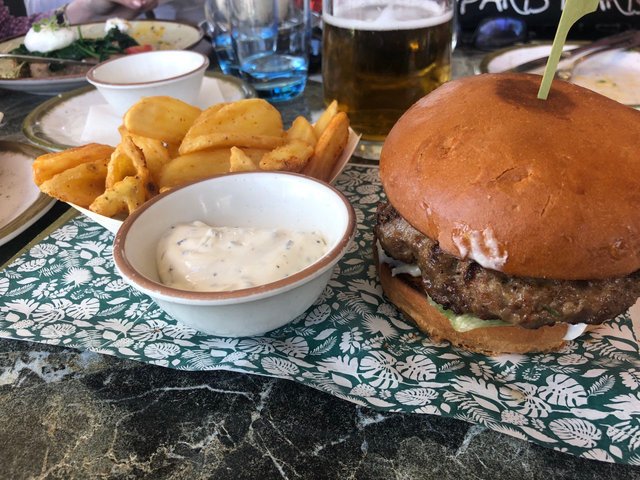 All in all, it's not easy to be disappointed as the food is generally excellent. Albeit cold the salmon dish of Lee's had a very generous amount of salmon.
We all cleaned our plates and left no room to try one of their amazing crumpets or waffles - ah well always a next time - and there will be a next time for sure.
One other small complaint is that the food doesn't come at the same time - Jack always tells us a story of Gordon Ramsey and how if all the guests at a table are not served simultaneously they remove all the plates and bring fresh food to everyone.
Well we certainly can't expect the same from Cyprus - but Columbia please try to make sure all get served - not good when one person waits for his meal while the first has almost finished their meal.
Sunday was Carnaval day in Limassol and the waiters all dressed up in bright and colourful costumes - the venue was also very festive.
Leaving the venue I captured a photograph of someone dressed up - and who gave me his handle for Instagram so will post this blog up on his profile in the morning.