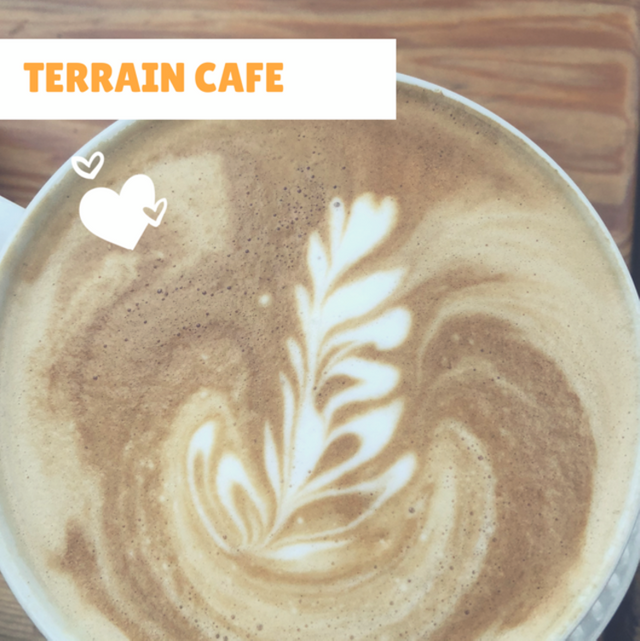 Website: https://www.facebook.com/TerrainGardenCafeGM/
Phone: +1 610-459-6030
Tomorrow is my wife's birthday so the family wanted to find a nice place to celebrate the special occasion early. Especially tomorrow is a Monday and it may be possible that I won't be able to make it home on time from work to do anything. We've been talking about going here for a while now and today seems like a good day.
We drove up into the parking lot and didn't know what to expect. There are signs that lead to the main dining area. The restaurant is behind the back of the store that sells home goods. As we walked to the restaurant, there was a fire pit going strong - quite appropriate given that it was a little chilly tonight.
We walked up to the front and told the greeter that we were 4 people and a baby. She asked if we had reservation to which I said no. The server looked into her computer and tried to figure something else and then walked us to our table. It was in the middle of the restaurant. She presented us with a regular menu and my daughter received a kid's menu.
The restaurant is a converted greenhouse. You can practically see the whole sky above. On a cool, breezy day, it was slightly cold and people were wearing sweaters. We haven't been here on colder day, but given the draft, we suspected that you would have to wear warmer clothes during colder days.
The menu is a limited menu and I was told that it changed with the season.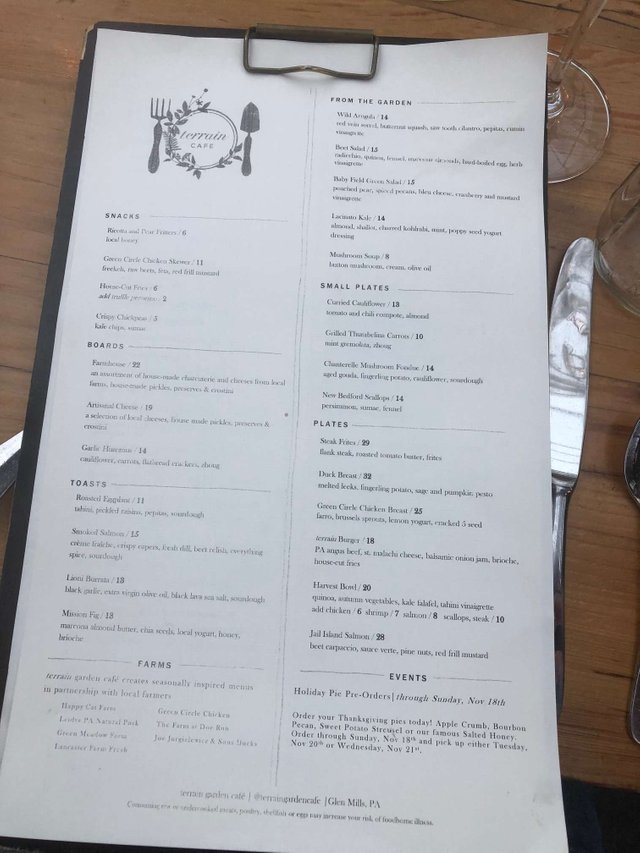 My daughter looked at her menu and selected the grilled cheese sandwich, fresh fruits, and a chocolate milk.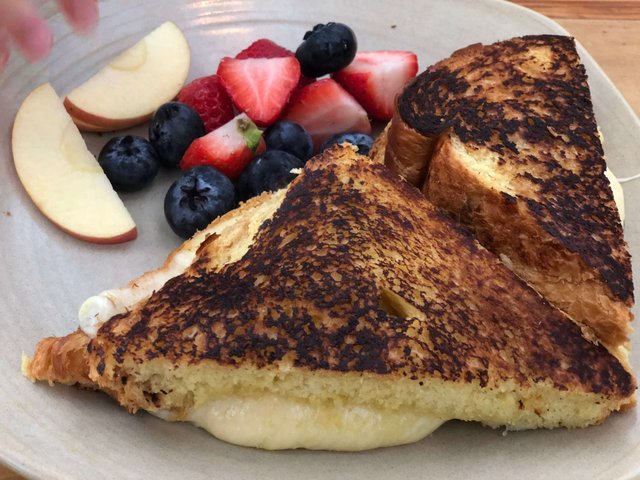 After my daughter received her food, the server (who happened to be Thai and has a little 9-month-old daughter herself) came with the bread. It was interesting in how the bread was baked.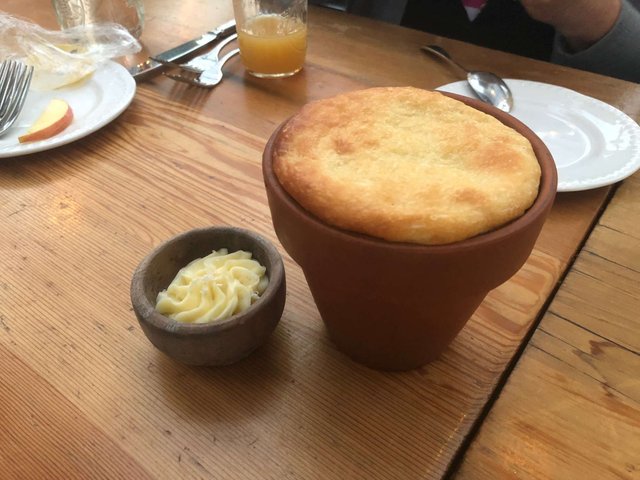 My mother-in-law chose the mushroom soup, the salmon and latte. She said that her mushroom soup was smooth and tasty. We live in an area known for mushroom soup.
It was cute seeing the latte and its little design.
My wife wanted to try their burger.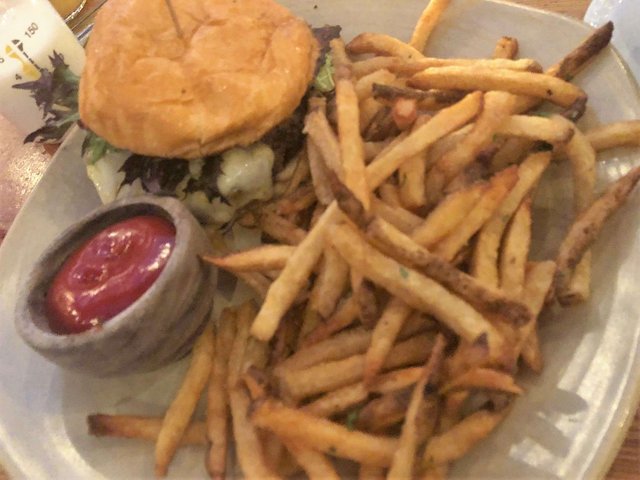 I took a bite of the burger, and while it was a decent one, I don't know if I can justify the price. The fries tasted good. They were well seasoned.
As for myself, I ordered a frite steak and scallops. The scallops were decent size. The sweet potato sauce that came with them was a nice complement.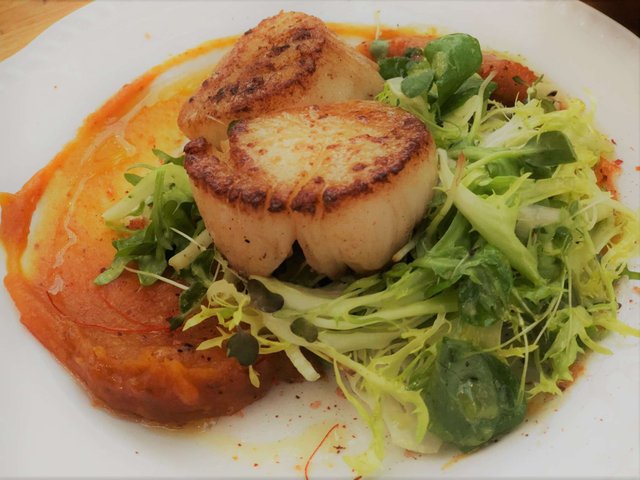 The steak was a little tough. It was cut up for me but I felt like I was eating flank steak that was bought from a Denny's, not from a botique restaurant.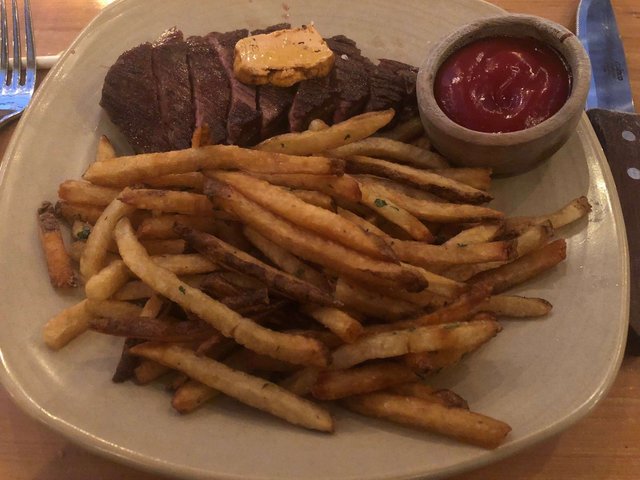 In general, we find that the food at this restaurant was average. What was incredible about the experience was sitting in a greenhouse and eating your food. Surrounding us were all kind of plants and rustic stuff that make the evening highly memorable and enjoyable.
Everyone, including my Mother-in-Law, has a great evening.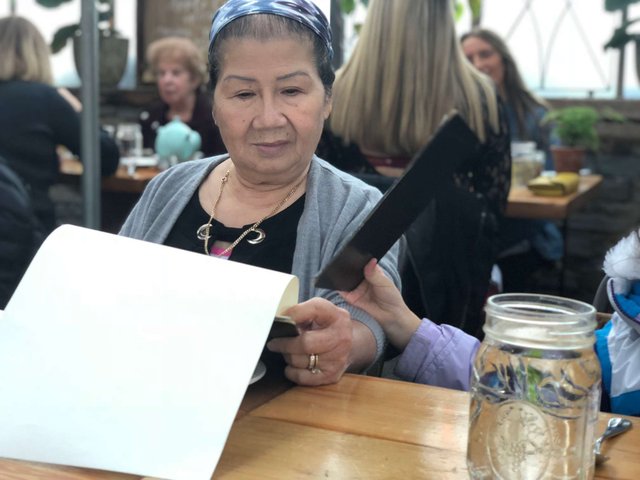 So if you want to try some standard American fares in an unique restaurant, don't forget to drop by this restaurant when in town!
---
Restaurant Information

Terrain Garden Cafe



3335, 914 Baltimore Pike, Glen Mills, PA 19342, USA
---
Terrain Garden Cafe - a Greenhouse Experience
This post participated in the Tasteem contest Your weekly choice