Affordable lovers get together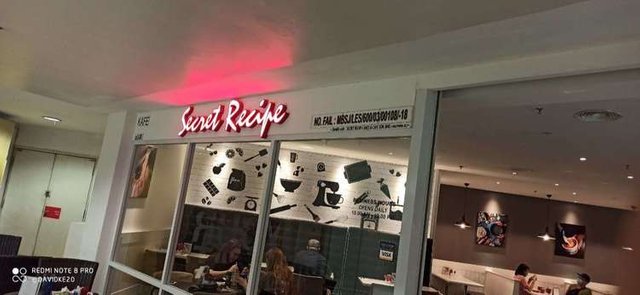 Call me cheap, but I am. For a few reasons, one of them is the commercial reasons that I strongly against. It's not the girls fault, some of them are expecting guys to take them out for a splurge dinner, a movie ticket that is seriously overpriced, and the popcorn package with a small valentine's heart(hard) shaped mug that you do not need at all, and finally just because of that one day, you bore a hole in your pocket. That all are camouflage of a big fat lie for making you spend more. Once again, it's guys responsibility to treat your girlfriend nice dinner NOT only on that special day, but on every Saturday or Sunday! Make them feel special already, rather than that one day so you don't have to spend more on that single day and blow yourself up with a crazy credit card bill.


We went to Subang Parade for a short afternoon getaway after church. Reason being, my ex-girlfriend has an appointment nearby that area, and since the house got no electricity supply since morning, we don't wanna get stuck home do nothing besides of sweating, me and the two little valentines went out together, and we decided to spend a very romantic afternoon together at this place. Where else can you get Boba tea with caramel below 10 bucks? This is it!


Secret Recipe has been here for more than 2 decades, and we all know their most famous Marbled Cheese Cake(trademarked) which now evolved into different kind of cakes. So, do bring your sweetheart over and taste some good cake here. I however, am not here for the cakes today! I'm here for the drinks, as week as their cakes!


They're still producing closed to perfect kind of cheese cakes. If you're into it, I'm going to personally recommend you the Rasberry Cheese and also the Chocolate Banana cake. They're my favorite and I think you'll like it as well.


Other than cakes, this is a full menu cafe that cook fusion food, from local delights to Chinese noodle and pasta. Lunch set are provided with a reasonable price, and special discount for cakes as well. Do read the terms and condition.


Restaurant is very clean. Lighting was slightly dimmed, but I guess that makes the "romantic" feeling and very comfortable for my eyes as well. That however, my new phone makes everything brighter and sharper, which is not what I see with my own eyes. Take a look at my two little valentines, their skin color looks more like Edward from the Vampire series.


So, this is supposed to be a romantic place that suitable for Valentine's special, but valentine is the person that is special to us, not the food. We will try to get a special food at a special price. In this place, take out food is cheaper than eat in, yeah nobody will think of that. I did suspect dine in more expensive due to service charge being included into the food price, as costing. This is my salted caramel chocolate boba milk. For every sip I suck, those caramel melted in my tongue and causes my brain freeze for a moment. Not to mention the thick chocolate sauce being hidden under the boba at the bottom, for a moment I totally forgotten I'm on a mission to lose weight.


And here's the second drink, mint chocolate milk boba, which I think the mint taste is super strong. I really love it the fact that it feels like drinking tooth paste, but sweet and chocolaty sexy.


And finally, we took a few sip, had some good time and a little chatter at the restaurant. We then wrapped the cup with some serviets and move our butt from the restaurant since we did not pay for dine in. Once last thing we should always remember, Valentine's day is for commercial reason. Having fun with your love one for once a year does not mean you love him or her, but having fun with your love one all the time, and rationally understand that one day is purely overpriced, you'll live a lot happier than ever.
---
Restaurant Information

Secret Recipe @ Subang Parade



LG29C, Lower Ground Floor, Subang Parade, Ss 16, 47500 Subang Jaya, Selangor, Malaysia
---
Affordable lovers get together
This post participated in the Tasteem contest Be my Valentines ❤️