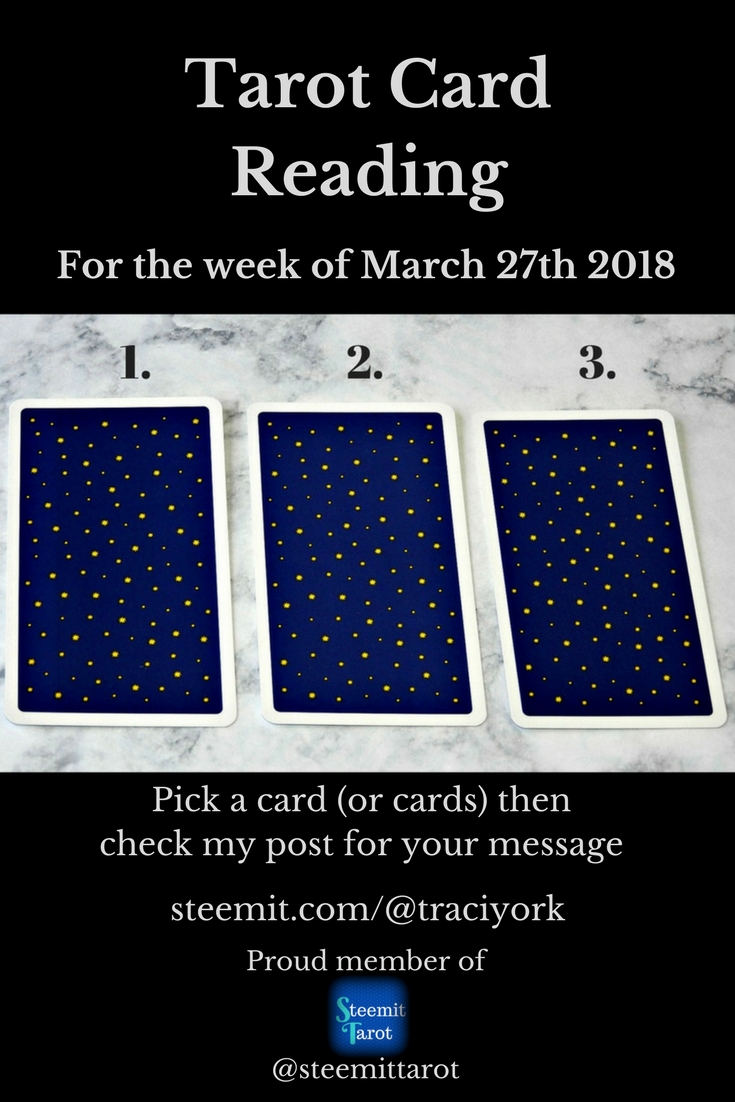 First, a little bit about my work-in-progress, @steemittarot
For an amazing variety of readings, deck & card information, and other cartomancy coolness, check out the hash tag or scroll through the @steemittarot feed.
If you work with cards (not limited to RWS Tarot), and want to jump in with a reading, deck review, or other Tarot tidbit of your own,use #tarottuesday as one of your five tags. No promises, but @steemittarot will try to resteem your post.
We have a Discord channel! Feel free to join us over in Steemit Tarot!
Now without further adieu, here's my reading for the upcoming week (beginning today, March 27th 2018) ...

Happy Tarot Tuesday, Steemians!
First, a quick roundup on how I put this reading together every week -
I use my very old and extremely well-loved Universal Waite Smith Tarot Deck to draw the cards. Then, because the cards are definitely not ready for their closeup, I photograph the cards using my stand-in Radiant Deck. Oh, and yes - it's a new picture of the back of the cards every week.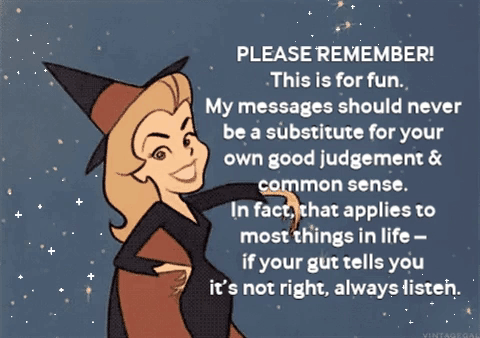 via GIPHY
Now for the reading. Pick the card (or cards) that you're drawn to, then scroll to the bottom of this post for the card reveal and my short interpretation of what to expect in the upcoming week. If you're drawn to more than one, or want to use all three, go for it! 😊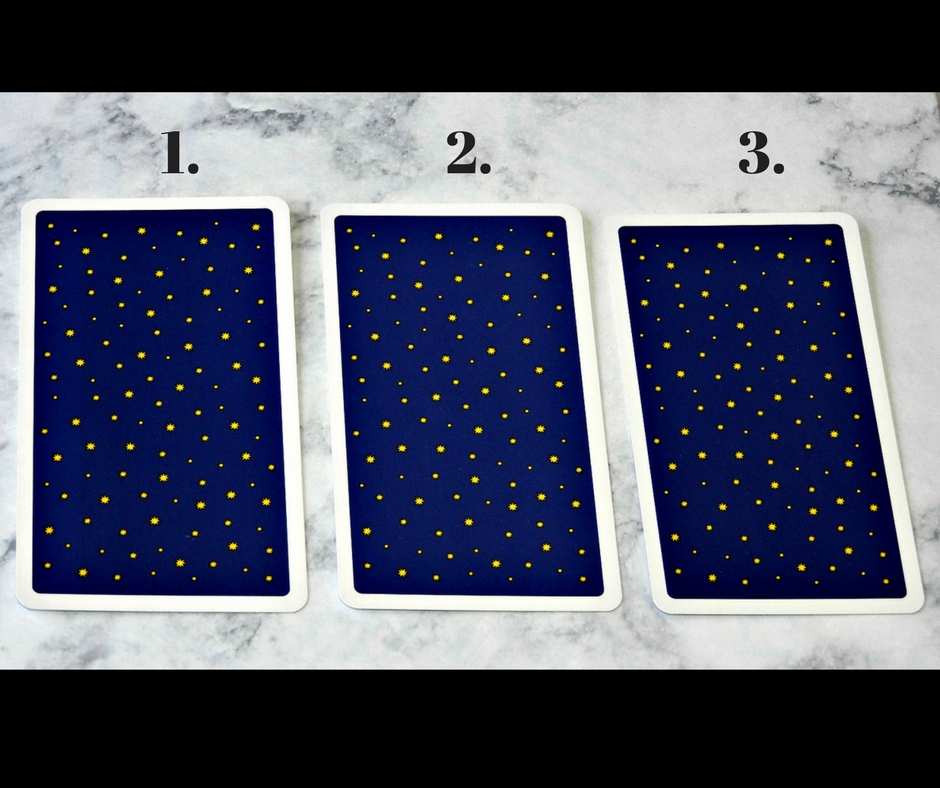 Okay, you've picked your card (or cards), right?
Alright, well, last week, it occurred to me that there are SO many brilliant musicians here on Steemit, why not use one of the gazillion songs I fall in love with each day for my "Jeopardy Music"?
For this week, I KNEW I had to use this song by @paintingangels, a woman whose talent (and generosity) is beyond wickedly huge! Unfortunately, when I decided on this song, it didn't occur to me it would be past payout by the time my post was up (of course, the one I picked for @tarotbyfergus last week was long past - think I gotta work a few kinks outta this idea). Therefore, if you end up falling in love with this beautifully lyrical work as much as I do, please consider visiting her most recent song post (equally amazing, and gut-wrenchingly evocative piece) called, Savage Land (Trail of Tears) - (original) and showing your appreciation there.
So, as I was saying, now that you've decided on a card, or cards, while you're scrolling, please enjoy this musical interlude...
(right-click the link, so you can listen in a new tab whilst scrolling)
https://dsound.audio/#!/@paintingangels/20180320t034636939z-unsteady-original-acoustic
 
 
"It's a cold night

and the wind is still.

Your hands are unsteady,

but not your will.

Don't hold your breath,

I can't wait that long.

Keep going, sweetheart.

You've gotta be strong,

cause it's a crazy world

and it won't slow down.

You've gotta catch your train

before it skips this town

It's a crazy world." ~ Serena Matthews
Alrighty, here's the big reveal! Your card is...
drum roll
This!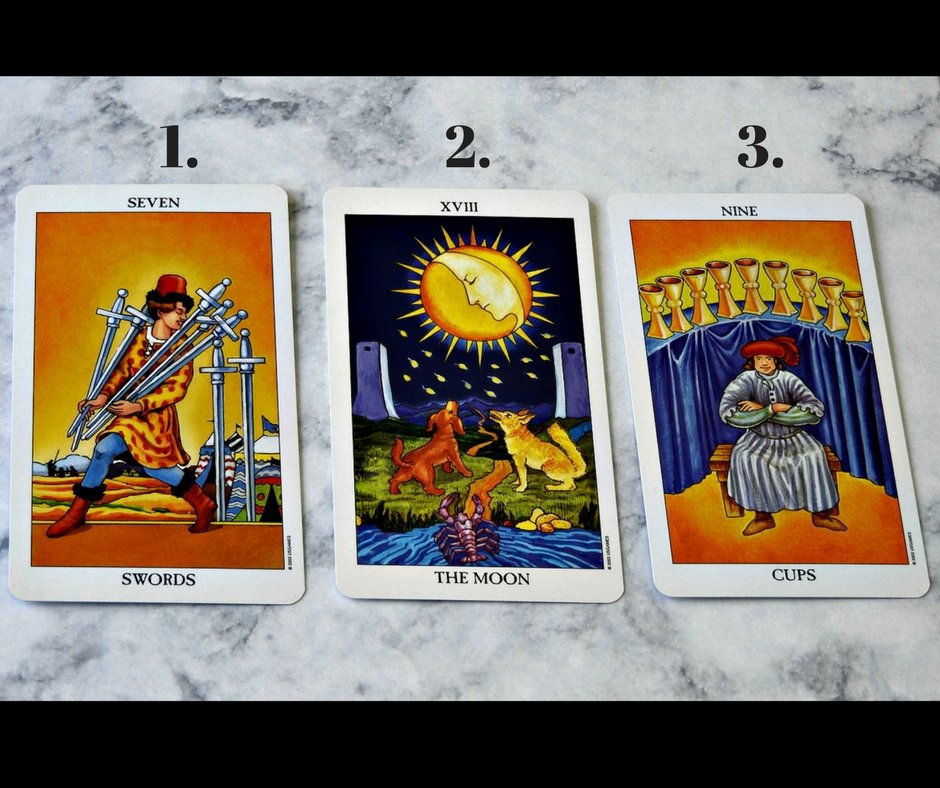 1. Seven of Swords
The Thief.
Something is being stolen from you, but not necessarily an object. Someone is stealing your good name, your energy, or your time. However, because the situation isn't overt (they're being very sneaky), a direct confrontation probably won't work. Try being sneaky in return – like the old saying goes, "
it takes a thief
to catch a thief."
2. The Moon
Something mystical this way comes.
You know the craziness that arrives with the full moon? You're about to get your own personal full moon-itis. You'll find yourself saying many times over, "What the absolute
insert profanity of choice
is going on?" But like a roller coaster ride (which is what your life will feel like for a short time), you have the option to squeeze your eyes shut, hang on to the handrail, and scream the whole time, or toss your arms up in the air like you just don't care (after making sure your seat belt is fastened), hoot & holler, and enjoy the hell out of it. Your creative juices are also in high gear, so go for the gusto and make your
dreams
come true!
3. Nine of Cups
Satisfaction is imminent.
You've put tons of good karma, juju, and positivity into the world. Now the Universe wants to give some back. Relax, and sit by the fire for a spell while the Universe fills your cup with your favorite beverage. The innkeeper may also be asking you, what's the good of all your hard work, if you don't take a moment to enjoy it? Maybe it's time to splurge on yourself a bit for a change. Every now and then, it's good to
cut loose...Footloose... kick off the Sunday shoes...

So, what did you think of your message? Feel free to shout out in the comment section with your thoughts, or any questions.
Bright blessings to you in the week ahead!
[NOTE - The graphics in this post were created via Canva, but the Tarot card pictures were taken by yours truly. Also posted on my WordPress blog - Free Tarot Card Reading for the Week of March 27th 2018]
Photo credit: Traci York, taken with my trusty Nikon.
Blog graphics: created on Canva

Thanks for stopping by!
All words and images are mine (unless otherwise indicated),
and can sometimes also be found on my various social media sites.
Speaking of...

I have one billion many homes on the interwebz. Here are a few -
 





STEEMIT BLOGGERS PROFILE





Animated Banner Created By @zord189