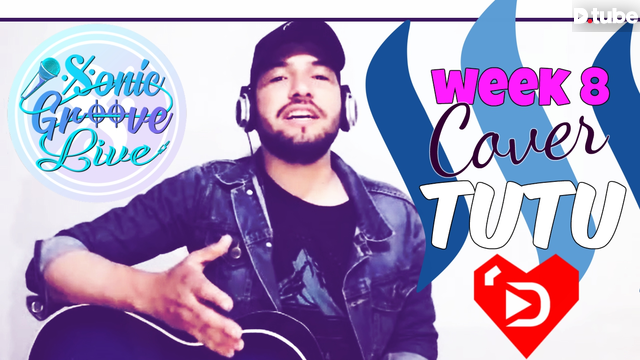 ---
Ustedes pensaran que soy amante del género urbano y la verdad es que no tanto, lo que me gusta en realidad es, tomar temas que están en tendencia y ponerles mi sello personal.
Este es un cover de la canción de Camilo Echeverry junto a Pedro Capó y ahora también junto a Shakira, llamada "Tutu"
Hoy vengo con mi primera participación en el concurso ofrecido por
@sonicgroovelive
- Después de una larga ausencia en la Blockchain, saber que aún existen este tipo de ventanas para los amantes de la música, me alegró enormemente y me motivó a seguir adelante con mis sueños y esta vez a no flaquear tan fácilmente.
Quiero terminar dando gracias a los creadores de este concurso, a los jueces que tienen esa exhausta tarea de revisar una a una las entradas de cada participante, y a mis colegas que se toman el tiempo de ver mi material, a todos, gracias. Al final del post, les dejo la letra en español y en inglés.
Nos vemos en otro vídeo, comunidad, deséenme suerte en el concurso, un abrazo. @exoelias

ENGLISH VERSION
Many will think that I am a lover of the urban genre and the truth is that not so much, what I really like is to take songs that are in trend and give them my personal stamp. This is a cover of Camilo Echeverry's song with Pedro Capó and now also with Shakira, called "Tutu".
This is my first participation in the contest offered by
@sonicgroovelive
- After a long absence in the Blockchain, knowing that there are still such windows for music lovers, it made me very happy and motivated me to move forward with my dreams and this time not to falter so easily.
I want to finish by thanking the creators of this contest, the judges who have that exhausted task of reviewing one by one the entries of each participant, and my colleagues who take the time to see my material, thank you all. I leave the lyrics in Spanish and English.
LETRA

LYRICS

Yo no sé de poesía
Ni de filosofía
Sólo sé que tu vida
Yo la quiero en la mía

Yo no sé
Cómo hacer pa' no tenerte
Las ganas que te tengo
Cómo hacer pa' no quererte, Yeh-eh

Tutu
Nadie como Tutu
No hay un sustitutu
Pa' ese cuerpo tuyo que a mí ya me tiene cucu
En un rato te buscu
Voy y te acurrucu, Yeh-eh
No hay nadie como tutu (x4)

Tamo' online como YouTube
Conectaos como Bluetooth
Si me dejas yo soy la aguja
y tú mi muñeca vudú-dú
Yo te quiero pa' mí-mí
Si me dices que sí-sí
Me muero y me desmuero solo por ti

Porque yo me acurruco sólo contigo
Pongamo' el aire en 16 pa' morirnos de frío
Y vente pa'l la'o mío
Que mis besitos de pronto
te sirven de abrigo
Cómo hacer pa' no tenerte
Las ganas que te tengo
Cómo hacer pa' no quererte, Yeh-eh

Tutu
Nadie como Tutu
No hay un sustitutu
Pa' ese cuerpo tuyo que a mí ya me tiene cucu
En un rato te buscu
Voy y te acurrucu, Yeh-eh
No hay nadie como tutu (x4)


I don't know about poetry
Neither about philosophy
I just now that I want
Your life in my

I do not know
How to not have
The desire that I have for you
How to not love you

Youyou
No one like youyou
There is no substitute
For that body of yours
that has me like cucu
In a while I looked for you
I go and snuggle you
There is no one like youyou (x4)

We are online like YouTube
Connected like Bluetooth
If you leave me, I am the needle
and you are my voodoo-doo
I want you for me-me
If you tell me yes-yes
I will die and fall apart just for you

Because I snuggle only with you
Let's put the air on 16 to die from cold
And come to my side
My kisses will soon
serve you as a coat
How to not have
The desire that I have for you
How to not love you

Youyou
No one like youyou
There is no substitute
For that body of yours
that has me like cucu
In a while I looked for you
I go and snuggle you
There is no one like youyou (x4)
See you in another video, community, wish me luck in the contest,a hug.@exoelias