Test cutting with my sharp medieval sword
A sword is an elegant weapon and a precision tool. The idea that medieval swords were crude and blunt instruments, used to bludgeon your opponent, has long since been disproved.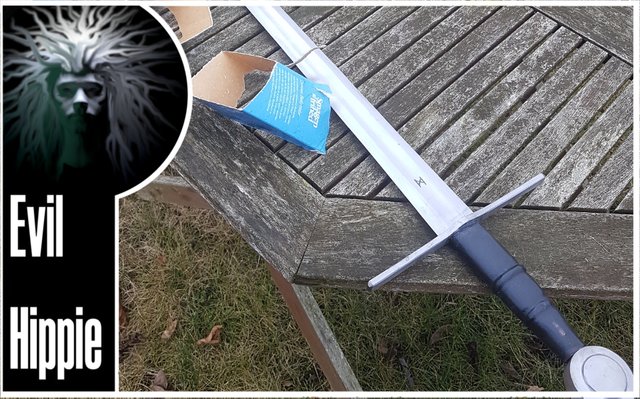 Several examples of surprisingly sharp swords have been found around Europe, surprising because they have often been lying in the ground for hundreds of years. Most recently, one was found in Aalborg in Denmark, where a sword from the 1300 hundreds was found a few days ago.
The article made me think about cutting. Cutting is a discipline which is well known in most sword traditions and has also been taken up in historical European fencing. it is both a way to test the sharpness or the durability of a blade but even more so the skill of the wielder. It is a great way to test your edge alignment. i.e. whether you are able to hit with the edge first.
I havent done a whole lot of cutting. We cannot do it at training since it requires a sharp sword and often quite a lot of cleanup afterwards, so any cutting I wanted to do had to be at home. I have a permit for sharp swords and so can legally use them for something like this as long as it is on my own premises. Anyway the swords get dirty and/or wet and so I haven´t really done it.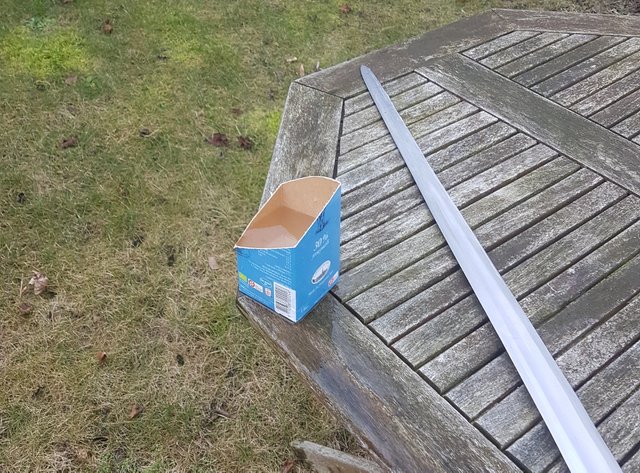 This friday I had most of the day of, and so I decided to do a bit of cutting. I found the best sword for the job, which is my medieval onehander. The arche-typical knights sword of a type that was in common use throughout the middle ages. Then I found an empty milk jug (or carton or whatever that is called in English) and filled it with water.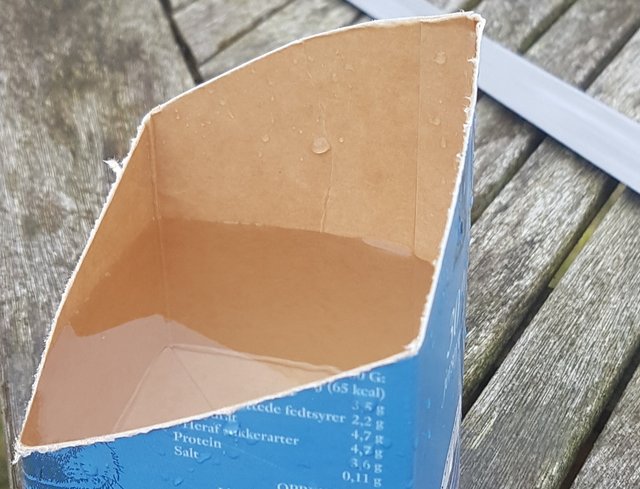 I went outside , since the risk of having a waterfilled container flying through the air is pretty big, and placed the jug on the edge of our garden table.
To my surprise the first cut was perfect and I lobbed of the upper part of the jug without tumbling the jug of the edge. I took a closeup to see the quality of the cut and it was slightly frayed at the edge but not enough to be of any concern.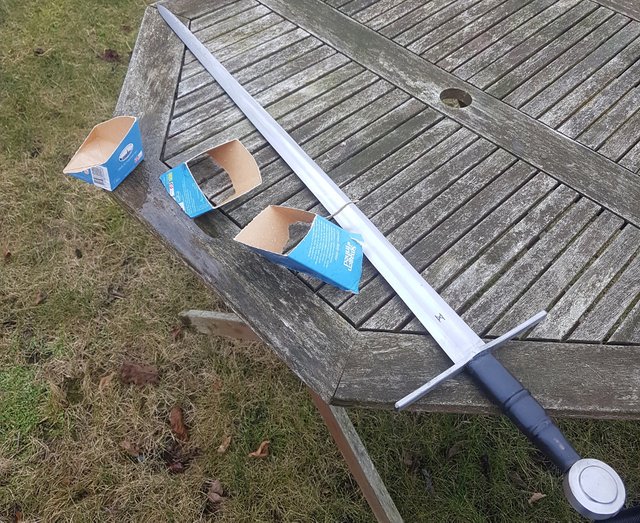 I did another one to see if it had been luck or not and that one was pretty perfect as well. unfortunately I didn´t have anymore milk (or other) containers so I couldn´t continue my practice, but now that I know it is possible and that I can do it I will make sure to collect some jugs or plastic bottles for next time.
I will also try to get a camera rigged up for some video. cutting is much more fun on video than just watching the results as images.
until then.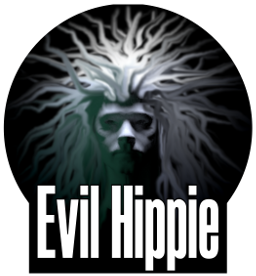 Im EvilHippie, a compulsive creative and jack o' trades. If you want to know more about me, check out my introduction post here
If you like what you see, feel free to upvote, follow and resteem
or you can check out my accounts on these sites:
Youre welcome to like or follow me there as well.