SWINCA REAL ESTATE PROJECT AND ICO REVIEW

Hello Friend, In this article I would like to inform you about the details of the project 'SWINCA' which could be a bridge between blockchain teknology and real estate. I believe that after reading the details of the project in my article, friends who want to participate in ICO can make the right decision.
Real estate is the first home we think of. However, it is among the investment tools in the office and shop. When investing in real estate, we usually calculate how much we pay and what will happen to us in return for rent. Considering the global economic situation, investing in real estate is very difficult. Because if you don't have a specific background, you have to get a loan from the banks. When interest rates are considered, the real estate we will invest in can provide us with a heavy burden rather than a profit. It will also not be easy to dispose of if it does not meet our expectations after investing. Even if we're disposed of, we'il have a lot of material losses. Because the necessary procedures until the owner of the property demands a lot of time and money. You have enough money and you want to invest abroad. Even if you can speak English as Native, you can imagine how difficult it might be for you if you don't know the procedures of the country in which you want to invest.
Swinca identified the problems in the real estate investment I mentioned above and did a study on these problems. Swinca aims to combine Blockchain technology with small and large investors to create a platform where they can take part effortlessly and instantly in large investments. Swinca is a platform that offers investment opportunities to its customers who want to invest in the real estate sector. It lists the real estate assets in the world and gives the investor easy access to the property you are looking for, and accelerates sales and purchases. Allows users to create and manage their portfolios. The investors pay the rental income of the property they have bought each month to their accounts.
Swinca Vision
Providing the opportunity to invest in a real estate platform anywhere in the world. The person who wants to invest in a transparent way can examine an apartment, a house or an office with detailed information on the platform. Can calculate monthly or annual rental income. You can buy a certain percentage of the real estate you want with Swinc tokens in the amount you want to invest in. You can invest in as many different real estate as you want and create your own shop.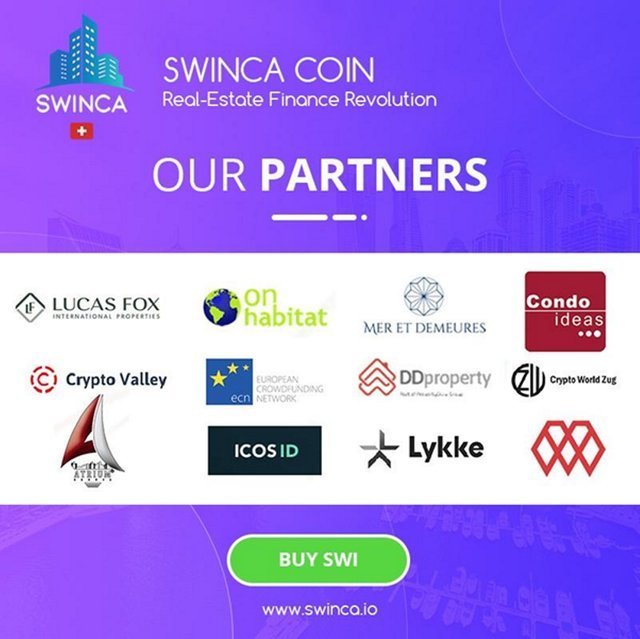 Participants of the ICO with a value of 1 ETH will be able to benefit from premium features. Premium features I think anyone who wants to join ICO necessarily need to know:
• Best prices when investing (quality, performance, yield etc.)) authorization to access,
• No transaction fee for withdrawals or expenses. There is also no upper limit,
• Free swinca bank account and free Swinca Mastercard debit card issuance,
• Free exchange rate in transactions between Fiat and cryptos,
• 5% bonus on total capital gain,
• No deposit fee to reserve a future investment,
• In case of possible damages, Swinca insurance will be able to benefit without any extra charge.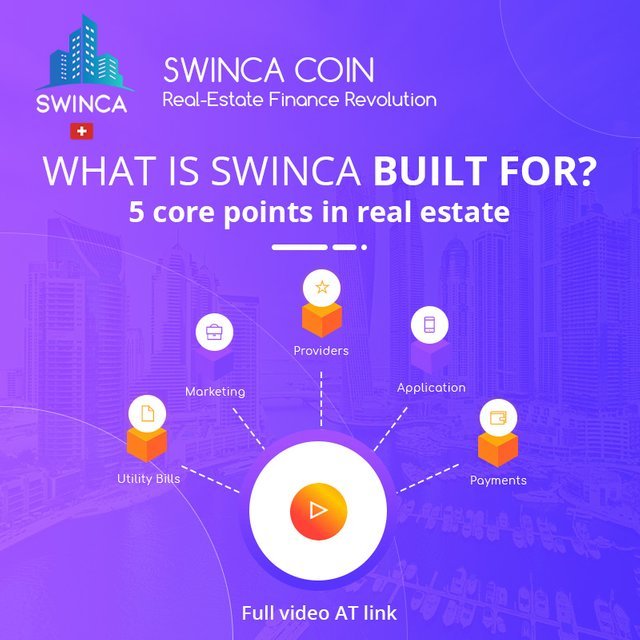 I want to inform you about the benefits of the swinca project.
• High return,
• Monthly continuous income,
• Minimum investment opportunity,
• Investing in property worldwide,
• Manage an enhanced portfolio,
• Low cost thanks to the use of swinc token,
• There is no need for an intermediary because it can be contacted directly with the swinca team,
• Secure our investment thanks to blockchain technology,
• Payment of monthly earnings with Blockhain technology
• Swinca company plans to research, analyze and negotiate the investment real estate and offer its users the best opportunity,
• Having an experienced team trained in the field of real estate expertise,
• Bank license to manage Krypto and Fiat,
• Making financial insurance for possible losses.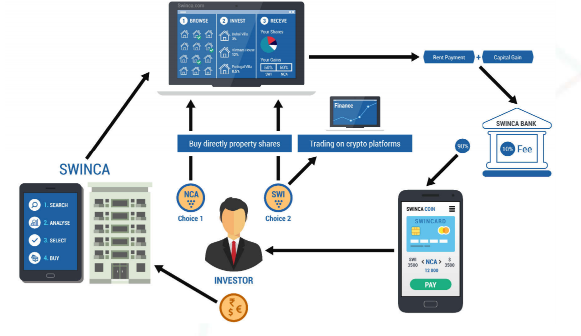 ICO and Token Information
Token name: SWI
Type: Blockchain
Softcap: $ 2 million (Pre-sale)
Hardcap: $ 6 million (Pre-Sales)
Payment methods: BTC, ETH, USDT +100 crypto
Sale Price: 1 SWI = 0.30 USDT
First Price: 1 SWI = 0.10 USDT
Total Supply: 400 000 000 SWI
Total pre-ICO Sales: 20 000 000 SWI
Total ICO: 120 000 000 SWI
Pre-Sale: November 26, 2018
Public ICO: January 02, 2019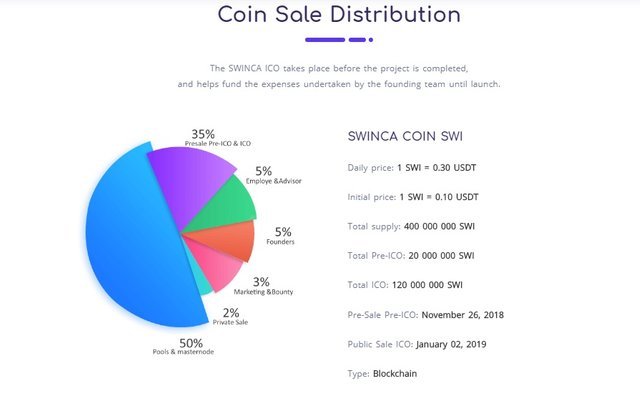 Swinca Roadmap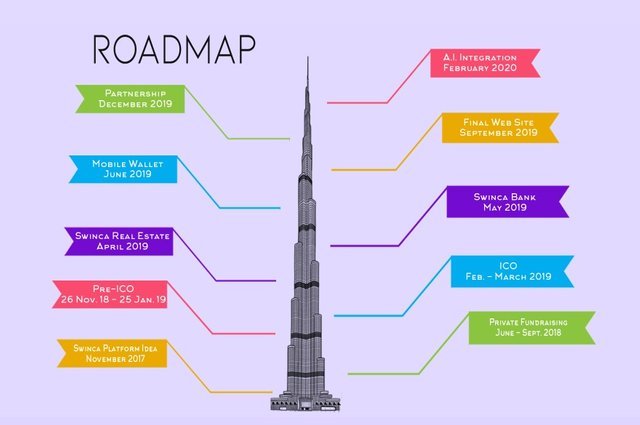 Swinca Founder Team
The project is of Swiss origin. It should not be forgotten that this country is a center in the banking sector. We will be able to invest anywhere we want with Swans where the classical banks are inadequate. Thanks to blockchain technology, we will be able to perform our transactions at transparent, fast and low cost. There are real estate professionals in swinca who have knowledge all over the world. We will not hesitate to invest in these real estate professionals. Anyone can invest in any country with the NCA token, which is the fixed price of$ 1 representing Swi token type or investment property. Investors may withdraw their money after receiving their rental profits or consider it as an investment again. Only 10% of the profit obtained from real estate is deducted by the Swinca platform and the rest is given to the investor. In the light of this information, we can conclude that at low cost, we have the opportunity to invest in any country we wish. I think the swinca team is offering us a real investment opportunity. Because we can invest in a real product. I think it's a project that needs to be closely monitored. I will share the updates with you. Stay healthy.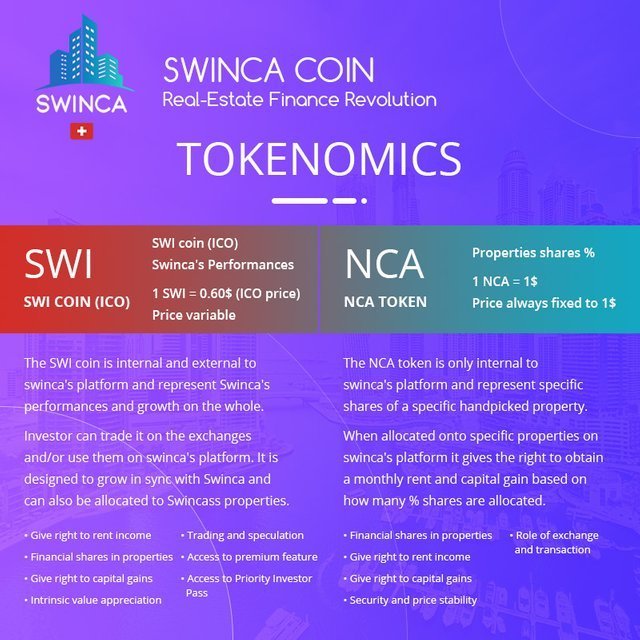 Detailed information can be found at the following links:
Web sitesi : https://www.swinca.io/
Whitepaper : https://drive.google.com/open?id=1RHBWSafaQ56PvWyNvNcNtKcJwPOuRjS8
One Pager : https://drive.google.com/file/d/1HM5rm4WoCMR03BIqUAAWhRihVtJWmdS1/
Bitcointalk ANN : https://bitcointalk.org/index.php?topic=5063576.0
Telegram : https : https://t.me/swincacoin
Twitter : https://twitter.com/Swinca2
Facebook : https://www.facebook.com/swincagroup
Medium : https://medium.com/@swinca
Github : https://github.com/swincacoin
Youtube : https://www.youtube.com/channel/UCfwSSuIIGA6RmAwq0yB64iw
Reddit : https://www.reddit.com/user/swinca
LinkedIn : https://www.linkedin.com/company/swinca
Written By : Orhan SARIKAYA
Bountysuit user name : Cagan
Eth Wallet: 0x03ab5C1F9b8af59a6B93466e73834B98ebd4eb26