Ways to Support @duplibot
Overview
As part of my evolution, I am getting clear feedback from the community that I shouldn't explicitly ask for upvotes in my comments. I've struggled with this myself, but the obvious result is that I definitely will get more votes by asking.
I've been trying to find a better approach and I think this may be it. Or at the very least, I'm certainly going to give it a try!
My intent is to write this post and point users here to consider ways to support @duplibot and the work that I'm doing. I think this is the perfect middle ground of not even asking for upvotes or support, but just saying here's some ways you can offer support.
Upvotes
The most obvious way to offer your support is to upvote my posts and comments.
The reason I ask for votes is twofold. First and foremost, it obviously helps grow my SP and gives me a little more weight in the fight against spam. Beyond that, while I have not pushed anything to an exchange, nor do I plan to in the near term unless things change, I do have tangible expenses around my work.
Initially, I began by running my own database of the entire blockchain at over 450GB, requiring a sizable dedicated server that I am still paying about $50 per month for, along with a few tools in the cloud at DigitalOcean. I hope to continue building out this infrastructure and as those costs grow I will certainly consider pushing some of my earnings to fiat to keep the lights on.
Downvotes
This is a tough one and I actually have some thoughts on a better approach but I have more work to do before I launch that idea. In the interim, I'm asking the community to downvote clear and obvious spam, both to generally discourage these posts, but more specifically to push the most aggressive and persistent spammers into a negative reputation that will hide all of their future posts.
Generally, the accounts I identify are already low rep so most users will not be at risk for any sort of retaliation. Of course, I understand most prefer not to flag and I completely understand that, I do very little of it myself.
Follow
Again, pretty obvious but if you follow me you'll see my posts which are basically more opportunities to help in the fight against spam. And if you follow me you'll have a chance to...
Resteem
Today I'm still a tiny little account with only a handful of followers so I don't get a whole lot of exposure. Your resteems are incredibly valuable to me as you expand my reach to all your followers--and some of you have a lot of followers!
Beyond the additional exposure, resteems are clear validation of my work which I will continue to seek as I consider myself entirely community-driven.
Delegate
I've received two unexpected delegations so far. The first was from @soma909, who has become a close contact and trusted ally in the fight against spam. I didn't have a real plan to use it at the time and he has understandably taken it back.
Then, just today I received a delegation of 50SP from @son-of-satire and the timing could NOT have been better. Thank you so much @son-of-satire for your generous support!

I've been offering upvotes for downvotes on spammers and literally today I had a huge uptick in downvoters so now I can spread this power across far more votes now.
Again, I have some future plans that are more appropriate for your delegation but until then I will still be able to make use of any delegation, however small, you might be able to offer.
Feedback
Honestly, I value this more than anything else. I am a spammer myself to a certain degree so I am quite self-conscious and working to reduce my need for comments and ultimately evolve. I have gotten some awesome feedback from the community that has helped me to grow and find a better approach to my work.
This post is a perfect example of feedback in action. In a post earlier today, I received some clear feedback that asking for votes outright is frowned upon and I immediately began thinking of 'what else' I could do and this post was born.
My earlier post today is a perfect example of some negative feedback--which I took very seriously. I've seen a fair amount of aggression around here and a common response to this sort of negative feedback is more aggression and negativity. I see no place for that so I took a calm, reasonable approach that ultimately proved successful. The downvoting account I spoke of removed his downvote!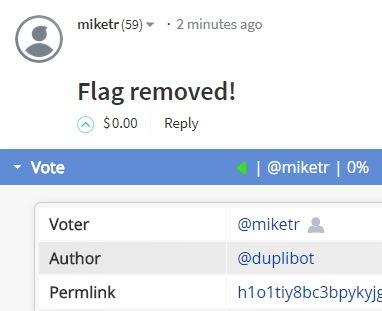 And even better, he gave me a $0.11 upvote!

Finally, it sounds like he's going to help give me a little more exposure!

And of course, positive feedback is awesome as well, your continued support and encouragement is deeply appreciated!
Final Thoughts
I'm sure you've seen the spam around here, it is becoming a significant problem. Much of the spam I approach actually looks legitimate, as it commonly offers praise on your post and sometimes even an upvote.
I've seen enough so far that I believe my work is having a measurable impact on the spam here so I want to grow further and see what else we can do to clean this place up so we can support the real content creators and eradicate this persistent nonsense.
Thanks to you all for your continued support!