Sunshine® Polishing Cloths & Displays for Businesses and Retail Stores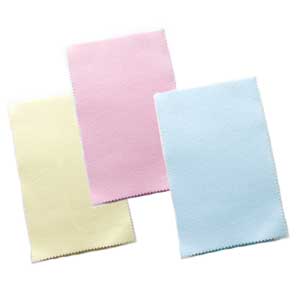 Sunshine Polishing Cloths are non-staining and easy-to-use cloths to remove tarnish from sterling silver, gold, brass, copper, glass, jewelry, bracelets, necklaces, earrings, bells, badges, mirrors and most other surfaces, leaving a deep, long-lasting luster.
They come in 3 colors (yellow, pink, blue), 3 sizes (small, medium, large) and have 3 different applications (original, soft, satin). The Yellow (original) Sunshine® Polishing Cloth, Blue Sunshine® soft Polishing Cloth (which is softer than the yellow) and Pink Sunshine® satin Finishing & Polishing Cloth (which is 2-sides and leaves a "satin" finish).
Directions for use: Be sure the item to be cleaned is free from dust and other abrasives. Then very gently rub the surface to be polished. Each cloth is impregnated with special chemical cleansing agents and scratching (pink) & non-scratching (blue) micro-abrasives.
Link: http://www.sunshinepolishingcloth.com/index-pinkblueyellow.html