So today I was able to watch two movies! My mom had been browsing the internet to see which movies are out and asked us for help to see what we're all interested in. I saw the movie called Ocean's 8 which is sort of like a women's twist of Ocean's 11 and we all agreed that we wanted to see it. As for the second movie, my boyfriend had been wanting to watch Upgrade for awhile and I felt bad that I wasn't able to have last weeks Sunday Movie Night with him and so I was fine with watching another movie.
I'm sorry that this review is late yet again... I watched the second movie around 10 pm and I still needed to actually write the review so I'm sorry that it's turned out so late.
---
Ocean's 8

So it's been 11 years since the release of Ocean's Eleven and the movie takes place in the future of the Ocean's Eleven timeline where George Clooney's Danny Ocean has supposedly "died" and the story now focuses on Sandra's Debbie Ocean to watch her take a chance and make a mark in the heist industry. Throughout the movie, it makes an effort to say that larceny just runs in the family, in her veins, her brothers veins, her father's veins, everyone except for her aunt. The movie starts with Debbie being released out of her 5 years in jail, and almost as soon as she was let out she makes her way to the nearest shop and steals them straight out of the store, as a show of her proficiency in crime. She then makes her way to who seems to be her closest partner in crime, Lou, where she then explains the elaborate plan that she had been devising during her time in jail.
She wants to steal a necklace that costs around $150 million at the Met Gala, one of the biggest social gatherings of the year. After explaining the plan to Lou they quickly assemble a team involving a speed jeweler, Amita, a mom who's adept in fencing stolen goods, Tammy, a hacker, Rihanna, a fashion designer, Rose, and a great con-girl who's experienced in sleight of hand. each had a different set of abilities that was well used as a team in general. Each member was promised an even cut if they were able to pull it off. Their plan was to target Daphne Krugler, an actress who is co-hosting the Met Gala, and convince her to wear the necklace so that they can make a swap with the real necklace and the fake. (Now that it's all splayed out it seems a bit far-fetched "Why couldn't they just involve her in the plan?")
The whole movie was very fun to watch, the characters were very personable, and while it may not seem as unique they each had their own little quirks that made them their own. My family had a bit of laughs and the movie got our mom interested in watching Ocean's Eleven since she hasn't watched it before, which is surprising since both my sister and I remember watching it.
Recommend: 8/10
Upgrade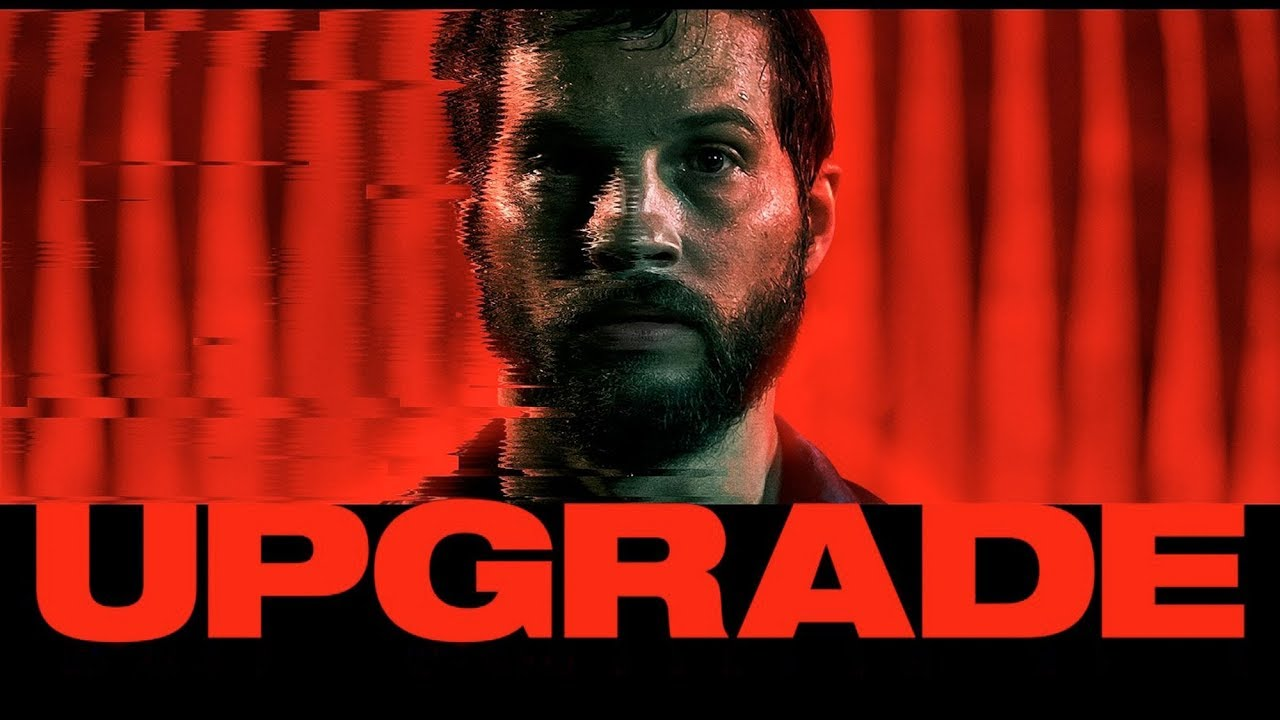 Now before I get into this, I have to say this was much more violent than what I thought I had signed up for. After only watching the trailer I was left shocked when Grey Trace, the main character, had split someone's whole mouth open to the jaw with a knife. Of course, once I found that the director of this movie was also the director of the
Saw
and
Insidious
franchise it all made sense, but still leaving me quite shocked. I still decided to go through with the movie and hoped for the best.
The movie takes place in the future with upgraded technology and more intellectual AI. Starting the movie by introducing us to a married couple the husband, Grey brings his wife, Asha, to his last customer who's a genius that's been working on inventing a little chip called STEM that he claims can do anything the owner wants. Leaving his house in a self-driving car it malfunctions and brings them to an underdeveloped part of the city full of people in poverty. Their car crashes and flips over leaving them unprotected and a group of men comes over to scrounge up what they can. They kill Asha, claiming that she only see's them as insects, and shoots her in the chest. Shooting Grey in the spine they don't kill him but the gunshot leaves him a quadriplegic. A police drone had caught the whole scene on tape but it seems to take a while for the actual police force to show up, to be honest, I would at least hope that after these years they would learn to improve their police strategies.
Now left without a wife and a body he can't control he's given an opportunity to be the first to test STEM and see if he's able to function, and it works! He learns that the STEM can read his brainwaves and control his body as he wants, STEM talks to him through his thoughts and he helps him track down the killers of his wife. Through this process, you learn that there are times that STEM can take full control of his body, which is a little concerning for me. Already killing one of the group members with a knife through the face, he then understandably vomits. Since I have a weak stomach I don't exactly handle this very well... A team finds a body that has mechanically engineered a gun inside of a man, and I wonder if the same doctor that had created STEM had also inputted that gun inside of him. Killing another member he gains information on who killed Asha, it appears to be someone from her own company.
The ending was literally like a nightmare, and so very confusing. Going full circle it was such a mind trip, you think it's ended but it hasn't. I don't want to spoil it too much because I'd rather your opinion on it yourself. I'm not too sure how I feel about it, I'm obviously not satisfied but I'm left utterly confused.
Overall, The world that had been created for this movie is very intriguing and well thought out. There's an obvious gap between the privileged and the poverty and there doesn't seem to be any government to close that gap. Those that had been in the military get equipped with guns in their arm and Fisk is equipped with nanobots that allow him to control his body and even what comes out of his sneeze can become weapons.
Putting that aside the cinematography was great, and I was pleasantly surprised by the quality of it. Changing the angle for each different perspective it brings you more into the movie.
Recommend: 9.5/10
---
---
Thank you for taking the time to read my post! Please up-vote, re-steem, and consider following me for more content. :) Don't be afraid to comment either!