Welcome to the all street photography lovers. Today I started another new "Street Photography Contest - Train". Hope you will join this contest. I will be very happy if you resteem my post.
Let's start "Street Photography Contest - Train"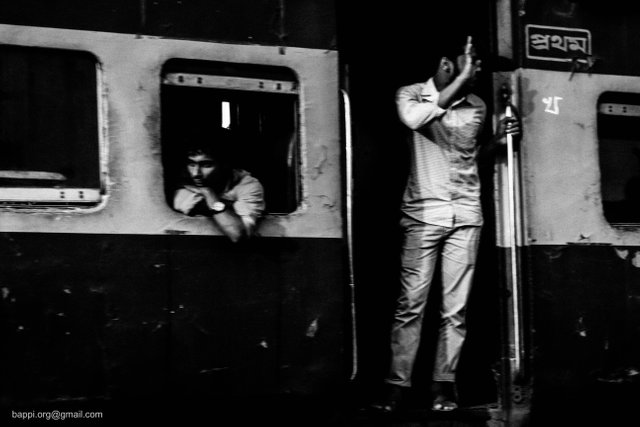 Example Picture:
Train Stations, Railroad tracks, metros, and subways have been one of the favorite place for those who are always in scout for urban locations, especially who enjoys street photography and love's capturing candid moments of strangers. Since more and more railway themed portraits winning awards in prestigious competitions like Sony World photo. I am excited because me sharing one of my best photo that taken near railway station which portrays life and mood of its subject.
I will make another train photography tutorial tomorrow. Here it will be linked for street photographers who need proper guideline.
Some Tips:
Must include people with train.
You can use train lines but must include people
Without people i can't accept. Because it's street photography.
Candid will get priority.
Geometric shapes will get priority.
people's shadow, motion & reflection with train will get priority.
Story type picture must win this contest.
Rules
Your photography must be your own work.
Tag me in your post @minnowhale
The photograph can be in black and white or in color.
No need for specific material for this contest. Camera and Smart phone both allowed.
Dishonest participants who used pictures of other people will be disqualified.
Use your own Watermark otherwise disqualified. (Not mandatory)
No nude photography.
Post Title: "My entry for the STREET PHOTOGRAPHY CONTEST - TRAIN by @minnowhale"
Your photography must be accompanied by an explanation of at least 30-50 words in English language.
Each user has 1-2 entry for this competition.
You need to be my follower and UPVOTE 100% this post. (Not mandatory)
You must use the first tag "#street2street" in your article. So I can find your entry easily otherwise it is lost among all the blogs posted on Steemit.
You must RESTEEM the first blog of this contest. (Not mandatory)
Prize
1st Prize 1.000 steem
2nd prize 0.500 steem
3rd Prize 0.300 steem
4th Prize 0.200 Steem
5th Prize 0.200 Steem
This Contest Sponsored By @blacklux.
Selection
I will choose the 5 best entries for this contest.
Total time 72 hours. In this time, you can post only 1/2 photo.
The contest winner will receive the prize, directly from me.
You can vote to support the participants. Your votes and your comments will help me to choose the winners.
My Discord : mmrahmanbappi#9781
Thank You
@minnowhale