#streamlife - The struggle is real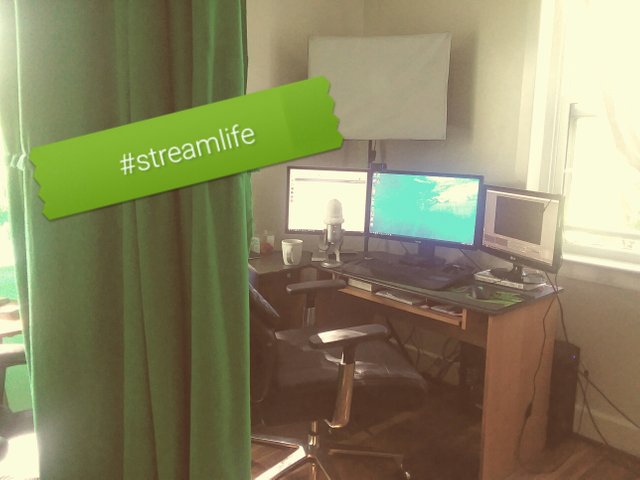 Ordo Ab Chao
No, I am not a Freemason, but I am familiar with the term; Order from chaos. To some extent I even agree with it as a rule of life, because in order for there to be 'order' there must exist some form of 'chaos'. Our #streamlife is no exception. It seems that whatever governs the universe and balances the order with the chaos has brought forth a form of emotional chaos for both myself and my wife ( @reptimom88 ) since we brought another life into the world.
Together we have experienced both states all too often in a very short span of time, and has this universal "law" effected our #streamlife? Of course! That's the reason why I wanted to start the #streamlife blog series. It's so important for anyone that takes their live streaming seriously, to factor their emotional balance into the equation before hitting that 'Go live' button, because not everytime is a good time to stream.
Weighing the balance
At the end of every stream I tend to tell my audience when to expect my next stream, and looking back on that I kinda want to stop doing that. Or at the very least just add that "anything can happen", so that if some form of chaos does breakout, I can say "I didn't make any promises". I don't operate on a schedule, but I commend those that do, and encourage them to keep up that type of discipline. But the main reason why I nor my wife have a stream schedule is because our lives are on a foundation of quicksand.
I wanted to write this post because yesterday my wife and I received confirmation that our landlord is selling this house, and while I am aware that I stated at the end of my stream yesterday that I would stream today, and further confirmed that by stating the same while sitting in at the end of her stream today, I just can't find it within myself to shine as brightly as I would like to in front of the camera knowing that the floorboards beneath my feet won't be there for very much longer.
My wife and I got married in the backyard, we wanted to spend the rest of our lives here, we wanted to raise our daughter here, and when we brought our desires to the landlord exactly one year ago, he stated that we would be the first consideration should he and his mom decide to sell. Well, apparently a mothers influence outweighs a mans word in this world and a young family is put in turmoil because of it.
Everything happens for a reason
It's a common phrase that I most often ponder. What could the reason be for this situation? Regardless of the reason, it causes my wife and I to feel waves of anxiety, and rightly so. Sitting in on my wife's stream today, I noticed it had been one of the quietest streams we'd ever had together, and I'm not so sure it was a good thing. Of course we'd interacted with our guests during the cast but the feeling of uncertainty was washing over us thoroughly even though our audience may not notice it right away, or at all.
Needless to say I took that as a sign; maybe it would be best to pass on a stream and express my thoughts on this topic in writing instead? And so this leads me into my grand finale on bringing order from chaos in your #streamlife. When you're faced with opposition that has the potential to cause some emotional chaos in your life, it can and will effect your #streamlife, and that's ok, because order will sooner or later follow.
Take the time to ponder that order in the midst of chaos, and allow yourself some time for peace, reflection, meditation, prayer, counseling, and/or just talking with someone you trust for emotional support; focusing on the things that can bring about as much emotional balance as possible, because the future of your #streamlife depends on your emotional balance.
Cheers to the STEEM blockchain!
It's official. I love this platform. I love that I get to live stream on #dlive and have it announced on my blog. I love that if I decide not to stream, and instead want to blog about not streaming, I could totally do that and capture the attention of the same (and yet different) audience. Matter of fact, I totally just did that ;)
So because of this I have decided to make @DLive a 20% beneficiary to all of my future #streamlife series of blogs beginning with this one! My reason for doing so is simply because I want to help give back to this awesome platform in the way I know how, by giving streamers a glimpse into my life and sharing my advice for maintaining a healthy #streamlife. On top of that, I am also making @SteemPeak a 5% beneficiary of all future posts!
Now I'm not an expert in psychology or a professional streamer, but I know the struggle is real and I want to share that with everyone who is willing to listen and both @Dlive and @SteemPeak allow me to do that so it's only fair that I support these awesome and amazing projects.
So here's wishing you all a healthy, emotionally balanced #streamlife!
Previous posts:
#streamlife - K.I.S.S.
#streamlife - The tag for a healthy life broadcaster
#streamlife - Tips and tricks from a former twitch streamer