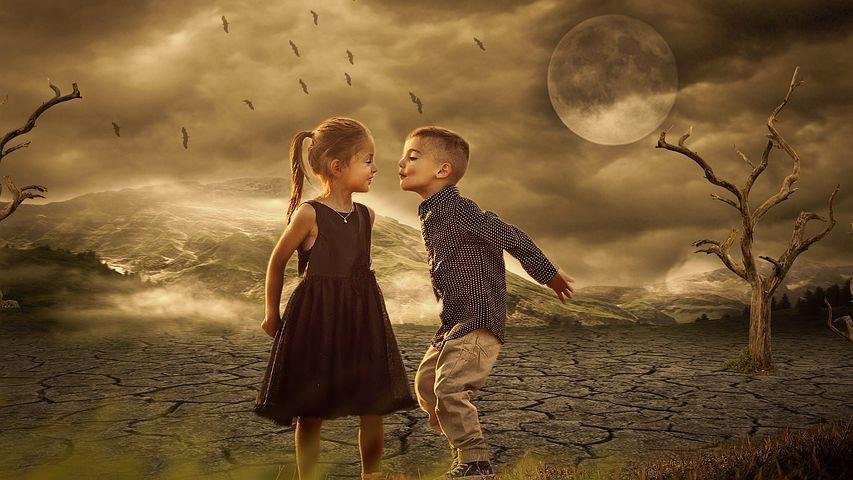 The dancing moon
Ngozi beckoned on Uzo to come around. He overheard their father whispering to their mom that he would be going to the village market to buy a goat and chicken.
It was the next Iriji festival. Who does not like it? When the best village masqurade was paraded and the best village dancers were decorated.
Iriji was a festival done once a year in Umuoma to celebrate the harvesting of new yam. In other words, it was the new yam festival. It was one of the most important festival in Umuoma. Sons and daughters of Umuoma came back home from far and wide to celebrate it.
This year's festival was unique. It was unique in so many ways for the family of Ezeabi. Ezeabi would be celebrated in the village square for harvesting the biggest yam in the village. The gods found favour in him and blessed him with bountiful harvest including the biggest yam. It was no mean feat. Ezeabi was grateful to the gods for favouring him. He had invited friends and relatives to come to the occasion of his celebration by his people.
Uzo was excited. He was hopeful that Ikenna would be visiting with his father Ude. Ude was their neighbour who lived in the township, Enugu.
Uzo and Ikenna were very good friends. However, distance had always seperated them. The Iriji festival would bring them together again after nearly one year. Ikenna does not visit home without getting some new wears for his bossom friend Uzo. This year though may be different as Ikenna could not get his father to give him some extra money for shopping for Uzo. His father had sited economic meltdown as the reason for his inability to do so. Nevertheless, Ikenna was not relenting. He had managed to buy some second hand wears from Ogbete maim market. "Half bread is better than none," he thought.
Ngozi, the first daughter of Ezeabi was a beautiful girl. Ezeabi had told the mother that any man that would marry Ngozi must own a car. She was about to go to the university. Ezeabi wanted her to be a lawyer. That would make him the talk of the town. The only lawyer in the village, Barrister Ikpeama, was so revered that nobody dared challenge anyone from his family. The fear of Barrister Ikpeama is the begining of wisdom.
He prosecuted Ochinti and eventually got court order to confiscate his landed property that was in dispute. Ochinti was forced to leave the village in shame.
Ngozi had chocolate skin with pointed nose like her mother's. Ngozi's beauty was well known in the village of Umuoma. Not only was she physically beautiful, she was also internally beautiful. Everyone knows her as the most behaved girl in the whole village of Umuoma. Several suitors had come for her hand in marriage but Ezeabi had rejected all without reason. Now we know the reason; none came with a car.
The revered village masqurade, Akpi would resurrect again from the land of the spirits on a new skin. Uzo and his age mates were responsible for making Akpi come back to life on the best regalia ever witnessed.
The chief priest of the vollage Agwoturumbe would invoke the masqurade from the land of the spirit but that would be after an all night wake keeping. The eve of the Iriji festival would be the wake keeping night.
Such nights were filled with awe. Women were not allowed to move around in such nights. So also were younger boys who had not been initiated into the mosqurade cult. To be continued...
If you enjoyed this, show love by upvoting it and follow @richguy for more interesting stories.