Elephant (Weekend Freewrite)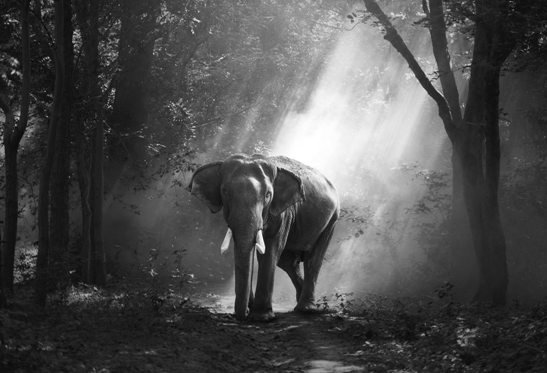 "Never begin a story with dialogue," Prof. Green said and gave the paper to me.
"Write another story. Prompt: Elephant."
I stood in front of him, staring at the paper, wishing he had read past the first line.
"Another story, sir?"
He didn't respond. He adjusted his big, round glasses and opened a dictionary on the desk, searching, flipping the pages.
After about half a minute, he found the word, I guess, and placed a finger on it. Then he nodded a few times and closed the dictionary.
"Sir, Elephant?"
"Yes." He shifted the dictionary from his front and looked up at me. "Do you want me to change the prompt?"
"Yes."
"Imagine yourself standing in a forest," he said. "And the sky is almost dark. In front of you, there's an elephant. It's feeding. Suddenly, you are surrounded by Lions, three on the left and three on the right. It seems you're their target because their eyes are fixed on you. You can't outrun them. You are damn terrified. You conclude it's your last day on earth. While you wait for them to pounce on you, the elephant grabs you with its trunk and places you on its back."
He stopped talking for a moment. "Can an Elephant lift a human and put on its back?" he asked.
"I think so," I said.
He continued. "The Elephant tries to scare the Lions away, but they are determined. They want you for dinner.
"The elephant turns left, right, it makes a 360-degree turn. Then something happens: it goes close to a tree and one of the branches hit you and you fall off its back. The prayers of six hungry lions are answered. You become their dinner... no.
"The Elephant still protects you, and you climb the tree, quickly. Unfortunately, a big snake on the tree hisses at you. And you jump. But this time you land on the Elephant's back… the end.
"It's easy. I won't change the prompt. I want the story before 5:00 p.m."
A 5-minute freewrite.
Prompt: Elephant
Credit to @mariannewest

Image source: Pexels