It could have been me but it wasn't me: An accident that changed me.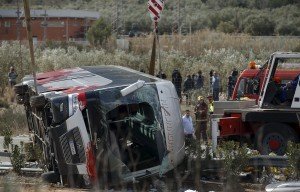 image source
Humans and the way they neglect things. First of all, am a believer, but I rarely offer my 5times/day solar. Most times I only pray in the morning(soobhi) and the others I just forget about them like they don't matter but they do and the worst of all, I know am being lazy towards the creator but still, I feel one day things will change by itself. But it got worse and I was at the brink of not praying at all anymore until an accident changed me for better But I guess God loves me after all. I know he does. Here's how it happened.
It was last year's November. The holiday ended and it was time to return to school. I got all the things I needed and the food stuffs as well. Got to the bus station and boarded a bus. I got there early and was waiting for the bus to fill up. Passengers kept coming and then I saw someone I know, she was a grown woman, my friend's mom to be exact. She saw me as well as I was sitting beside the window. She called me and we exchanged greeting and talked for about 5 minutes . she then pointed at two kids, a boy and a girl, the girl is older than the guy. She said they're also going to my destination and I should help her watch after them.
I was very happy to oblige. She's a good woman. The kids entered and sat beside me. We were at the next seat to the driver and 4 passengers are going to sit there. It's going to be a tight journey the woman said and she told us to move to the next seat where the seat is for 3 passengers. We're already 3 but the kids plan on lapping each other and that makes them one passenger joined together. The space between the seat in front and the one we are currently sitting in is tight and we couldn't move our legs freely. We had to move to the next chair again.
We are now 3 chairs behind the driver. It was a 18 passengers bus. We were comfortable and the woman asked about how things has been. We chatted until the bus was filled up and we were ready to move. She waved goodbye as the bus moved. Anytime I travel, I have a habit of watching movies throughout the journey. I don't like looking at the horizon as it makes me car_sick. We've only moved for about 3 minutes and the driver branched a gas station to get filled up before we fully start the journey. That lasted for about 5 minutes and we moved.
We've only been 5 minutes away from the gas station and I was really engrossed with my phone. Then it happened. I heard a big GMAMMMMMMMMMM!!!!!!.. THE TIRES SCREECHED... SKRRRHHHHHHHHHHHHHHH!!!. It lasted for about 30 seconds before the driver could gain control. My mind didn't went blind as my cerebrum already sensed it all. I looked at the kids beside me and asked if they're fine. The little boy had already started crying and his sister was looking hard and strong. I asked if she was fine and she said yes. People started alighting and we did to. What happened?.. How did it happen?. Was what people were screening about.
I had a second look at the boy and I noticed a cut just right above his right eye and I petted him and told him he's going to be fine. I looked at the sister again and I saw blood all over her left arm. I shouted "I thought you said you were okay!!! . she said she didn't notice at first. It was a lot of blood and I haven't seen that much ever. I acted strong and I wiped it with her cape but it didn't stop. Nearby people have started arriving and one of them collected the cape and wrapped KT around the arm. The blood stoped coming out. That was when I had the time to look at everyone else. God! It was a mess but it wasn't fatal. A man was still inside. I went in with another person to bring him out but he was stuck, we removed him anyways but he was badly injured. He sat at the seat right in front of us, the seat we left because it was tight.
I looked up and saw a guy holding his stomach, I held him and asked how he was doing. He said 'he doesn't feel good and the look on his face says he was about to collapse. I held him well and sat him down. I looked at his cloth and it was all torn like someone took out pieces from the cloth. He received a direct hit from whatever hit the bus. He was the guy sitting where I first sat. Right behind the driver.
I then asked the driver himself and he said a truck coming from the opposite side lost one of his tyres and it ran across the road straight into our bus. I was stunned like I've never heard such before. I didn't even have a single cut on my body. Everyone that sat at the seats we left were badly injured. It could have been me but it wasn't me. The kids beside me got injured as a result of the broken glass that shattered and cut through the girl's arm as well as the boy's eye. It was ba, bit not as bad as others and I was just fine. I called their mom as I had collected her number to keep her updated on the journey. She screened and I hung up as soon as I told her where we were.
She arrived and locked up my shirt screaming she's in trouble. People tried to calm her down and told her the injuries suffered by the kids are minimal. They were taken to the hospital along with other victims and I followed them. On getting to the hospital, everyone was taken care of and the injuries were diagnosed.
The man who sat where I was at first which was behind the driver had an internal injury and broken ribs. He was billed really high. The man that was stuck in the middle of the chairs,had a broken arm and leg and internal bleeding. He was billed the highest and other followed. But I wasn't hurt. I could only feel scratches over my body as a result of the glass particles that shattered, but I was fine. It was a really awful experience.
What if those kids hadn't come?
What if I was the one at the first seat, or the second seat?
I might not have survived at all. I didn't know what to do, what to say, I was just grateful to the most high. All I could say was ALHAMDULILAH!!!.. Then I thought of it, if I was going to die, I would have died a sinner, a nonbeliever. I changed my ways and became more prayerful, asked for forgiveness of my sins and even if I'm to die, it won't be without a deed of worship. That day kept ringing in my ear till today. It was the worst experience but with the greatest lesson.
You don't know when your time will be up. Get up everyday and be grateful and worship God all the time. I wasn't the best guy on the bus but I survived not because I was lucky but became I was meant to and a reason comes with it. He wanted to let me know if I don't change my ways soon, something worse could happen. Have never been more thankful.
I don't know if you learnt something but anyhow, be prayerful and worship God every time with all your breath. No one knows when his time will be up.!